During his lifetime, Johnny Carson once remarked that asking him for marriage advice was like asking the captain of the Titanic for navigation lessons. This gave an insight into his turbulent marital life, but the iconic TV host was finally able to build a long-lasting union with his fourth wife – Alexis Maas. Before her marriage to Carson, Maas was a little-known brokerage firm employee and lived a regular life. However, she was catapulted to the limelight following her marriage to the mercurial Carson. Even though the couple endured their share of troubles thanks to Carson's complicated nature, they still managed to remain married until he passed away in 2005.

Profile Summary of Alexis Maas
Full name: Alexis Maas
Date of birth: 15th July 1952
Age: 69 years old
Birthplace: Pittsburgh, Pennsylvania
Nationality: American
Ethnicity: Caucasian
Spouse: Carson (1987 – 2005)
Occupation: stock brokerage firm employee
Alexis Maas Was a Brokerage Firm Employee before Her Marriage to Johnny Carson
Alexis Maas may have once been married to one of the most famous men to walk the face of the earth, but her personal life remains a puzzle. This necessarily doesn't come as a surprise given that her famous spouse also jealously guarded his own private life, a fact that made several sources refer to him as the most private public man who ever lived. Be that as it may, some of the details about Maas' early life show that she was born in Pittsburgh, Pennsylvania, on 15th July 1952. She has American nationality and is of white ethnicity, much like her husband.
Alexis Maas presumably grew up in Pittsburgh and completed a high school diploma. She most likely also obtained a college degree before going on to work in a stock brokerage firm. A stock brokerage firm typically assists interested people to trade and invest in public stocks by giving them helpful recommendations.
She and Carson met on a Beach near His Malibu Home and Wed in 1987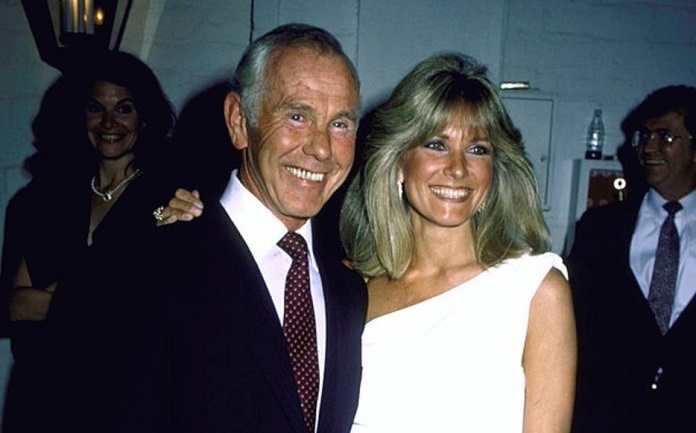 We may never know if it was business or vacation purposes that took Alexis Maas to Malibu in the year 1985 but what we do know is that this was how she met Carson. As the story goes, the brokerage firm employee was walking on a beach near the comic's home in Malibu when they bumped into each other. An interesting conversation ensued, with dates coming later down the line. The two subsequently communed a relationship. For the next two years that they dated, Alexis Maas and Carson hid their relationship from the public.
People only got to know what was happening when the TV host announced that he had gotten married. The announcement revealed that Maas and Carson wed on 20th June 1987 in Carson's Malibu home. The only witness was the comic's best man and brother, named Dick, and the couple was joined in holy matrimony by Judge William Hogaboom. Following the nuptials, the couple flew out to England for their honeymoon. They took some well-deserved rest there and also attended major events such as the Wimbledon tennis championships. The marriage was the first for Alexis Maas and the fourth for Carson.
The TV host's first got married to his college sweetheart, Judy, in 1948. The union was marred by infidelity on both sides, and the couple ended up divorcing in 1963. That same year, Carson remarried to a model named Joanna Copeland. Their union lasted for nine years divorce. Joanna later revealed that she was tired of being a celebrity wife and living the ivory tower lifestyle. Carson's third marriage was to another model, Joanna Holland, in 1972. They were married for 11 years before filing for divorce in 1983. The divorce was finalized two years later, with Holland walking away with $20 million.
The Couple's Marriage Lasted for 18 years During Which They Made Their Home in Malibu
At the time that Alexis Maas got married to Carson, she was 35 years old while he was 61. This made for a significant age difference of 26 between them, and some people frowned at it. They stated that the union couldn't have possibly been founded on love and predicted that it would not last. Their prediction did not come to pass through as Maas and Carson sustained their union for 18 years. During this time, they made their home in Carson's palatial Malibu home, which featured two waterfalls, a wine-tasting room, a sun deck with a pool, a media room, and a tennis court. The couple also embarked on frequent jaunts to choice destinations such as Europe.
Even though Carson was notoriously not a big party person, he and Maas still attended several award ceremonies and industry events. They lived a life that most people will envy, but this was not to say that there were no hiccups in the course of their union. Carson had a strong-willed personality and could be offended by the most innocuous of comments or actions. This made Maas tailor her behavior accordingly, and the couple was thus able to make their union last for a long while. Despite such longevity, Alexis Maas and Johnny Carson never had any children during their marriage.
This could have something to do with the fact that the comedian was quite advanced in age when they got together. It is also possible that Maas wasn't too crazy about the idea of kids herself. Whichever it is, the couple did not have any children together, although Carson did have three sons from his first marriage to Jody. They are a golfer – Christopher, photographer – Richards, and musician – Cory born in 1950, 1952, and 1953, respectively. Obviously, all three men are older than their father's fourth wife, and it did not seem like they had much of an interaction with her.
Carson Passed Away in 2005 with Alexis Maas Inheriting Much of his Wealth
Despite whatever challenges their marriage may have encountered, Alexis Maas and Carson remained married until the comic died in 2005. For much of his life, Carson had been a chain smoker, and complications from the habit saw him hospitalized on at least one occasion in 1999. He recovered, but the damage had already been done, and six years down the line, specifically on 23rd January 2005, he passed away from respiratory failure. His death led to an outpouring of tributes from presidents and fellow comics alike as all feted his accomplishments.
Through it all, Alexis Maas maintained her quiet dignity and ensured that her late husband's wishes were followed. There was no public memorial, and his remains were cremated and handed over to her. At the time of Carson's death in 2005, he was worth about $300 million. Alexis Maas inherited roughly half of this while the rest went to his two surviving children (Richards passed away in 1991 flowline road accident) and his charity foundation, the Johnny Carson Foundation. It has been several years since Johnny Carson died, and Alexis Maas has largely stayed out of the spotlight.
She still lives in California but sold off their former Malibu mansion, presumably for something smaller. She rarely appears at any major ceremonies these days, and reports of her sightings have been few and far between. The Pennsylvania native was once spotted leaving a birthday party in California in 2012. It may be that Maas does not incline to the Hollywood lifestyle now that her husband is gone.