Vicente Fernández had four children during his lifetime with his wife, Maria Del Refugio Abarca Villaseñor. They include sons Vicente Jr., Alejandro, and Gerardo. Vicente Fernández also adopted a child, Alejandra Fernández, with his wife during his lifetime, who is his fourth child and only daughter.
Vicente Fernández's children are all grown up and are thriving in their fields. They have also started their own families. As a result, Vicente Fernández has about 11 grandchildren and six great-grandchildren.
Vicente Fernández's First Child is his Son, Vicente Fernández Jr
Date of birth: 11th of November 1963
Age: 58 years old
Occupation: musician and actor
Vicente Fernández's first child is a son named Vicente Fernández Jr. Vicente Jr was born about a month before his parents tied the knot in 1963. The young boy grew up in the city of Guadalajara and had a good childhood thanks to his father, who was a popular singer. He attended the best of schools. He also got to live on the family's vast ranch known as Los 3 Potrillos.
He was Infamously Kidnapped in 1998 and Spent Over a Hundred Days in Captivity
Back in 1998, 35-year-old Vicente Fernández Jr. was kidnapped for ransom. His captors demanded $5 million to spare his life and warned his dad not to go to the authorities. The singer was able to bring about $3 million, and Vicente Jr was released after 122 days in captivity.
He was beaten during this period with two of his fingers cut off. It was a harrowing experience, but he and the entire family maintained a semblance of normalcy. His captors were apprehended a decade later in 2008 and sentenced to lengthy jail terms.
Vicente Fernández Jr. is a Musician and an Actor
Vicente Fernández Jr. was quite close to his late father and watched him perform live from the age of six. He learned the joy of singing and the importance of respecting the audience from his father. He later pursued a music career of his own.
To date, Vicente Fernández Jr. has dropped about four studio albums. They include El Mayor De Los Potrillos (2001), Vicente Fernández Hijo Con Mariachi (2002), and Juramentos (2008). He has also performed at various famed venues, including The Sports Palace. Vicente Fernández Jr. is also an actor.
He has appeared in several Mexican movies and telenovelas to date, including Tacos al Carbon (1971), One and a Half Against the World (1972), Fuego En La Sangre (2008), and Triunfo Del Amor (2011).
He was Quite Close to his Dad and Toured with him on Multiple Occasions
Vicente Fernández Jr. was quite close to his dad. He joined his dad on tour during his lifetime, and they toured places such as Mexico, central and southern America, and the United States. The duo also worked together to produce the album Los Dos Vicente's in 2012. Vicente Jr. was by his father's side during his last days and paid tribute to him with a series of public performances in the wake of his demise.
Vicente Fernández Jr. Shares Four Children with His Ex-Wife, Mara Patricia Castaneda
Vicente Fernández was previously married to a lady named Mara Patricia Castaneda. Their union produced his four children, namely Vicente, Ramon, Sissi, and Fernanda. They later divorced, and he married another lady named Karina Obregon in 2017. This second marriage crashed in 2020. Vicente Fernández Jr. is now in a relationship with a Mexican socialite named Mariana Gonzalez.
Their relationship has raised many eyebrows because he is about 19 years older than Mariana. Some have referred to him as grandpa as a result, but he doesn't care. He has revealed that Mariana is an excellent human being and that they are very happy in their relationship.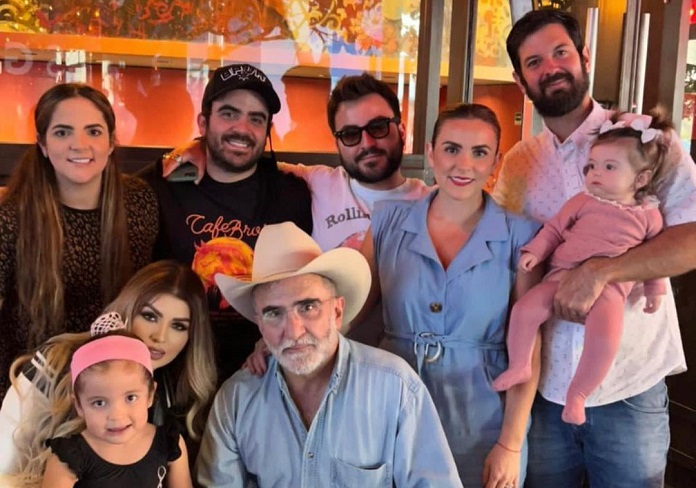 Vicente Fernández's Second Son is Alejandro Fernández, an Award-Winning Musician
Date of birth: 24th of April 1971
Age: 51 years old
Occupation: musician
Vicente Fernández's second son is Alejandro Fernández Abarca. He was born on the 24th of April 1971 and grew up in Guadalajara. Alejandro attended various schools in Guadalajara and qualified to practice as an architect. He, however, caught the music bug from his dad and released his first album, an eponymous album, at the age of 21 in 1992.
It is now several years down the line, and Alejandro has grown to become a popular musician in his own right. He not only specializes in the traditional folk songs that were his father's trademark. He has also become quite good in Latin pop and Mexican pop. To date, Alejandro Fernández has dropped about 16 studio albums and an additional seven live albums.
He has sold 20 million records worldwide. He has also won numerous awards, including two Latin Grammy Awards. At the 2020 edition of the Latin Grammy Awards, he received the gong for best ranchero/mariachi album.
Alejandro Fernández and his Father Shared the Stage on Several Occasions, Including the 2019 Latin Grammy Awards
Alejandro Fernández was also close to his late dad. They performed together at a concert in 1993. They also toured together in 1998 and 2003. Additionally, at the 2019 edition of the Latin Grammys, Alejandro joined his father on stage for a very heartfelt and special performance, and they received a standing ovation from the audience.
Following his father's death in 2001, Alejandro shared several pictures of him and his dad and revealed that he couldn't have asked for a better father, friend, or teacher. He stated that even though they missed their patriarch, his spirit and voice will live on forever.
Alejandro Fernández Has a Total of Five Children and Two Grand Children
Alejandro Fernández was previously married to a Mexican lady named América Guinart. The union lasted from 1992 to 1998 and produced his first three children, namely Alejandro Jr. or Alex, Camila, and América. Following the end of the marriage, Alejandro Fernández dated a model named Ximena Diaz. Their romance produced two more children for him, namely Emiliano and Valentina.
Alejandro Fernández is presently in a relationship with Karla Laveaga, a Mexican model, social media influencer, fitness and lifestyle expert. The couple has been in an on-and-off relationship since 2012. Alejandro Fernández also has two grandkids namely Cayetana (born by daughter, Camila) and Mia (born to son, Alejandro).
Vicente Fernández's Third Child is Gerardo Fernández, a Businessman and Realtor
Date of birth: 4th of May 1976
Age: 46 years old
Occupation: realtor and businessman
Vicente Fernández's third child is a son named Gerardo Fernández. Gerardo was born on the 4th of May 1976. His father was already a famous and wealthy singer then, and he was raised in a comfortable lifestyle. He attended the best of schools and possibly completed a college degree. Gerardo is said to have also inherited some of the musical genes that run rampant in his family, but he never pursued a music career.
He instead focused on running his business empire. Amongst the businesses that Gerardo Fernández owns is ITO Arena VFG. This is an indoor arena that can house thousands of people and is used for sporting activities and musical concerts. Gerardo Fernández also owns companies that sell footwear, alcoholic drinks, clothes, etc.
Gerardo has Been Embroiled in Drug and Kidnapping Scandal
Unlike his two elder brothers, Gerardo Fernández lives his life out of the spotlight. This makes it hard to know what his personal life is like, but it is believed that he has never been married. He could possibly have a child or two, but nothing is confirmed in that regard.
The youngest Fernández son has been embroiled in some controversy. For instance, in 2021, a Mexican journalist named Olga Wornat penned an unauthorized biography about Vicente Fernández. In it, she alleged that Gerardo Fernández had ties to a drug lord connected to the Siniola cartel.
She also alleged that he had something to do with his elder brother's kidnapping in 1998. Gerardo was furious with Wornat's claims and threatened to sue her. He also spoke to her in a furious manner during a phone conversation. The journalist, however, stood her ground and maintained that she had allowed Gerardo to state his version of events which he refused to take.
Gerardo was Also close to His Dad and Has Been Pinpointed as the Heir to His Father's Business Empire
Even though Gerardo Fernández did not follow in his father's footsteps in music, they were nevertheless close. He assisted his father in running several of his businesses and thus rose to assume an important position in the family.
Reports had it that Gerardo was angry with his eldest brother, Vicente Jr, for posting about their father's health condition on social media. Other reports also have it that he is the one who is going to keep the entire empire left behind by his dad.
Vicente Fernández's Daughter and Fourth Child is Alejandra Fernández
Date of birth: 1984
Age:38 years old
Occupation: fashion designer and model
Vicente Fernandez's last child is a daughter named Alejandra Guadalupe Fernández Abarca. She is not his biological daughter. He and his wife, Maria, adopted her when she was a little over a month old. Alejandra's biological mother is Maria's sister, Gloria Abarca.
As the story goes, Fernández and Maria hosted Alejandra in their home when she was still a baby. She grew quite close to them, so they decided to adopt her and train her as their own. Her biological mother agreed, and so they formally adopted her.
Some Sources However Claim That Alejandra Fernández is actually Vicente Fernández's Biological Daughter
Olga Wornat, the journalist that wrote an unauthorized biography about Vicente Fernández, has claimed that Alejandra is not the singer's adoptive daughter but rather his biological daughter. According to her explosive biography about the music icon, Fernández had an affair with his wife's sister, and the product of that affair was Alejandra.
Maria was reportedly distraught about the whole thing, but she later forgave her husband. They then decided to adopt Alejandra as their child. It is hard to tell whether this is factual, so it remains a rumor for now. To the best of public knowledge, Alejandra is Vicente Fernández's adopted daughter.
¡Alejandra Fernández, hija de Don Vicente Fernández, nos comparte cómo fueron los últimos momentos de su padre! 🙌🕊🎤📺 #PorSiempreChente >> https://t.co/gQ6ToBhlaQ pic.twitter.com/6D1pKNCpso

— Venga la Alegría (@VengaLaAlegria) December 12, 2021
Alejandra is a Fashion Designer and Model with Her Line of Handbags
Alejandra Fernández grew up with her adoptive parents and elder brothers on the family's ranch in Guadalajara. There, she completed a reasonable level of education. Alejandra did not follow in her father's footsteps in music but rather chose the fashion world.
She previously modeled back in the day. She now has a handbag brand known as Alleza. They produce all manner of bags, including trolley bags, sports bags, leather and imitation leather bags, suitcases, wallets, and leather shopping bags.
Alejandra Fernández was Previously Married to Pianist, José Luis Altamirano
Alejandra Fernández was previously married to pianist, José Luis Altamirano. She and José began dating in 2012. They later wed on the 24th of May 2014 in a lavish ceremony held in Guadalajara. For their honeymoon, they toured several European cities, such as Paris and Madrid.
Alejandra and José Luis had high hopes that their union would last forever, but this was not to be. They started experiencing issues in their marriage in 2015 and finalized a divorce shortly after. Alejandra has now moved on with her life though there is no indication that she has remarried.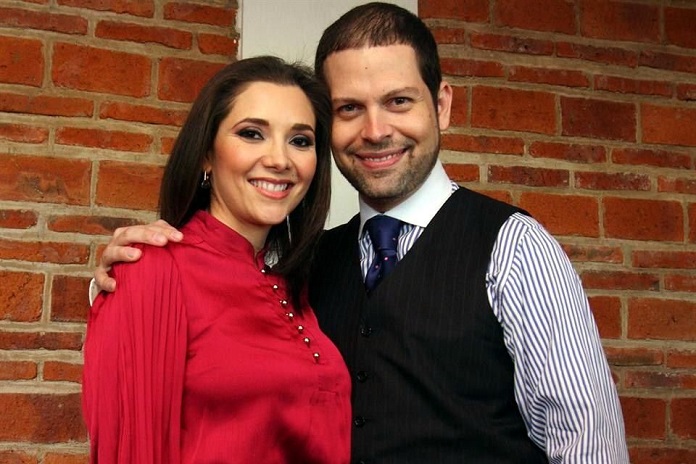 Vicente Fernández has 11 Grandchildren and Six Great Grand Children
Vicente Fernández has a total of 11 grandchildren as well as six great-grandchildren. Amongst his grandchildren whose identities are known are Vicente, Ramon, Sissi, and Fernanda, who are Vicente Jr's children. There is also Camila, América, Alejandro Jr, Emiliano, and Valentina, who are Alejandro's children. Vicente Fernández also has six great grandchildren namely Luca, Carlotta, Antonella, Emilio, Mia and Cayetana.
His Grandson, Alex Fernández, is a Fast-Rising Singer
The most popular of Vicente Fernández's grandchildren is Alejandro Jr. He is the son of Alejandro and goes by the name Alex. He has forged a career as a musician as well.
To date, Alex Fernández has released about two albums. They are Follow the Dynasty (2019) and Seeking Oblivion (2022). Alex joined his grandfather and father on stage for a special performance at the 2019 edition of the Latin Grammys.
The trio initially performed solo songs, with Alex going first and his grandfather last. They then joined hands together to perform one of Vicente Fernández's greatest hits, Volver Volver. It was the first time three generations of singers would perform on stage at the ceremony, and the audience gave them a standing ovation.
Alex Fernández is married to a lady named Alexia, and they welcomed their first child, Mia, in 2022. The singer happily documented the moments leading up to his daughter's birth on social media, and when the bundle of joy arrived, he took to social media to share the good news.