Trent McDuffie's parents are James and Michelle McDuffie. They both have athletic backgrounds and inspired their son's love for sports. They also encouraged him with several pieces of practical advice and this helped him progress from a college football player to an NFL star.
Trent McDuffie's Father is a Youth Camp Organiser named James H McDuffie
Trent McDuffie's father is James H McDuffie. He is African American and has athletic roots. Trent's father played sports in his school days but did not turn pro. He now uses his skills to run all sorts of camps for young people. He imparts to them the knowledge of sporting activities as well as life wisdom such as the importance of a sense of community.
Trent McDuffie's Mother, Michelle A. McDuffie, is a Certified Public Accountant
The name of Trent McDuffie's mother is Michelle A. McDuffie. She is Caucasian American which means that Trent McDuffie is biracial. Trent McDuffie's mother is a Certified Public Accountant licensed in California with over 20 years of experience. She initially attended the University of California Irvine where she studied for a BA in economics.
She has worked for a company known as Haskell & White LLP. She is now the owning partner in a company known as MM & Company LLP. Michelle McDuffie is experienced in corporate and individual tax planning, real estate structuring, and compliance for partnerships, estates, trusts, etc.
Trent McDuffie's Parents Have Been Together Since the 90s
There are not a whole lot of background details on the marriage between Trent McDuffie's parents but given the age of their child, it is highly probable that they met and married sometime in the 90s. The couple remains together to date and makes their home in Westminster, California. The only child they appear to have together is Trent. Trent has however previously spoken about losing his oldest brother named Tyler when he was in the 8th grade (around 2013/2014).
It is possible that Tyler is another child that the couple had together. It is also possible that perhaps Tyler is James' son from an earlier relationship. Whichever it is, Trent McDuffie loved his late brother very much and continues to honor him by wearing the number 22 jersey.
They Encouraged and Supported their Son's Athletic Pursuits
Trent McDuffie has no qualms about revealing how his parents shaped his success. He has revealed that his parents both have athletic backgrounds, his mom ran 400 m track, and as such, they encouraged him to participate in sports from an early age. By age 10, Trent was already running track and playing football. He later took to long jump as well.
Even though the young man eventually choose to concentrate on football, his mom advised him to continue with track to improve his movement. All this helped him to become a top prospect in college football and he was drafted into the NFL in 2022.
Trent McDuffie's parents also kept faith in him as he attended different schools to hone his skills. Even when he moved far away to Seattle for college, they accepted it as if it was for his own good.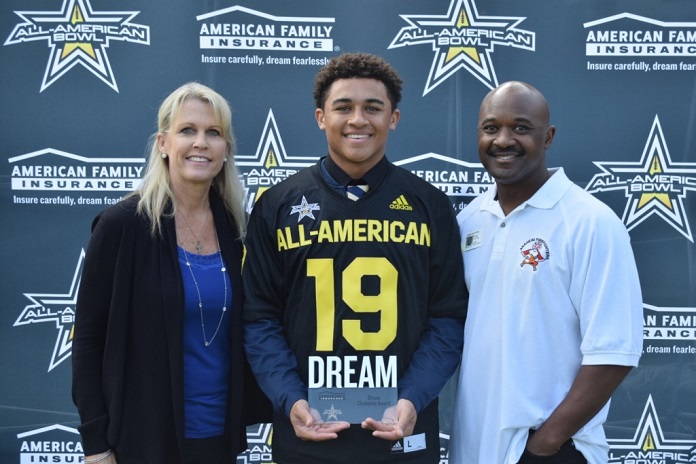 Trent McDuffie's Parents Remain His Biggest Supporters
Trent McDuffie's parents remain his biggest supporters now that he is an NFL star. They attend some of his games. They have also attended ceremonies where he is honored such as the All-American Bowl.
Trent is grateful for his parent's influence on his life. He has revealed that his parents not only thought him about football but also about life. According to him, his mom taught him about business while his father taught him about the importance of a sense of community. He cherishes them for all these life lessons.