It has been nearly a decade since Jenni Rivera passed on but her impact has never been forgotten. The singer's memories live on through her hit songs as well as her strides in the music industry. She is also remembered for her advocacy work in the area of domestic violence. Jenni Rivera's legacy has also been kept alive by her five children.
The singer was married three times and welcomed three daughters, Chiquis, 35, Jacqie, 32, and Jenicka, 24, and two sons, namely Michael, 30, and Johnny, 20, during her lifetime.
While some of Rivera's children have followed in her footsteps, others are blazing their own paths in life as models, artists, etc. Whichever one it is though, they have recorded some pretty impressive achievements. Even more heart-warming, they retain a strong family bond which is exactly how their mother would have wanted it.
Jenni Rivera Rose against All Odds to Become One of the Biggest Banda Musicians in the World
Jenni Rivera achieved a lot of success in her lifetime but it didn't come easy. In fact, her dreams of becoming a musician were nearly truncated before it even started after she got pregnant with her first child in high school. She would go on to marry the father of her child and they welcomed two more children. The marriage later turned unpleasant and she had no option but to embark on her first divorce in 1992. Following the divorce, Jenni Rivera recorded her first single in 1992 and followed it up with her debut full-length album, Chacalosa (Party Girl), in 1995.
The album was good but failed commercially as the Banda music circuit was dominated by male folks. Both fellow singers and listeners were against a lady barging into what they considered their fold and it proved hard for Rivera to breakthrough. She kept on putting out albums though and eventually rose to prominence as the top-selling female artist in the regional Mexican music scene. Thanks to albums such as Jenni and Parrandera Rebelde y Atrevida, Rivera also became one of the top Latin artists in the world and scooped up several awards including two Billboard Music Awards.
Having broken through on the regional Mexican music scene, Jenni Rivera further spread her wings into television shows, a fashion line, and a tequila brand, etc. She was on track to add talk show queen to her resume when her life was tragically cut short by a helicopter crash on the 9th day of December 2012 near Monterrey, Mexico. Her demise led to an outpouring of tributes as fans remembered the lady who came, saw, and conquered.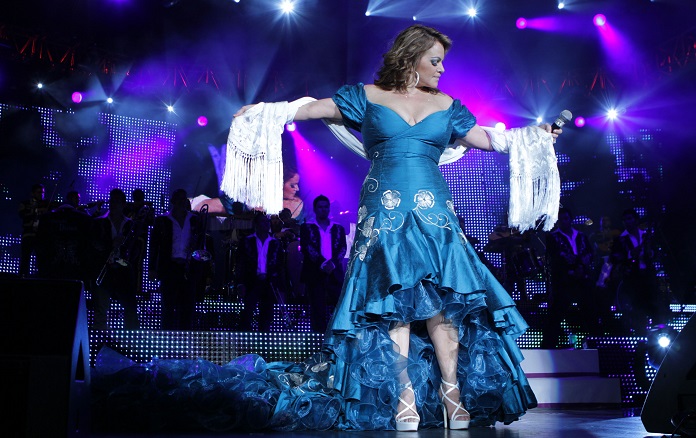 The Singer Was Married Thrice in her Lifetime and Gave Birth to a Total of Five Children
Jenni Rivera first got married to her high school sweetheart, Jose Trinidad Marin, in the late 80s. They already had a child before the wedding and went on to welcome two more. They subsequently divorced in 1992. Jose was physically abusive but it wasn't even worse of it. He also molested his two daughters as well as Jenni's sister, named Rosie, and eventually wound up in jail. Such a horrific experience was enough to make anyone swear off love forever but not Rivera.
She found love again and got married to her second husband, Juan Lopez, in 1997. Their union lasted seven years during which they welcomed two kids. They later divorced in 2007 as a result of Lopez's infidelity and his illegal dealings. By the time that Jenni Rivera married her third husband, MLB player – Esteban Loaiza, in 2010, she was hoping it would be third time lucky. It turned out not to be so as they equally divorced a few months before her death in 2012.
Meet Jenni Rivera's Five Children
Jenni Rivera had a total of five children in her lifetime. The singer gave birth to her first child when she was aged 16 and would go on to welcome four more in the course of her lifetime. She, therefore, juggled her kids with building her music career. Thankfully, these kids are grown now and are making their mother proud.
Eldest Child, Chiquis Rivera, is also an Award-Winning Banda Singer
Full name: Janney Marin Rivera
Date of birth: 26th of June 1985
Father: Jose Trinidad Marin
Occupation: Singer and Reality TV star
Years active: 2010 to date
Relationship Status: Divorced
No of Children: None
Chiquis Rivera is Jenni Rivera's first child. She was born while her mother was still a teenager and her father is Jose Trinidad Marin. As at the time that Chiquis was born, her parents were not married but they subsequently tied the knot after her birth. The young Chiquis grew up in Long Beach and completed a high school diploma. She then delved into showbiz and landed her own reality TV series, Chiquis & Raq-C, in 2010.  The show basically followed Chiquis' adventures alongside a friend named Raq-C and her mother and siblings occasionally appeared in it. Her mother proved to be an audience draw and got her own show, I Love Jenni, in 2011. Chiquis Rivera also appeared in her mom's show from 2011 to 2013. Following her mom's death, she and her siblings featured in The Riveras from 2016 to 2019.
Chiquis has now focused on her music career. Just like her mother, she also sings Banda music as well as Latin pop. She has so far dropped three albums namely Ahora, Entre Botellas, and Playlist. She has also received several accolades including the Latin Grammy Award for best album in 2020. Chiquis is yet to reach the heights that her mother achieved but it remains a possibility. There is no doubt that she was positively influenced by her late mother but it must be noted that she had a turbulent relationship with her late mom. The bad blood started from an early age and things got to a head when Jenni accused Chiquis of sleeping with her third husband.
The young girl was quite offended by this accusation and did not speak to her mother for several months until her death. She later mended fences with her mom but the same cannot be said of the relationship between her and her dad. Jose sexually molested his daughter for several years and was eventually sentenced to jail. Chiquis has since revealed that she has forgiven her father but wants no form of contact with him. With regards to her personal life, Chiquis Rivera was previously married to a fellow singer named Lorenzo Mendez. They divorced after just a year and some months (June 2019 – September 2020) and had no kids together.
Second Child, Jacqie Rivera, is also a Musician and Fitness Enthusiast
Full Name: Jacqueline Melina Marin
Date of birth: 30th of November 1989
Father: Jose Trinidad Marin
Occupation: reality TV star, singer, and fitness influencer
Years active: 2011 – to date
Relationship Status: divorced
No of Children: Four (Jaylah Hope, Jordan, Julian Joy, and Jenavieve)
Another of Jenni Rivera's children that is transitioning from a reality TV star to a singer is Jacqie Rivera. Jacqie was born on the 30th day of November 1989 and her father is Jose Trinidad Marin. Jacqie had a pretty regular childhood but it later turned out that her father had sexually molested her also. She got the help that she needed and has moved on with her life. The young lady first debuted before audiences when she appeared on her sister's reality TV show, Chiquis and Raq-C, in 2010. She subsequently went on to feature in other reality TV shows centered on her family such as I Love Jenni and The Riveras. These shows have since come to an end and Jacqie Rivera is pursuing a music career.
She is the lead singer of a band known as Ex-Factor and their music spans several different genres, including country and gospel, to form what Jacqie refers to as fusion music. The band has thus far dropped several tracks, such as Existo, defender, and consequences, on various online platforms. Jacqie Rivera is pursuing her music in a cool and collected manner and she attributes this to lessons learned from her late mother. According to her, her mom taught her to have tough skin, a tender heart, and just be herself which is exactly what is she doing by taking her music easy. Asides from her music, Jacqie Rivera is also a budding fitness influencer on Instagram and YouTube. The singer regularly posts workout videos on her social media accounts and has garnered millions of followers due to the wonderful results that she has achieved on her personal fitness journey.
Jacqie has shed a whopping 70lbs herself and she has revealed that the main motivation behind this is the desire to be a better mother to her children. Speaking of kids, Jacqie Rivera is married to Mexican-American actor – Mike Campos. The couple tied the knot in 2012 and went on to welcome three kids namely Jaylah Hope, Jordan, and Julian Joy. They later split up in 2018 and announced that they were getting a divorce. To the surprise of all, Jacqie and Mike reconciled and announced that they were pregnant in 2019. They later welcomed their 4th child Jenavieve. The couple separated again after Jenavieve's birth but they are not formally divorced meaning a reconciliation could still happen.
Third Child, Michael Marin, is a Budding Mural and Signage Artist
Full Name: Trinidad Angelo Marin Rivera
Date of birth: 11th of September 1991
Father: Jose Trinidad Marin
Occupation: Mural and signage artist
Years active: 2011 to date
Relationship Status: Single
No of Children: 1 (Luna)
Michael Marin Rivera is Jenni Rivera's third child and first son. He was born in the year 1991 and grew up in Long Beach, California, where he concluded his high school diploma. He subsequently obtained a college degree from the Los Angeles Trade-Technical College where he specialized in murals and the likes. Michael is now a thriving artist and his murals can be found in several parts of Los Angeles. His subject matter usually covers animals and nature. He has also painted murals honoring iconic figures such as Kobe Bryant, Nipsey Hussle, and of course, his mother – Jenni. Michael's work is very much in demand and he gets to dictate favorable terms of work.
For instance, he only does signage and murals and no paper or canvass drawings. His murals are also for public locations only and not private residences. Michael's work has enabled him to achieve a net worth of $700,000 which is a testament to how far he has come. As a young boy, he ran into several troubles with the law including allegations of sexual assault. He was also arrested for acts of vandalism shortly after his mom passed away. He was able to escape jail time though and has used his second chance to reform his life. Michael Marin is not only a budding artist but is the proud father of a daughter named Luna Marin Ibarra. He also remains quite close to his siblings and does his bit to honor their mother's legacy and keep her memories alive.
Fourth Child, Jenicka Lopez, is a Plus-Size Model
Full Name: Jenicka Priscilla Lopez Rivera
Date of birth: 3rd of October 1997
Father: Juan Lopez
Occupation: Model, reality TV star, and social media influencer
Years active: 2011 to date
Relationship Status: single
No of Children: None
Jenicka Lopez is Jenni Rivera's fourth child and the first of two children that the singer had with her second husband – Juan Lopez. Jenicka grew up in Long Beach and graduated from the prestigious Fusion Academy in 2014. She subsequently enrolled in college but dropped out after a while to focus on a career in showbiz. Like most of her siblings, Jenicka Lopez got her first taste of showbiz by featuring in the family's reality TV shows such as I Love Jenni and The Riveras. She is now concentrating on a career as a plus-sized model.
Jenicka is blessed with generous curves and is quite proud of her body. She is signed to a professional model agency and has featured in campaigns for several brands. One of her frequent collaborators is a popular online fashion store, Fashion nova. Jenicka regularly posts pics of herself wearing various fashion nova outfits on Instagram. Those pictures as well as other forms of content have helped her achieve one million followers on Instagram. She similarly has substantial followership on YouTube. In her personal life, Jenicka Lopez has never been married and has no kids but she lavishes her love on her nieces and nephews.
Youngest Child, Johnny Rivera, is Studying to Become a Music Producer
Full Name: Juan Angel Lopez Rivera
Date of birth: 11th February 2001
Father: Juan Lopez
Occupation: Music producer
Years active: 2011 to date
Relationship Status: N/A
No of Children: N/A
Jenni Rivera's fifth and youngest child is a son, Juan Angel Lopez Rivera. Fondly known as Johnny, he was born in the year 2001 which means that he was quite young when his parents passed away. Johnny's dad passed away when he was about 8 years old while his mom followed when he was 11 years old. He, therefore, grew up missing them and has on occasion taken to social media to pour out the heaviness in his heart. The young man is not relenting though but is living a life that will make mom and dad proud. Johnny performed brilliantly during his high school days at the Fusion Academy and graduated two years early in 2017.
He is now in college and is pursuing a degree in music production. Johnny was motivated to attend college because of the important value that his late mother placed on education and hopes to become a big-time music producer in the future. He also hopes to sing himself someday and even direct a couple of movies. Johnny is a young man who has a lot to give and in the meantime, he has exhibited courage by coming out as bisexual in 2017. Johnny was first rumored to be gay after a young man named Joaquin shared affectionate pictures of them and he retweeted it. The pictures went viral and they were many positive comments.
They were also hateful comments from homophobic people and Johnny boldly came out to declare that he was bisexual. He revealed that he had struggled with his sexuality, as he wanted to be completely straight or gay, but had to make peace with it. Johnny received support from his siblings during his coming out period. His eldest sister, Chiquis, also made it known that she was willing to give her frozen eggs to him so that he could have a child someday.