Vin Diesel is the gruff and tough protagonist who easily pulls off monstrous carjacking and multi-million dollar heists with panache On the Fast and Furious franchise. This has cemented his status as one of the greatest action figures to grace Hollywood. He is also one of the highest-paid, thanks to the multibillion-dollar franchise. When he is not busy pulling off daredevil stunts on the screens, Vin Diesel is very much mellow and is a family man at heart.
Though not married, Diesel has gone steady with the model, Paloma Jiménez, for more than a decade now, and in that time, they have welcomed three wonderful kids. Diesel is fiercely protective of both his partner and kids, but at the same time is quite proud of them. Though the actor does not splash his family information for public consumption, he doesn't fail to express how important they are to him.
Vin Diesel is the Perfect Combination of Action Hero and Family Man
Some people sacrifice family happiness to build their careers, while for others, it is vice versa. For the likes of Vin Diesel, he has successfully struck the perfect balance between the two, and the reason may be that he has achieved some level of professional success before setting up his family. Diesel aspired to be an actor from an early age and, when he was in his 20s, started hustling for movie roles. Being biracial, Diesel found it hard breaking through as he was considered not black enough, white enough, Italian enough, or Hispanic enough in the 80s and 90s Hollywood.
Frustrated by such a reality, the young Vin Diesel took matters into his own hands and produced and directed a short drama in which he starred. That short drama, Multi-facial, captured the discrimination he faced because of his heritage and made it to several film festivals. During one of those festivals, the legendary director, Steven Spielberg, saw it and decided to cast Diesel in his award-winning 1998 film, Saving Private Ryan. The role was a small one, but it led to a series of other small roles, and three years later, Diesel landed the career-defining role of Dom on the Fast and Furious franchise.
What started as just a one-off film has grown into one of the world's most popular and highest-grossing film series. The Fast and Furious franchise has thus far yielded nine films across two decades, and Diesel has spearheaded about eight of them. His work on the series has made him one of the notable action stars of all time, and he has received several accolades. He is also one of the highest-paid actors in Hollywood and pocketed an upfront $20 million for Fast and Furious 9 in 2021. It has indeed being a wild ride in the industry for Diesel, and what makes the journey all the more wonderful is his family that are there to cherish it with him.
The Fast and Furious Star is in a Long Term Relationship with Mexican Model Paloma Jiménez
Most A-list stars are usually the subject of frequent dating rumors, but this is not so with Vin Diesel. The actor is in a low-key but stable and strong relationship with model and TV star Paloma Jiménez. Real name – Karla Paloma Jiménez Denagustin, Jiménez originally hails from Acapulco, Mexico, and was born on the 2nd of August 1983. Thanks to natural good looks and an impressive height of 5 feet 10 inches, Jiménez has worked as a professional model and feature on the cover of magazines such as the Spanish edition of Maxim.
She has also appeared in campaigns for brands such as Coca-Cola, Honda, and Pantene. Besides modeling, the beautiful Jiménez has also featured in some TV shows, including a popular Mexican comedy ad variety show known as Otra Rollo. Since her romance with Diesel began, Jiménez has largely scaled back her career and is now focused on taking care of her kids and her man.
They Have Been Together Since 2007 But Has Never Been Married
Vin Diesel is famously tight-lipped about his love life, and as such, it is not known how he and Paloma Jiménez met each other. It is, however, known that they commenced their relationship in 2007. Before that time, the only lady that Diesel had been known to date publicly was his Fast and Furious co-star, Michelle Rodriguez. That romance fizzled out within a year, and the actor found himself single. He was quite contented with that status, and a few non-committal flings, but the 2005 movie, The Pacifier, changed his mindset.
In that film, Diesel had to play nanny to about five kids, and the whole experience made him realize that he wanted to be a father. However, the fulfillment of that dream depended on finding the right person and that right person came along in 2007 in the shape of Paloma Jiménez. Diesel was quite taken with Jiménez when they first met, and they commenced a relationship that same year. They have now been together for 13 years and counting, enjoying a stable and scandal-free romance.
The couple has also welcomed three kids together. Despite the longevity of their union and the three kids they share, Diesel and Jiménez have never talked about wedding plans. It may be that they don't want to bend to society's rules. It is also possible that they could still tie the knot someday down the line. Whichever it is, the relationship between Diesel and Jiménez is as strong as they come, marriage or no marriage.
The Couple Keep Their Romance Out of the Spotlight
Vin Diesel and Paloma Jiménez have been together for about 13 years now, and one thing that has been quite obvious is that they prefer keeping their romance out of media scrutiny. For instance, the couple started dating in 2007 but only made their red carpet debut at a gala honoring Samuel L. Jackson on the 1st of December 2008. By that time, they had been together for more than a year and even welcomed their first child together.
Diesel and Jiménez clearly preferred keeping their romance out of the spotlight, and this has been their M.O. to date. The actor hardly talks about their relationships to the media, and Jiménez avoids it entirely.
However, she regularly accompanies Diesel to the red carpet for his important movie premieres. She has also been by his side during major award ceremonies. Diesel has also expressed his love and admiration for his partner on a few occasions. For instance, in 2014, he shared a picture of Jiménez holding their second child and described her as his Mayan queen. He stated that the best gift a man could get is a loving mother for his children. Another occasion that Diesel also let his feelings lose was during the premiere of his film, xXx: Return of Xander Cage, in 2017.
Jiménez attended the premiere with him, and he proudly gushed that she was stunningly beautiful. He described her as his rock and a perfect mother and sweetly yelled "I love you" to her while his red carpet interview lasted. Such an outburst marks one of the rare occasions that Vin Diesel confessed his feelings for Jiménez before the whole world. The actor usually avoids talking about his love life, and this has led to several speculations. Diesel was even rumored to be gay at some point in 2005, but he quickly squashed it. He stated that he belonged to the Marlon Brando, Harrison Ford, Robert De Niro, and Al Pacino code of silence and would never put out his love life on a magazine cover like other actors.
He also made it known that dating another celebrity is just asking for trouble and that he would never do a Bennifer-style of romance. This was back in the 2000s, but Diesel remains notoriously guarded about his love life to date. That particular trait means that we may never know specific details about his long-term romance with Jiménez, such as why they are yet to get married or if they ever will.
Diesel and Jiménez Have Three Kids and Some of Them Are Already Following in their Father's Footsteps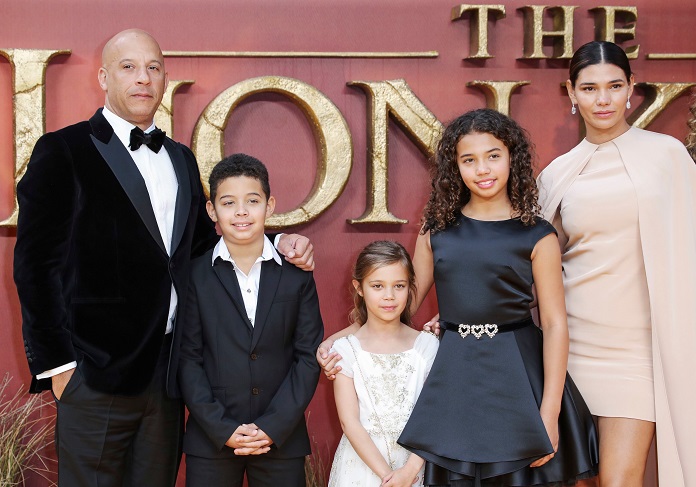 Vin Diesel may be reluctant to show off his lady love to the rest of the world, but he has no such issues with his kids. The actor's relationship with Jiménez has produced three kids, and he is crazy about them. He frequently posts snaps of him hanging out with them on his Instagram page. They also accompany him to the red carpet for the big events. Diesel has also been dishing about the impact they have made in his life.
For instance, after Fast and Furious 9 was released in 2021, Diesel revealed that fatherhood has made him have second thoughts about the intricate stunts that he performs on Fast and Furious. According to him, he was previously a daredevil and didn't give such things a thought before. However, he has learned to be more careful to come home to his kids in one piece at the end of the day.
Hania Riley Sinclair
Date of birth: April 2008
Movie appearance: Fast & Furious: Spy Racers
Diesel's first child is daughter Hania Riley Sinclair. Hania, fondly known as Similce, was born in 2008, and Diesel loves her to the moon and back. The actor made out time to take her on daddy-daughter dates when she was quite little. Now that she is grown, the fun continues as he has been spotted taking her and her siblings to musical concerts and the likes. The close relationship between Diesel and his daughter dates back to when she was born.
At that time, he was filming the fourth Fast and Furious film and looked set to miss the birth. However, his co-star Paul Walker advised him that he needed to be there, and he heeded that advice. Being in the delivery room made for a strong bond between father and daughter, which remains to date. Diesel proudly refers to Hania as his alpha angel, and they have also worked together. Father and daughter lent their voices to the 2019 Netflix series Fast & Furious Spy Racers.
The animated series is also based on the Fast and Furious films, and Hania voiced Sissy Benson, the little sister of one of the major characters named Frostee Benson. Her father also reprises his famous role of Dom from the movie, and it was a wonderful experience for both of them. It remains to be seen whether this will mark the beginning of a career in the film industry for Hania.
Vincent Sinclair
Year of birth: 2010
Movie appearance: Fast and Furious 9
Vincent Sinclair is Diesel's second child, and his first name is an ode to his father's stage name – Vin. Just like his elder sister Hania, Vincent is a regular fixture on his father's Instagram page. He has also attended several movie premieres with his dad, including the 2019 Los Angeles premiere of Avengers: Endgame. Vincent Sinclair presumably keeps busy with school, but he's also been getting a head start in the movie business. The young boy appeared alongside his father in the ninth Fast and Furious film, F9, in 2021.
He basically portrayed a younger version of his dad's character and was paid as much as $1,005 for each day that he was on set. The whole gig may have reeked of nepotism, but Diesel was quick to squash it as he pointed out that it wasn't his idea to have Vincent play the role. According to him, the director, Justin Lin, first muted it, and he initially resisted as he didn't think it was entirely a good one. He later yielded, and it turned out to be a good move.
Pauline Sinclair
Year of birth: March 2015
Movie appearance: N/A
Diesel and Jiménez welcomed their third child, daughter – Pauline, in 2015. This was roughly 16 months after Diesel's co-star and close pal, Paul Walker, died, and so, Diesel decided to honor his late friend by naming his daughter after him. Like with his other kids, Vin Diesel was equally in the delivery room for Pauline's birth, and according to him, he felt Paul's presence there with him in the room. He was thinking about his co-star as he cut the umbilical cord and decided to keep his memory a part of his family and his world by naming the newborn after him. Pauline is now six and counting, and Diesel dotes on her as well. While his eldest daughter is his alpha angel, Pauline is his little angel, and he frequently posts sweet snaps of them together on his Instagram page.
Vin Diesel is the Godfather of Late Paul Walker's Daughter, Meadow Walker
One honorary member of Vin Diesel's family is Meadow Walker. Meadow is the daughter of the late Paul Walker, and her dad and Diesel were not just co-stars but more like brothers. Diesel even acted as Meadow's godfather after she was born, and following her dad's death, he has made a conscious effort to include her in his family and support her. For instance, on her 21st birthday in November 2020, he shared a picture of her and declared that he was proud of the woman she always was and is becoming.
He wished her a happy birthday and declared that the family had a cake waiting for her when she comes back from her celebrations. On her own part, Meadow reciprocates such sentiments. She regularly hangs out with Vin Diesel's kids and often posts their pictures on her Instagram with the tag – family.