Venus Williams does not have a husband and is not married. The legendary tennis player with seven singles grand slams to her name has faced numerous questions about settling down and starting a family, but she is not buckling under societal pressure.
Williams is perfectly happy with the life she has made for herself and is not in any way desperate or even eager to change it. The tennis star has, however, been in multiple romantic relationships. Come with me as we unpack all those.
Is Venus Williams Married?
Venus William is not married presently, nor has she ever been married in the past. She also has no kids as well. This is a stark contrast to her sister and doubles partner, Serena Williams. Serena married Reddit founder Alexis Ohanian in November 2017, and they now have two daughters together, Olympia and Adira River (born 2023).
As you would expect, Venus is a doting aunty to these kids and a loving figure to other kids in her life. This has inevitably led to questions about whether she would settle down and start a family. In July 2022, the 43-year-old tennis star made it obvious that being a parent required lots of sacrifices but that if that ever happened for her, she was up to the task as she would be "totally dialed in".
Such thoughts show that Venus Williams is open to the idea of starting a family, but in 2023, her father and former coach, Richard King, made it known that he didn't think she would ever have kids even though she loves them. Williams isn't bowing to societal expectations, though, but is doing things exactly how she planned. She has revealed that people close to her often urge her to act before her window of opportunity closes.
According to her, they find it hard to believe that she is satisfied with her life as it is presently. She, however, pays them no heed but remains true to herself.
Who is Venus Williams Dating Now?
Venus Williams revealed in a 2021 Instagram story that she was single. Since then, there has not been any confirmed romantic relationship that she has gotten into. What we have are rumors. The latest speculations are that Venus Williams is dating fellow tennis player Reilly Opelka. Opelka is American, just like Venus, and is also tall like her. He is 6 feet 11 inches, which makes him one of the tallest tennis players ever. He has won many titles since turning pro in 2015, including the New York Open, Dallas Open, etc.
Reilly Opelka living his best life with Venus, Serena and Frances at the #KingRichard premiere. #VenusWilliams #SerenaWilliams #FrancesTiafoe

📸: Reilly's IG pic.twitter.com/b3igIskas9

— Chad (@CCSMOOTH13) November 15, 2021
Venus Williams and Reilly Opelka were first rumored to be dating in 2021. It got to the extent that a fan questioned Venus about it. She shot down the rumors but added that she had asked Opelka out, and he turned her down. This was most likely her trying to be cheeky and funny, but it didn't diffuse the situation. Things even got more interesting when a fan also asked Venus who her favorite dinner date was after Serena, and she went on to list Opelka.
At the very least, Venus Williams and Reilly Opelka are good pals who share a love for fashion and tennis, and they often praise each other. When Venus wore a designer Prada outfit to the 2023 edition of the U.S. Open, Opelka complimented her outfit. She also did something similar when he modeled for Prada at an event in June 2023.
Who Has Venus Williams Dated?
Aside from the rumored relationship with Reilly Opelka, Williams is also known to have dated the likes of Elio Pis, Nicholas Hammond, and Hank Kuehne.
Hank Kuehne (2007 – 2010)
Kuehne is a former American golfer who is presently 48-years old. He is a native of Dallas, Texas. Venus Williams and Hank Kuehne began dating in 2007, and they did not bother to hide their romance. Kuehne made it to Wimbledon in 2007 to watch Williams in action. She also accompanied him to the Masters in 2008. The couple dated for three years and were quite serious with each other. They unfortunately broke up in 2010 and moved on with their respective lives.
Elio Pis (2012 – 2017)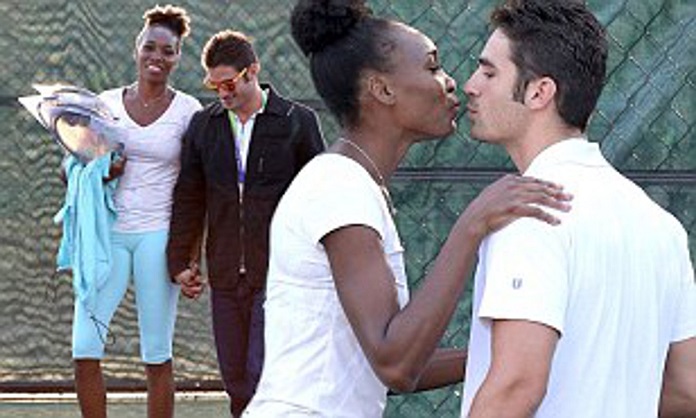 Another of Venus Williams' ex-boyfriends is Elio Pis. Elio is of Cuban roots and is a professional model. The hunk has modeled for several designer brands and also made it to the pages of some notable magazines. It was fashion that helped to bring him and Venus Williams together.
The two met each other when they both modeled for Williams' athletic apparel line EleVen in 2012. They started dating that year and kept it to themselves for several months before they would make it public. However, once they did that, it seemed like a floodgate had been broken loose.
Elio Pis attended Venus' major tennis tournaments and always sat in the same box as her family members and team. He also stepped out to the court to rejoice with her occasionally, and they didn't shy away from packing on the PDA. The couple attracted some speculation because Venus was eight years older than Elio. They nevertheless ignored it and moved on. Their romance lasted several years. Venus Williams and Elio Pis broke up around 2016, but it was likely an amicable split as the exes were seen dining together in 2017.
Nicholas Hammond (2017 – 2019)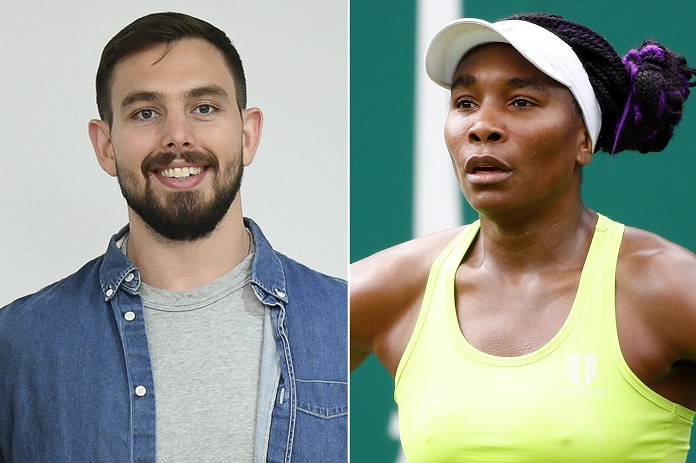 Following her break up with Elio Pis, the next person that Venus Williams dated was Nicholas Hammond. Hammond is a financier and the son of socialite Dana Hammond. He is an heir to a publishing fortune as his mother is related to the late Walter Annenberg, the owner of Triangle Publications, TV Guide, and Seventeen Magazine
Hammond is 12 years younger than Venus Williams. They started dating in 2017, and things moved quite fast between them. Hammond took Venus to visit some of the exquisite properties that his family owns in Palm Beach and the Hamptons. She brought him along to tennis events such as the 2018 Australian Open and U.S. Open. Hammond was also Venus' date to Serena's wedding back in November 2017.
The couple's age difference raised some eyebrows, and some even referred to Hammond as a boy toy, but he didn't care. He gave Venus a diamond friendship ring. Reports also emerged that the tennis star wanted to have a child with him. The couple later broke up in 2019. Some reports have it that Venus was thinking of settling down and having kids, but Hammond wasn't on the same page as her. There is no confirmation of this, though.