Kountry Wayne, AKA King Kountry Wayne, is an American comedian, social media influencer, and actor who gained public attention in 2014 after one of his skits went viral. A divorcee that is famous for fathering 10 children from 5 different women.
Call him a modern-day King Solomon (we're not referring to the wisdom), and you would not be wrong. Kountry Wayne got popular for the uniqueness of his comedy style. His motivation to become popular was inspired by the fact that he had 10 mouths to feed. The comedian and occasional actor is a father to 10 children from at least five different women; he often includes his experience with romance and fatherhood in his comedy material.
His fame has slowly increased since he found fame in 2014, and now, he commands a huge following across all major social media platforms, including Instagram. He has over 4 million followers across IG and Facebook. He also operates a YouTube channel where he frequently posts comedy skits featuring other popular comedians.

Profile Summary of Kountry Wayne
Full name: Wayne Colley
Alias: King Kountry Wayne
Date of birth: 9th December 1987
Zodiac Sign: Sagittarius
Place of birth: Waynesboro, Georgia, United States
Age: 35 Years Old
Nationality: American
Ethnicity: African-American
Eye Colour: Black
Hair Colour: Black
Height: 5 feet 11 inches
Sexual Orientation: Straight
Religion: Christianity
Siblings: 4 Step-brothers (Prince Tay, Crenshaw Coley, QB, and D'Arby)
Marital Status: Divorced (Ex-spouse: Gena Colley)
Children: 10 (3 sons and seven daughters)
Education: Jenkins Country High School
Occupation: Internet Personality, Comedian, and Actor
Net Worth: $2 million
Gena Colley Is Kountry Wayne's Only Known Ex-wife
Despite his history of promiscuity, a certain Gena Colley still found a husband material in Kountry Wayne that she agreed to marry him in 2017, their wedding held the same year, precisely on the 20th of June. Details of how and when they first met are not publicly known. Kountry Wayne's ex-wife Gena is a budding actress with at least one credit to her name as of this writing. According to her IMDb profile, she played the role of Marlene in the 1989 movie, In Country.
Unsurprisingly, Wayne's marriage with Colley was a short-lived one as it ended after Gena found out that he had begun cheating even while they were still legally married. The one Wayne was caught cheating with was Jessica Moore, a stand-up comedian and internet personality best known as Jess Hilarious.
Gena went public with news of her husband's cheating and lashed out at Jess, calling her a homewrecker while adding that Wayne was being sneaky with her the whole time. Jess also took to Instagram to clear the air, saying that she was not a homewrecker and would not tolerate being labeled as such.
As a result, fans of Kountry Wayne advised him against divorcing his wife, threatening to unfollow him if he did. Wayne responded to his fans with a video stating that he was going to live his life the way he wanted and that his kids and their welfare were his top priority. Later in 2019, Kountry Wayne finalized his divorce with Gena Colley. They are, however, now on good terms; Wayne, in June 2019, posted a video on Instagram where he was showering money (supposedly alimony) on Gena Colley. The couple had two daughters Melissa Colley and Honest Dream Colley.
Kountry Wayne Has At Least 5 Baby Mamas
So far, Kountry Wayne has revealed that he has five baby mamas. The actor and funnyman have never revealed the identities of any of his baby mamas but are said to be on good terms with all of them and up to speed with child support payments. All of them have also stayed away from the media.
Kountry Wayne spent Valentine's day of 2019 with one of his baby mamas and their children, but the identity of which one of them it was was not revealed. It was during the same time he was still dating Jess Hilarious, and as a result, she called it quits with him, saying that he cheated on her with his baby mama and should have rather spent Val's day with her and not his baby mama.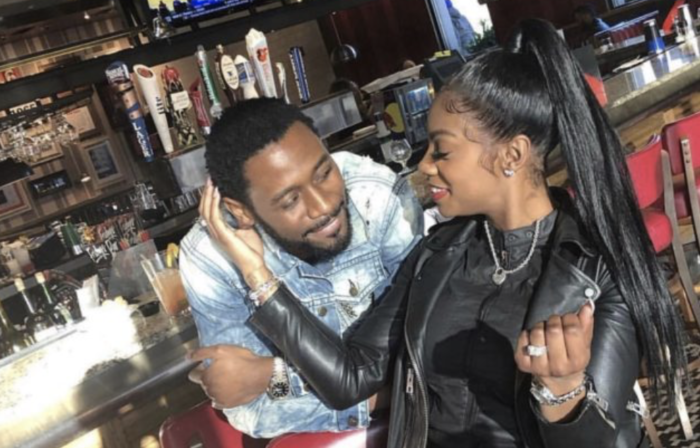 Wayne and Jess, who are best known for her videos on Instagram and her frequent appearance on improv comedy, show Wild' N Out, are said to still be on good terms. She is not one of Wayne's baby mamas, as their relationship produced no child.
Kountry Wayne's Oldest Child Was Born In 2004
The first time Kountry Wayne was a father, he was a minor – just 17 years old and in the 12th grade. The person that would become his first baby mama was his high school sweetheart. Together they had a son they named Tony Colley. The period was challenging for Kountry as he had lost his mother and his dad was in prison.
In an Instagram post he made to celebrate his son Tony's 16th birthday, Wayne said of the time that he was financially broke but spiritually rich. One would think that the experience would have taught Wayne to take protected sex more seriously, but that was not the case. By his high school graduation, when he asked his girlfriend if she had seen her period, the reply he got was negative. She was pregnant with their second child, making Kountry Wayne a father of 2 at the age of 18.
Shortly after, Wayne broke up with his first baby mama and, within three years, wound up dating three different women, all of whom he got pregnant. By the time Kountry Wayne was 22 years old in 2008, he was a father of 7 children. With his now ex-wife, Gena, Wayne had two daughters.
For a long time, the number of Wayne's kids was thought to be 9. However, the comedian in 2021 was met with the news that he had fathered a child with one of his past girlfriends. He realized that year that he also had a 13-year old son bringing the total number of his children to 10, including three sons and seven daughters. Out of the 10, only the names of 5 have been publicly revealed; they are Tony, Temar, Christiana, Melissa, and Honest Colley.
While the comedian has been criticized for having so many children with different women, he has said that his children are a huge blessing to him. He has said that having so many kids helped him to stay focused as he wanted to be as responsible as he could to give them the best life had to offer. His first foray into entertainment was music, Kountry Wayne started as a rapper, but when music was not bringing in money, he switched to comedy and soon realized that it was indeed his true calling. He got paid $3,500 for his first stand-up gig and now has a net worth estimated at $2 million.