Ariana Grande is of Italian-American ethnicity and has American nationality.
Her parents, Joan Grande ad Edward Butera, trace their roots to the southern part of Italy and she has been quite forthcoming about her heritage over the years. This has not been enough to stave off controversy though. For years, Ariana Grande has faced allegations of black fishing i.e. increasingly trying to look like a black lady. She has of course rejected these allegations and many of her fans have spoken out in her defense. The allegations have persisted though and some people now erroneously believe that the singer may be black or Latina.
Where is Ariana Grande From?
Ariana Grande is from Boca Raton, Florida, United States of America. The singer was born on the 26th of June 1993 in Boca Raton, Florida. She spent her formative years in Florida and started singing from an early age. She also got into theater as a child and participated in several productions such as Annie and Beauty and the Beast. She later left for Los Angeles to pursue her career in her teens.
What Ethnicity is Ariana Grande?
Ariana Grande has Italian-American ethnicity. Her parents, Edward Butera and Joan Grande are both born in America but they trace their roots to the southern parts of Italy. Ariana's maternal family, the Grandes, are originally from the town of Abruzzo located in south-central Italy. Her paternal family, the Buteras, are originally from the island town of Sicily in southern Italy as well. Italians are Caucasians and so, Ariana Grande is Caucasian as well. It is also correct to say that Ariana Grande is white.
"@ArianaGrande: I am Italian American , half Sicilian and half Abruzzese xx RT @_mylifestory_ @ArianaGrande What is your nationality? :)"😏

— 🧡🐉Jay Jenner🐉🧡 (@Majinjayy) December 2, 2014
Is Ariana Grande Italian?
Ariana Grande is not an Italian citizen but she has Italian ethnicity. As stated earlier, although her parents are Americans, they trace their roots to parts of Italy. Her mom's family traces their roots to the Italian town of Abruzzo while her father's family comes from the island of Sicily. Ariana Grande is quite proud of her heritage and has previously spoken out about it. When queried about her nationality in 2011, Ariana Grande stated that she is Italian-American, half-Sicilian, and half-Abruzzese.
What Nationality is Ariana Grande?
Ariana Grande is of American nationality. The fact that she was born in the United States as well as the fact that her parents are American citizens automatically confers American nationality on her. Grande could also potentially apply for Italian citizenship someday but there is nothing to suggest that she has officially done so. She of course refers to herself as Italian-American but the fact remains that her nationality is only American for now.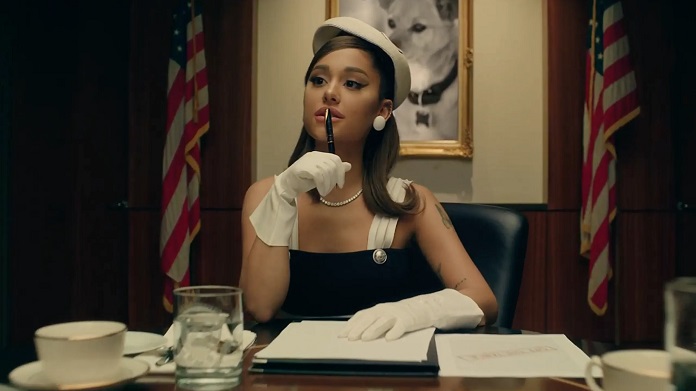 Where Was Ariana Grande Born?
Ariana Grande was born in Boca Raton, a town In Palm Beach County, Florida. She spent her formative years there and built up many treasured memories. The singer now makes her home in Los Angeles but Boca Raton still has a special place in her heart and she has been back to perform there on several occasions.
Who are Ariana Grande's Parents?
Ariana Grande's parents are Joan Grande and Edward Butera. Ariana Grande's mother, Joan Grande is originally from Brooklyn, New York, and is a business executive. She is the CEO of Hose-McCann Communications, a Florida-based company that manufactures communications and alarm equipment.
On the other hand, Ariana Grande's father – Edward Butera, is a graphic designer based in Boca Raton, Florida. Butera is originally from New Jersey and was born in the year 1958. Ariana Grande's parents met and wed in New York in 1992. They relocated to Florida shortly before Ariana's birth. The couple were married for several years and divorced around the time Ariana was eight or nine years old.
Who is Ariana Grande's Grandmother?
Ariana Grande's grandmother is Marjorie Grande. Marjorie Grande is her maternal grandma and they are very close. The singer fondly refers to Marjorie as Nonna and has taken her as her date for award ceremonies such as the 2014 Teen Choice Awards and the 2017 American Music Awards. Ariana Grande also brought her grandma along when she was interviewed on the Jimmy Fallon Show in April 2016.
The singer is so close to her grandmother and they both got tattoos to celebrate her winning Woman of the Year at the 2018 Billboards Award. On the occasion of Marjorie's 92nd birthday in 2017, Ariana dyed her hair gray to match her grandma's. She also paid tribute to Marjorie as a badass Italian grandmotherness and hailed her style and grace.
Asides from Marjorie Grande, Ariana Grande also has a paternal grandmother named Florence Butera but they don't seem to be so close.
Who is Ariana Grande's Grandfather?
Ariana Grande's grandfather is the late Frank Grande. The singer loved him very much while he was alive and often paid surprise visits to him and Marjorie. She also captured the story of how he and Marjorie fell in love in her 2013 track, Daydreamin. Frank passed away in 2014 at the age of 90 and Ariana grieved his death. She posted pictures of herself near his hospital bed and stated that she loved him.
All About Ariana Grande's Blackfishing Accusations
Ariana Grande has built a super successful and scandal-free career but there is one controversy that she cannot just shake and that is allegations of blackfishing. Blackfishing is when white celebrities do everything to appear black or be ethnically ambiguous in order to profit from it.
When Ariana Grande started her career on Nickelodeon shows such as Sam and Cat, she looked like a regular white teenager. However, as the years passed by, her skin began to look more tanned. It is also alleged that her lips became thicker and that she occasionally modifies her accent to sound like a black girl.
Ariana Grande is a blackfish and these are the receipts https://t.co/WzApyoPtJT pic.twitter.com/cUQuC8adGA

— The Tab (@TheTab) February 8, 2019
Grande first faced serious allegations of blackfishing following an interview she granted to Billboard in 2018. She was accused of imitating black people's accents and many people trolled her online. They accused her of cultural appropriation and trying to sound like a black woman. Some also stated that she was trying to sound like Beyoncé. Fans of the singer however spoke in her defense and maintained that this was how she always sounded.
She been white then Latina then Black and now Ariana Grande is Asian 😍 We love our transracial/ racial-fluid queen 😍 Stealing is winning 😍 https://t.co/j1AxBtmpMD

— Ahoma Sekcha (@weshkann) December 2, 2021
Grande then faced another serious blackfishing allegation in 2019 after appearing on the cover of Vogue. She looked deeply tanned in the cover photo and some people wondered if she was Latina. Others pointed out that she was looking more bronzed by the day and giving off afro Latina vibes. As is the norm, fans of the singer defended her. They pointed out that she may just be a big fan of tanning. They also pointed to her Italian origins as the reason why she tans deeply.
Ariana Grande has yet to come out and directly address these allegations but she may have to as they have persisted. Several magazine articles have focused on her "blackfishing" and have kept receipts over the years.
ARIANA GRANDE IS WHITE?!!

— Agni Mehrotra (@AgniBankai) February 25, 2019
Is Ariana Grande Black?
Ariana Grande is not black but is of Caucasian ethnicity. The singer however has a deep tan and this has led people to mistake her to be Latina or even black. The whole thing has also spurred allegations that she is blackfishing. This is when celebrities and popular figures take on African or Asian culture to enhance their looks.
Nevertheless, the sensational singer who has a special place in her heart for the canine community with up to 9 dogs under care has not said anything about the rumors and claims.