Given her list of achievements, there is no doubt that Siohvaughn Funches is a finely accomplished woman. The Chicago native has forged a career as a public speaker,  Christian counselor, author, and businesswoman and has received several accolades for herself. Unfortunately, she is still widely known for the nasty divorce battle with her ex-husband, NBA star – Dwayne Wade. Funches first met Wade in elementary school, and they became high school sweethearts. They eventually tied the knot, and the expectation was that they would go on to live happily ever after. This turned out not to be the case, with one of the most complicated divorces in NBA history following in the wake of their split.

Profile Summary of Siohvaughn Funches
Name: Siohvaughn L. Funches
Date of birth: 6th September 1981
Age: 40 Years Old
Place of birth: Chicago, Illinois
Father: Frank Funches
Mother: Darlene Funches
Siblings: Garrica LeAnna Woods
Education Institutions attended: Richards High School Oak Lawn, Marquette University Milwaukee, University of Phoenix, Capella University, and John Marshall Law School Atlanta.
Spouse: Dwayne Wade (2002 – 2007)
Children: Zaire and Zaya
Occupation: Lawyer, certified therapist, author, and entrepreneur
Net worth: $5 million
Siohvaughn Funches is a Trained Lawyer and Certified Counsellor
Born on the 6th of September 1981, Siohvaughn Funches is a native of Chicago, Illinois, and hails from a family of four. This includes her father – Frank Funches, her mother – Darlene, and a sister named Garrica LeAnna Woods. Funches spent her formative years in Chicago and had a relatively normal childhood that was marred by some unsavory incidents. First, her parents divorced when she was just three years meaning that she had to split her time between two homes as she grew up. Then, her only sister, Garrica, also lost her life as a teenager. This undoubtedly dealt a big blow to the young Funches, but she refused to stay down and completed her high school diploma at the Richards High School in Oak Lawn, Illinois.
She thereafter enrolled for college studies at Marquette University. Circumstances will make Funches transfer to the University of Phoenix down the line, but she persevered and received a degree in psychology in 2009. She completed professional certification in counseling the next year from Capella University, Minneapolis. This did not mark the end of Siohvaughn Funches' educational exploits. From 2014 to 2017, she studied for her law degree at the John Marshall Law School in Atlanta and graduated magnum cum laude. Her Christian faith also inspired her to obtain a doctorate in theology.
She and Dwayne Wade Began Dating in High School and Tied the Knot While in College in 2002
Most people know that Siohvaughn Funches and Dwayne Wade were high school sweethearts, but their relationship predates high school. The pair first met during the 5th grade when they were around ages 10 and 11. They became fast friends and remained so until their high school days at Richards High School in Oak Lawn, when they began dating. As at the time that Siohvaughn Funches began dating Dwayne Wade, she was 15 years old but already had a job, a car, and an income. Therefore, she was quite self-sufficient and provided solace for Wade, who dealt with a turbulent home life featuring a drug addict mom and a strict dad.
The couple's relationship grew from strength to strength, and so when Wade got the chance to play college basketball at Marquette University in Wisconsin, Funches came right along with him. The couple didn't have much in the early days and had to live in a cramped one-bedroom apartment. However, they were so much in love, and in just their third year of school, i.e., in 2002, they tied the knot. At that time, Wade hadn't yet made it into the NBA, so they didn't have many resources. Their wedding ceremony was therefore low-key, albeit full of love.
Their Marriage Lasted For Five Years during Which They Welcomed Two Children
Siohvaughn Funches and Dwayne Wade welcomed their first child, a son named Zaire Blessing Wade, before tying the knot. Their joy further increased after Wade was drafted into the NBA the next year of 2003. That draft meant that the whole family could afford a luxurious life, and they did so for several years. They lived in the choicest of neighborhoods, and Funches cheered her husband on through the highs and lows of the early days of his career. The couple rubbed shoulders with NBA stars and elite athletes alike and attended several glitzy award ceremonies together.
In the eyes of third parties, Siohvaughn Funches and Dwayne Wade had a happy marriage, and this was seemingly confirmed when they went on to welcome a second child, named Zion (now Zaya) in 2007. However, that illusion was shattered that same year as Dwayne Wade filed for divorce from Funches, citing irreconcilable differences as the reason. The divorce filling shocked many, but Wade revealed that the couple's union had been troubled dating back to the birth of their first child in 2002. According to the NBA star, the fact that he and Finches began dating at a young age meant that they didn't know the best ways to sort out their issues.
They ambled on with their problems, and by the time that their first child, Zaire, was born in 2002, their relationship was on the rocks. Since they had just tied the knot and welcomed a child, they decided to overlook their problems and forge on. They could do so for the next five years before they reached their point of no return.
The Couple's Divorce Dragged on for Three Years as they Squabbled over the Custody of their Kids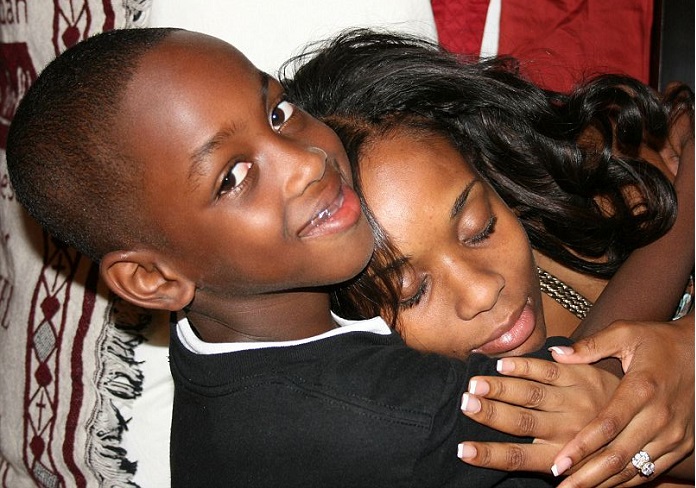 The divorce process for Siohvaughn Funches and Dwayne Wade was quite a protracted one as the couple feuded over how to share their properties. An even bigger bone of contention was the custody of their kids, as both sides wanted to be made primary guardians. The divorce battle lasted for four years, during which Funches changed her lawyer as much as 13 different times. Each change necessitated that the whole process started afresh, but by 2010, the divorce was finalized, and in 2011, the issue of custody was sorted out.
Dwayne Wade got primary custody of the kids, while Funches was given visitation rights. The NBA player was also ordered to pay his ex-wife $25,000 in monthly spousal support and other financial benefits, including $10,000 in monthly travel and living expenses. Funches was none too happy with the sole custody awarded to her husband and alleged that it was due to his celebrity status and his money that the judge ruled in his favor. According to her, her ex-husband had dazzled the judges with his celebrity appeal and also used his wealth to fund publicists who painted her bad in front of the media, all of which led to his victory in court.
Siohvaughn Funches was Arrested for Child Kidnapping Two Years after their Divorce
A final divorce settlement often marks the end of nasty divorce battles, but this was not the case with Siohvaughn Funches and Dwayne Wade. Even after the final order had been made, Funches and her ex-husband clashed over the custody of their kids on several occasions. On one occasion in 2012, Funches was arrested for attempted kidnapping after a delay in returning the children to their dad following a visit. On yet another occasion, her ex-husband asked the court to stop her further visits, accusing her of not being in her right frame of mind and requesting a psychiatric evaluation.
Siohvaughn Funches also gave and took. She accused Wade of being a negligent father and not providing important asthma medications for their sons in 2013. She also accused him of striking their eldest son, Zaire, to the extent that he was bruised. Funches also filed a suit asking for a cut of the player's endorsement deals largess. She then went ahead to stage a public protest in July 2013 outside the courthouse alleging that she was destitute and homeless as the NBA star was not giving her a dime. Wade, of course, fired back and stated that asides from the $25,000 monthly payment, he was paying for her mortgage as well as for her four cars.
It was indeed a nasty battle for all involved, and innocent third parties were also dragged into the furor, including Wade's then-girlfriend-turned-wife, Gabrielle Union. As at the time that Funches and Wade split in 2007, the basketball player commenced a relationship with actress Gabrielle Union. He wasn't yet officially divorced from Funches, and she went on to label the actress as a homewrecker whose presence was detrimental to the kids' welfare. She also sued her for emotional distress but later withdrew the suit. Union was quite circumspect in her response and chose to use social media to spread several messages which were obviously aimed at Funches.
She urged her to stop blaming everyone else but rather admit to her mistakes and shortcomings. She also asked her to commit to change. The claims and counter-claims by Funches and Wade would continue all through 2013, and this was gleefully covered by the media. They later simmered down to the occasional squabbles. For instance, in 2016, Funches attempted to block Wade's attempt to move the kids to Chicago, where he signed to play for the Chicago Bulls. Her application was rejected, and the player was able to move with the kids.
Siohvaughn Funches is now a Published Author and Runs a Non-Profit for Survivors of Domestic Violence
Since things came to a head in 2013, Siohvaughn Funches and Dwayne Wade have sheath the proverbial swords and have moved on with their respective lives. For Funches, she is now a published author and the president of a non-profit. The Chicago native has thus far penned two inspirational books, namely The True Story for God's Glory: The Life of Siohvaughn L. Funches Wade (2016) and You Gotta Let God Finish! (2018). These books draw on her experiences in her prolonged battle with her ex-husband and how God helped her to persevere.
Funches has also founded a non-profit organization known as the A Woman's Worth Foundation. This is a Christian ministry that provides professional Christian counseling and a shelter (known as Safe Haven of Hope) for women and children who are survivors of domestic violence. Often, victims of domestic violence are left doubting their self-worth and identity, and this is where Funches and her team step in. They provide them with several hours of professional domestic violence counseling free of charge so that they may understand their God-given identity and go on and fulfill their destinies in life.
Funches was inspired to found A Woman's Worth Foundation due to the experiences she alleged that she suffered at the hands of her ex-husband. According to her, Wade was nice and devoted until he was drafted into the NBA and became a millionaire overnight. This brought about a change in his attitude, and he became verbally abusive. He was also physically abusive and threw her body on a marble bathroom floor while they were arguing. She tried to call the cops, but he seized the phone and threw it against the wall. Dwayne Wade has, of course, denied these allegations and has never been charged for them.
She Has Also Received Several Accolades for Her Legal Practice and Owns a Real Estate Company
Siohvaughn Funches long divorce battle with her ex-husband was one of the reasons why she got a law degree, and she has deployed the same in founding her own alternative dispute resolution law firm known as The Mediation Matters LLC. The firm is located in Atlanta and provides a variety of professional alternative dispute resolution services to clients. Funches is also a registered civil mediator and arbitrator and a Guardian ad Litem in Georgia. In the former role, she mediates numerous cases for judges, while as a Guardian ad Litem, she advocates in court for abused and neglected children.
Such fine work has fetched her several accolades and recognition, including the Honourable Edward J. Henning Memorial Award for excellence in the Alternative Dispute Resolution Field and the Supreme Court Justice Leah Ward Sears Award. Asides from legal practice, Siohvaughn Funches is also a sought-after public speaker and makes a killing from her speaking fees. The Chicago native has also founded several companies, including a women's clothing line and a real estate investment firm which provides vacation rentals for families on the coast and hotel-like rentals for business executives. All these activities have helped Siohvaughn Funches acquire a handsome net worth, and while it may not be as much as that of her ex-husband, it is still nothing to scoff at.
Siohvaughn Funches Has Rebuilt a Close Relationship with Her Two Children
While Dwayne Wade is remarried to Hollywood star actress, Gabrielle Union, things are different with his ex-wife. Siohvaughn Funches has never remarried and is content to focus her attention on her various endeavors. The certified therapist-cum-lawyer also lavishes much love and attention on her two kids from her first marriage. One of the hardest things that Funches had to cope with following her divorce from Dwayne Wade was that she wouldn't get to see her kids all the time. Matters were further complicated by their custody battles which meant that her visiting rights were sometimes restricted. She didn't get to see her kids often and did not have much input when her second son, Zion, came out as transgender in 2020 and started going by the name Zaya.
It was dad, Wade, and stepmom, Union, that were largely there for the young Zaya, and this must have left a bitter taste in Funches' mouth. However, she remained calm, and her relationship with her kids is now on the mend. In December 2020, she proudly took to Instagram to post pictures of the kids visiting her for Christmas. She described the experience as all she wanted for Christmas and thanked God for making it come through. The post elicited positive responses from several quarters, including her ex-husband – Dwayne Wade, which means that things may now be civil and cordial between the formerly warring exes.