Post Malone's parents have a mix of American and Italian ethnic heritage. His father, Richard Post, is a white Caucasian American citizen, while his mother, Nicole Frazier Lake, is also an American with Italian roots.
This article helps us explore all there is to learn about Post Malone's parents and gives you a clearer picture of his ethnic roots and identity.
Who Are Post Malone's Parents In Real Life?
Post Malone's birth father is Richard Post, while his birth mother is Nicole Frazier Lake. Beyond the fact that each of them went their separate way when Malone was a child, the nature of his parent's relationship is unknown. We don't know how, when, or where they met or if they were married at the time of Malone's birth.
We can confirm that Post Malone spent some time with his mother in his birthplace of Syracuse, New York, before moving in with his father and stepmother sometime later. We have yet to pinpoint the exact reason why his parents split up or how old he was at that time, but one can only imagine how young he was at that time.
What Ethnicity Is Post Malone?
Post Malone's ethnic identity is not as straightforward as his national identity as an American citizen. His ethnic heritage is a little bit more diverse because his father is Caucasian, while his maternal grandfather was born to Italian parents. This invariably adds a tint of Italian heritage to the rapper's ethnicity.
Post Malone's Birth Mother Is One Of Four Children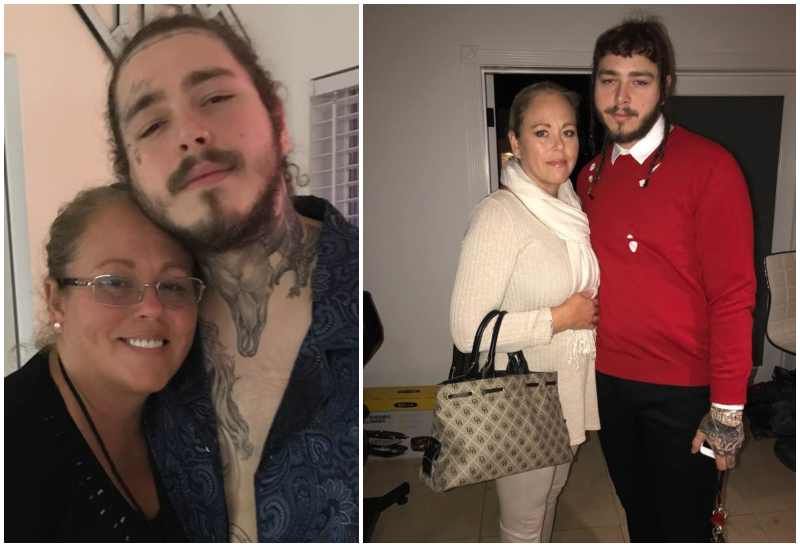 Nicole Frazier Lake, Post Malone's birth mother, may not feature as prominently in his life as his father and stepmother, but several sources have revealed that mother and son have remained quite close. Her fondness for her son made her leave New York for Texas when her ex, Post Malone's father, got a job that required him to move to Texas with their son and his wife.
Nicole Frazier Lake's exact date of birth is unknown, and the same goes for her exact age. We can only speculate that she is in her late 50s. Nicole was one of four children born to John Carlo Pavetto and Diana Frazier. Her father was born in Pennsylvania to Italian parents, but Nicole's mother passed away in 2006 at the age of 61, and her father is now married to a woman named Joan.
Post Malone's mother has remained largely away from the spotlight, making it quite challenging to know a bit more about her formal education background. We already know a bit about her relationship with Post Malone's father. Still, it is also important to point out the little-known details of her relationship with an unknown ex-partner, a relationship that led to the birth of Post Malone's half-brother Jordan.
Beyond being a celebrity mother, there is not enough information to disclose about what Nicole Frazier Lake does for a living. We can confirm, though, that she still lives in Texas and continues to be a significant part of her son's existence.
Who Is Post Malone's Dad?
Post Malone's dad is a former DJ named Richard Post. Richard Post's exact date of birth is unknown, but a few online sources have claimed that he is in his 60s. That invariably means that he was most likely born during the early to late 1960s.
So do I post the @postmalone 's dad with his grown up semen or just by himself stuntin. Also open to submissions of photoshops of this pic.twitter.com/38o7kSIFE1

— @lushsux (@lushsux) August 23, 2017
Rich Post, as he is mostly called, doesn't share much about his early life and upbringing. Included in those unknown aspects of his life are the identities of his birth parents and information about any siblings he might have grown up with. On a few occasions, he has shared a few things about his roots. Malone's father, Rich Post, revealed that he grew up near Rochester in Penfield.
In the quest to acquire a university degree, Rich Post moved to Syracuse, where he attended Syracuse University before graduating in 1988. We have been let in that Rich Post spent the next 16 years in Syracuse and even had his son Malone in that city. He has spoken of his fond memories of the town, which include the birth of his son, Malone, and meeting the woman he is now married to.
Post Malone's Parents Are Not Together
Post Malone was primarily raised by his father and stepmother, Jodie Post. She was born in Camillus and graduated from Le Moyne College. Rich Post met his wife at his former workplace in downtown Syracuse. The company in question is an industrial laundry business outfit named Atlas Health Care Linen Services.
The finer details of their relationship, including how long they dated before getting married, have been duly overshadowed by Post Malone's explosive career success. However, we want to reveal that Malone has a stepbrother named Mitchell from his stepmother's previous relationship. After their wedding, Rich Post moved to Baldwinsville with Malone's stepbrother and stepmother.
They still own a home there to date. Malone was already living with his father at this point, and together, they formed one close-knit family. Rich Post lived in Syracuse until Malone was nine years old. They moved to Grapevine, Texas, after accepting a position as the manager of the concession stands of the Dallas Cowboys stadium, his favorite football team.
Post Malone's Father Used To Be A DJ
Rich Post now holds the position of Assistant Director of Food and Beverage at AT&T Stadium, the official home of the Dallas Cowboys. Before taking the job that saw him move his family, including a 9-year-old Malone, to Grapevine, Texas, he worked as a Disc Jockey (DJ) for CNY weddings with Whirlin' DJs.
It's no surprise that his son Post Malone is a talented and accomplished musician because Richard's exposure to various genres and sub-genres of music meant that his son was also let in on the most trendy music while growing up. Suffice it to say that Richard Post's influence on his son's musical career is quite substantial.
For starters, Rich Post encouraged his son to learn all there is to learn about the art of music. Malone took that encouragement to heart and started learning to play the guitar as a 16-year-old. His love for the video game Guitar Hero increased his aptitude for the craft. Richard further encouraged his son to learn the guitar by adding an incentive of getting him guitar lessons if he stuck to the craft for six months.
He also drove him to various places that would allow him to showcase what he had learned, and the smashing successes recorded on those outings convinced both Malone and his father that they were on the right path.