Paco Zazueta is a Mexican musician who doubles as a butcher and is famous as Melissa Barrera's Husband. He was relatively unknown until he crossed paths with his  Mexican wife, Melissa Barrera, while participating in the reality television show La Academia.
Their nuptials, which took place in 2019, announced Paco to a wider audience, and today, the aspiring musician is best recognized as the husband of Melissa Barrera.
Summary of Paco Zazueta's Biography
Full Name: Paco Zazueta
Gender: Male
Date of Birth: 22nd of January 1987
Paco Zazueta's Age: 36 years old
Ethnicity: Latino
Nationality: Mexico
Zodiac Sign: Aquarius
Sexual Orientation: Straight
Religion: Christianity
Marital Status: Married
Paco Zazueta's Wife: Melissa Barrera
Paco Zazueta's Parents: Javier Zazueta (father) and , Francisca Munoz (mother)
Siblings: Marysol and Fernanda Zazueta
Famous For: being the husband of Melissa Barrera
Paco Zazueta's Instagram: @pacozazueta059
How Old is Paco Zazueta?
Paco Zazueta is currently 36 years old. He was born on the 22nd of January 1987. Paco's name indicates that he is a Mexican, and going by his records, the musician spent a better part of his growing up years in the Ciudad Obregon area of Sonora in his home country Mexico.
Though the career paths of his parents have never been disclosed, they have been identified as Javier Zazueta (father) and his wife, Francisca Munoz. While Javier seems to keep a low profile, Francisca has her own Instagram account, though she set it to private.
Paco Zazueta shared his formative years with two sisters, the oldest among them is Marysol Zazueta, and the other is called Fernanda Zazueta. Reports say that the Zazueta family is a closely-knit Christian family. Paco is said to be very close to his parents and siblings.
Zazueta is a University Graduate
Growing up in the Ciudad Obregon area of Sonora, the aspiring Mexican musician achieved his early academic qualifications in the locality. However, when the time came for him to proceed with further studies, Paco chose Colegio Teresiano de la Vera-Cruz.
His quest for further education saw him join lic.Comercio Internacional at Universidad Trech Milenio. While we were not told his course of study, reports have it that the youngster persevered with his music throughout his time at the University. Paco would always make out some free time to hone his music skills.
How did Paco Zazueta Meet Melissa Barrera?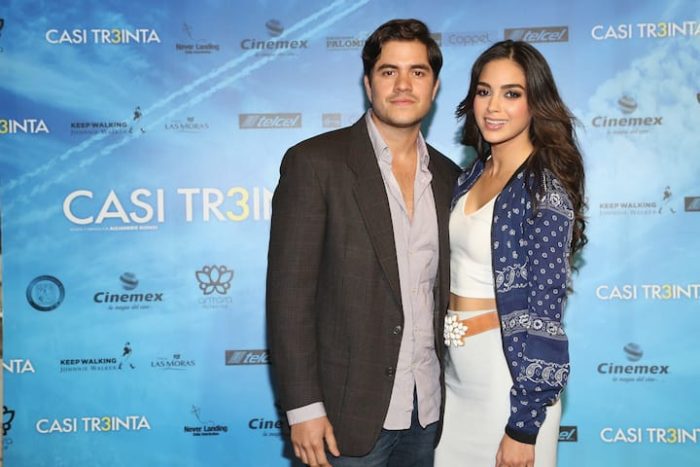 While Paco Zazueta was participating in the reality show La Academia, he crossed paths with his wife, Melissa Barrera, for the first time. The 2011 edition of the TV show admitted both Paco and Melissa as contestants; the duo recognized a kindred spirit in each other and began assisting themselves on the show.
Speaking in an interview session in June 2019, Melissa confessed that it was thanks to Paco that she stayed on in the reality show. Describing Reality TV as a snake pit, the Mexican actress said it is probably the hardest part of the entertainment industry.
According to Melissa, she actually contemplated checking out from the show early, but the encouragement she received from Paco made her stay on. The two were taking turns in encouraging themselves to stay and stick it out until Melissa was evicted three months into the show. It goes without saying that Paco Zazueta and Melissa Barrera formed a strong bond during the show, which saw them become an item later.
Paco Zazueta Became Melissa Barrera's Husband in 2019
We would not be far from the truth to say that the couple's experience on the set of La Academia made their relationship stronger. They eventually dated for six long years before deciding to become officially engaged.
In June 2017, Paco and Melissa went to Manhattan, and while touring the Empire State Building, the Mexican singer popped the big question to his love interest. Needless to say, he received an affirmative answer. The couple went ahead to plan a 2019 wedding, and in February, they cemented their relationship by exchanging wedding vows.
The kind of ceremony they had was never mentioned; thus, it is hard to say whether they wedded in the church or registry. It has been three years of marital bliss, and from what is perceivable, the celebrity duo is still going strong. They spend their days shuttling between three homes in LA, New York, and Mexico. Paco and Barrera are pet parents to two dogs.
Barrera was overt in celebrating their second wedding anniversary with some cute pictures on the picture-sharing platform. Her caption was quite captivating, "2 down, forever to go, I love you, happy anniversary, husband."
Paco quickly responded by sharing a similar post via his own Insta Story. Though it has not been officially reported by media sources, the couple's Instagram handle suggests they just had a baby.
What Does Paco Zazueta Do for a Living?
Though Paco Zazueta is best known as the husband of Mexican actress Melissa Barrera, the young man has also forged his path in life. On his IG handle, Paco parades himself as a singer, and he is also a butcher, a reality star, and a social media personality.
As a singer, he has released some great singles, entitled, Melissa, Ya Te Perdi La Fe, Solo Con Verte, and more. Paco takes the credit for several other tracks like Coleccionista de Canciones, Que Lloro, Sentirme Vivo, Fria Come el Viento, No Me Puedo Escapar de Ti, and others. His songs are accessible on Spotify.
To aid his music career, Paco launched a record production. The self-titled imprint was established in 2012. As a butcher, the Mexican musician owns and runs an online shop known as Carnes Zazueta Culiacan. The virtual shop is what he leverages in selling quality meat products to the public.
Paco Zazueta started his career in reality TV. In fact, it was while he was participating in the La Academia reality show that he crossed paths with the woman who would become his wife. It has become the norm for aspiring celebs to establish a presence on social media platforms where they hook up with fans, and Paco is no different from the rest.
The Mexican musician is on Instagram, where he has built a solid fan base. Presently, his Instagram handle boasts of followers in tens of thousands, which keeps growing with the passage of time.
List of Paco Zazueta's Discography
Melissa
Ya Te Perdi La Fe
Solo Con Verte
Coleccionista de Canciones
Que Lloro
Sentirme Vivo
Fria Come el Viento
No Me Puedo Escapar de Ti