Tony Shawkat is an American movie producer, actor, language advisor, and philanthropist best known as Alia Shawkat's father.
Tony started his career as an actor before exploring other fields in the entertainment world. Tony's success in his career is also reflected in his personal life. The multi-talented producer has been married to one woman for the past four decades, and it looks like they are set to take it as far into the future as possible.
Summary of Tony Shawkat's Biography 
Full Name: Abdul "Tony" Shawkat
Gender: Male
Ethnicity: Arab
Nationality: Iraqi
Sexual Orientation: Straight
Religion: Islam
Marital Status: Married
Tony Shawkat's Wife: Dina Burke
Tony Shawkat's Children: Paul Shawkat, Anthony Sharif Shawkat, and Alia Shawkat
Famous For: Being the father of Alia Shawkat
Tony Shawkat's Instagram: @tony_shawkat
When Was Tony Shawkat Born?
Tony Shawkat's date of birth is not known, but reports said he was born in his home country, Iraq, precisely in Baghdad. Tony was very young in 1978 when he followed his parents to the US; his given name at birth is Abdul "Tony" Shawkat, and his nationality is obviously Iraqi. Ethnicity-wise, he is listed as Arab.
As Arabs, Tony's family practiced Islam; they are also pro-Palestine. Even after he left his home country, the Baghdad native continued in the Muslim religion and raised his children to follow the faith. He is currently a resident of Rancho Mirage, California.
Is Tony Shawkat Married?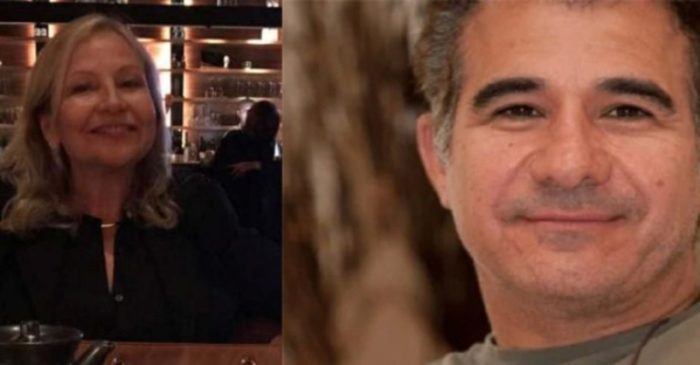 The records revealed that Tony Shawkat is a married man and has been enjoying marital bliss with his wife, Dina Burke, for over four decades. We were not told exactly when Tony and Dina first crossed paths, but their meeting was reported to have occurred a short while after he landed on American soil.
Dina is the daughter of Paul Burke and Peggy Pryor, who earned a living in the entertainment industry as actors and owners of nightclubs. Tony's wife is of mixed Italian, Irish, and Norwegian ancestry. She ran her parent's nightclubs with them and took over after they retired.
The couple dated for a while before getting married, but the exact date of their nuptials has never been disclosed.
How Many Children Does Tony Shawkat Have?
Tony Shawkat is a father of three children – Paul Shawkat, Anthony Sharif Shawkat, and Alia Shawkat.
The Iraqi movie producer's first son is Paul Shawkat. Though his birth details are not known, he is a graduate of California State University, where he studied English literature. Paul is earning his keep as a classroom teacher at North Hollywood High School. He also worked in Albania with Peace Corps.
Tony's younger son goes by the name Anthony Sharif Shawkat. He attended the University of Redlands, graduating with a degree in International business. Antony is an employee of Time Warner Inc. as its Executive administrative assistant.
Tony Shawkat's only daughter, Alia Shawkat, is the most popular among the Shawkat brood. Born in Riverside, California, on the 18th of April 1989, Alia became an actress at the tender age of 11. In 2001, the youngster was featured in the ABC Family series, State of Grace, marking her debut in the acting scene.
A couple of years later, in 2003, she scored her best-known role on the set of Arrested Development, breathing life into the character of Maeby Funke.
Away from the movie scene, Alia loves making music, especially singing in jazz bars. She is also an art enthusiast and has actively participated in gallery shows in Mexico City, LA, and Paris.
Does Tony Shawkat Have a Relationship with Alia Shawkat?
Tony Shawkat obviously shares a close bond with his actress daughter, Alia Shawkat. Father and daughter have worked together on a few projects; a good example is Three Kings – the David O. Russell-created movie in 1999.
After Alia's onscreen debut proved successful, Tony joined effort with his wife Dina in assisting their little girl in scoring more roles. That Alia is an A-lister in the entertainment industry today is thanks to the efforts put in by her parents, especially Tony.
Alia has acted in 50 productions and has grown to become a movie producer with one project under her name. While she was still a minor, Tony and Dina functioned as her manager, and needless to say, the couple championed their daughter's career until she became big enough to handle her own affairs.
Though they are obviously very close, Alia once let on how she used to be tense up around her dad. This tension, she said, stemmed from the fact that her family owns and runs a strip club known as ShowGirls Gentlemen's Club. Alia, who later came out as a bisexual, said the encounter influenced the perception she had of her sexuality.
What Does Alia Shawkat's Father do for a Living?
Tony Shawkat is obviously a man of several hats. He is a movie actor, producer, language advisor, and philanthropist.
As an actor, Tony has recorded appearances in a few productions. A good example is Three Kings, where he acted as Guard Sergeant Oasis Bunker alongside Alia, who depicted the character of Amir's daughter.
Tony's career as a language advisor was witnessed on the set of Three Kings when the director, David O. Russell, called him up to advise the crew on the language and culture of Iraq since the movie was centered in the Arab country. Thus, Tony had the dual role of an actor and language advisor in Three Kings.
Shawkat has done the most work in movie production. The Iraqi has a few movie credits under his belt. He served as the producer of Vlad – a movie that featured the likes of Billy Zane, Brad Dourif, and several others.
His next production effort was seen in Bart Got a Room starring William H. Macy and Cheryl Hines. As part of the crew of The Romantics, the father of three served as its executive producer.
Apart from his effort in the movies, Tony also produces and directs documentaries. He is the man behind the documentary about Mushroom collection in Romania
We saw Tony Shawkat's philanthropic tendencies in 2006 when he was declared the hero of young footballers in his hometown, Baghdad; he sponsored a football tournament in his country. This gesture was highly appreciated by youths in Iraq, especially during the sectarian war, yet Tony was not deterred from accomplishing his aim.
The movie producer collaborated with the then-Iraqi national coach, Ammo Babba, who played a huge role in bringing boys from the nooks and crannies of Baghdad to participate in the soccer tournament.