Jenna Berman (full name: Jenna Alexa Berman; born March 17, 1996) is a 27-year-old American model, actress, TikTok star, social media influencer, and Nick Bosa's ex-girlfriend.
Her rather impressive career means that she is fairly well-known on her own but her celebrity status is further amplified by the fact that she is Nick Bosa's ex-girlfriend.
For those wondering, Jenna's ex-boyfriend, Nick, is the defensive end for the NFL franchise San Francisco 49ers. His NFL legacy includes the fact that he is the son of former NFL defensive end John Bosa, and his brother Joey is also an NFL star. Nick's romantic alliance with Jenna made them one of NFL's most loved-up couples, but what do we know about her and her relationship with him? Read on to find out.
Summary of Jenna Berman's Bio
Full name: Jenna Alexa Berman
Gender: Female
Date of birth: March 17, 1996
Place of birth: South Florida, United States
Jenna Berman's Age: 27 years old
Ethnicity: Caucasian
Nationality: American
Zodiac Sign: Pisces
Sexual Orientation: Straight
Religion: Christianity
Marital Status: Single
Jenna Berman's Ex-Boyfriend: Nicholas "Nick" John Bosa
Jenna Berman's Parents: Ken Jay Berman (father) and Kimberly Melczek Berman (mother)
Siblings: Jordan Berman (sister), Justin Berman (brother)
Jenna Berman's Height in Inches: 5 ft 6 inches
Jenna Berman's Height in Centimeters: 168 cm
Jenna Berman's Weight: 54 kg (114 lbs)
Eye color: Blue
Hair color: Blonde
Education: Florida Atlantic University
Profession: Model, actress, TikTok star, social media influencer
Jenna Berman's Net worth: Est. $1 million
Famous for: Being Nick Bosa's Ex-girlfriend
Jenna Berman's Instagram: @jenna_alexa_berman
Twitter: @jennaaaberman
TikTok: @jennaaberman
Jenna Berman Was Born In 1996
Jenna Berman was born Jenna Alexa Berman on March 17, 1996, in South Florida, United States. Her birth sign is Pisces, and she belongs to the white ethnic group. Jenna is an American citizen by birth and is the daughter of Ken Jay Berman and Kimberly Melczek Berman.
She grew up with two siblings, a sister named Jordan Berman, and a brother named Justin Berman. Other than their names, and the fact that she runs a sweet business named Berman Sisters Cookie Company with her sister, there is not much information available on the lives of the members of Berman's birth family.
Jenna spent her formative years in South Florida where she reportedly attended a yet-to-be-identified local high school. She then proceeded to earn a bachelor's degree in an as-yet-unknown discipline from Florida Atlantic University in Boca Raton, Florida.
She continued to pursue academic enlightenment to gain further certification as a physician's assistant.
Jenna Berman Caught The Eye Of The Public As Nick Bosa's Girlfriend
Jenna Berman has built a life as a social media influencer, but before romantically linking up with an NFL star, her scope of public influence was minimal at best. The NFL star responsible for relatively further elevating her social profile is Nick Bosa.
Born Nicholas John Bosa on October 23, 1997, in Fort Lauderdale, Florida, United States, Nick is a defensive end for the San Francisco 49ers in the NFL. His NFL legacy also extends to the fact that he is the son of former NFL defensive end John Bosa, and the younger brother of fellow NFL star Joey Bosa, who plays in the linebacker position but for the Los Angeles Chargers.
His list of accomplishments in one of the most competitive sports in the US has made observers regard him as one of the best NFL players in his position.
Jenna and Nick reportedly started dating in March 2021. The American model drew the attention of the public to the then-fledgling romance by posting a picture of the then-couple on a yacht relaxing and holidaying in the middle of the ocean.
Jenna Berman And Nick Bosa Are No Longer Together
Jenna Berman and Nick Bosa ended their relationship with each other in November 2022, in what most people would consider a controversial manner. The model used the medium of her TikTok channel to end the relationship.
She posted that she would never talk to the NFL star again and that if he thought that the silent treatment she was getting from him would faze her, he should know that it was a game she could play ten times better than him. When one of her followers pointed out that Nick would simply marry someone else, her response implied that she was fine with that notion.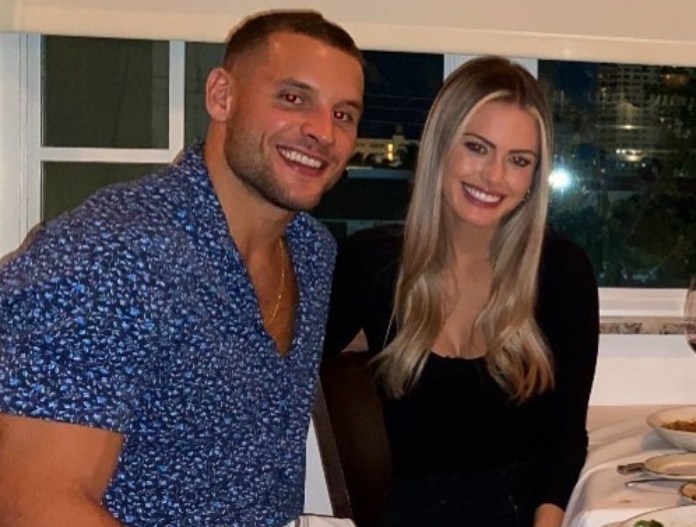 From the TikTok video, one would easily pick up on the fact that prior to Jenna's TikTok rant, the former couple had been separated, and that she only ended things because she believed there was no way back for them in the relationship anymore.
However, we have yet to unearth the reason behind the former couple's split, but suffice it to say that things must have ended on a pretty sour note.
She Is A Model And A Social Media Influencer
During her early high school years, Jenna Berman was actively involved in drama and theatre performances. Her involvement led many around her to believe that she would get into show business.
She hasn't exactly set the world alight as an actress, but she has utilized her skills to carve a niche for herself as a model and a social media influencer. One look at the 27-year-old and one would be hard-pressed to argue against the fact that the camera loves her.
Her trim curvy body is accentuated by a full head of flowing blonde hair, and a pair of mesmerizing blue eyes. She has used her natural endowments to work as a brand ambassador for several fashion brands.
Jenna also appears to have tapped into the lucrative social media market where she has attracted millions of followers across various known social media platforms, including Instagram, Twitter, and TikTok.
She has more than 2,800 followers on Instagram where she posts alluring and beautiful images of herself in swimsuits and other fashionable clothing. It would appear though, that Jenna is more influential on TikTok where she has over 1.3 million followers and over 10 million likes. Her posts consist of lip sync and dance videos, although she makes the occasional lifestyle content.
As previously stated, she is also a business owner who runs a sweet company named Beeman Sisters Cookie Company with her sister Jordan.
What is Jenna Berman's Net Worth?
The TikTok star's dedication to her craft has helped her achieve a level of financial independence that allows her to live a lavish lifestyle.
That lifestyle is actively funded by the social media influencers' estimated net worth of over $1 million. Expect that figure to increase as her profile as an influencer and a model increases.