Naomi Osaka's parents are Leonard Francois, a Haitian-born American immigrant, and Tamaki Osaka, a Japanese. Naomi identifies as Black and Asian, but, despite growing up in the U.S. for a number of years, says she doesn't identify as American, but rather identifies as a Haitian and Japanese
Before 2018, Naomi Osaka was a little-known tennis player with great promise. However, after an impressive year in which she won her first WTA title at Indian Wells and followed it up with her first Grand Slam title at the U.S. Open, she has risen to become one of the most popular athletes in the world. In just under three years, Osaka has won three additional Grand Slam titles and reached the No. 1 spot on the WTA rankings.
She has also broken several records and received numerous accolades, including the Sports Illustrated sportspersons of the year. At each point of this impressive career, some of Naomi Osaka's biggest cheerleaders have been her parents, Leonard Francois and Tamaki Osaka. The couple supported their daughter's aspirations right from the get-go and now that all their collective hard work has paid off, they are equally there to bask in the glory of it all.
Naomi Osaka's Dad, Leonard Francois, is Originally From Haiti
Naomi Osaka hopes to end up as great as Serena Williams someday and the two ladies have a lot in common. For one, they have siblings who play tennis and it was their dad who coached them to greatness. Naomi Osaka's father is a Haitian-born American immigrant known as Leonard Francois.
Francois originally hails from the Jacmel commune in the southern part of Haiti. He spent some of his early years there before his parents relocated the family to the United States in search of the proverbial greener pastures. In America, Francois continued his education and this took him all the way to Japan where he met and married Naomi's mom.
Following the birth of his daughters, he deployed the blueprint developed by the Williams' sisters' father, Richard Williams, to also train Naomi and her sister in tennis. Naomi is now a big star and even though she flies the Japanese flag, she still cherishes her Haitian heritage.
As a young girl, she grew up with her Haitian grandparents on Long Island, New York, and was surrounded by Haitian culture. Her grandparents largely spoke creole and the air was filled with the aroma of spicy Haitian stews. All these memories resonate with her to date and she still has a fondness for Haitian people whom she describes as kind and unselfish.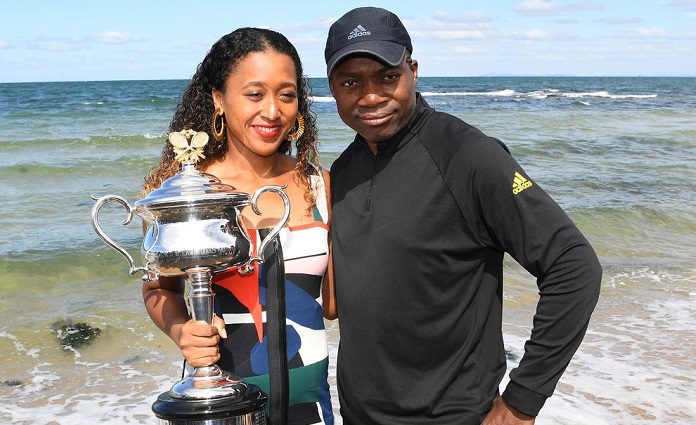 Her Mother, Tamaki Osaka, is Japanese
Naomi Osaka's mother, Tamaki Osaka, has Japanese nationality and grew up in the town of Nemuro, on the eastern tip of Hokkaido, Japan's northern island. She completed at least her high school education before going on to start a family with Francois.
The early days for the couple and their daughters were quite tough but Tamaki handled it all with grace. She worked incredibly hard to support her daughter and her passion. She also taught her daughter to embrace her diversity and put others first.
All these lessons have rubbed off on Naomi and she is growing up to be a role model for young people around the world. She is also doing her own bit to help out in any way she can. Asides from her activism on issues of racial justice and mental health, the four-time Grand Slam champion has set up tennis academies in places such as Los Angeles and Haiti.
This was done in collaboration with the likes of Nike and Laureus Sport for Good and it is her hope that this will boost access and participation in sports for girls, especially those from marginalized communities.
Osaka's Parents Began a Secret Relationship in the '90s Unknown to Tamaki's Folks
Naomi Osaka's parents are still married to date and their love story is one that has stood the test of time and survived some tough adversity. The couple first met each other in Sapporo, the capital of Hokkaido in the early 90s. Francois was a handsome college student visiting from America while Tamaki was a high school student.
They fell for each other and began dating in earnest. The smitten couple dated for several years but they kept it a secret from Tamaki's parents. This is because Japan was a notoriously homogenous society and so they knew that Tamaki's parents would be none too happy with their daughter dating a black foreigner.
This secret romance lasted for some time but the bubble eventually burst when Tamaki was in her early 20s and her parents wanted to matchmake her with potential suitors. She had no choice but to inform them that she was already dating someone, a foreigner who was black.
As can be expected, her parents were outraged about the whole thing and refused to accept the relationship. This made the couple relocate to the town of Osaka where they made a life for themselves. They tied the knot and welcomed their first child, Mari, in April 1996. They then had Naomi in October 1997.
They Relocated to the United States When Naomi Osaka Was Three Years Old
Following Naomi Osaka's birth, her parents spent another three years in the town of Osaka before they decided to relocate to New York and join Francois' family. The young girl and her elder sister thus grew up in America and got immersed in their way of life from a very early age. Despite this, they are more in touch with the Japanese side of their heritage.
They represent Japan at the international level. Naomi Osaka and her sister also bear their mother's surname for practical reasons. While they were living in Japan as toddlers, it was more convenient for them to use that name in enrolling in schools and also renting apartments.
Tamaki Osaka also made sure that her daughters never forgot where they hail from, even after the family left Japan. She dressed them in Kimonos for International Day at school and also made sure to occasionally prepare Japanese cuisines such as seaweed and rice ball snacks. This decision has paid off as Naomi Osaka now has lots of Japanese fans.
Her family has also been able to reconcile with her maternal grandparents. Naomi Osaka proudly sees herself as Japanese and Haitian but has stated that she doesn't feel so American inside. Despite this, her multiracial composition has played a part in making her a global superstar.
Her Older Sister, Mari, Retired From Professional Tennis in 2021
Not many people know this but Naomi Osaka is not the only professional tennis player in her family as her elder sister, Mari, also plays. When their father decided to implement the Richard King blueprint, he started training both his girls in tennis. Naomi and Mari hit thousands of balls each day and would also play against each other.
They spent their days undergoing tennis training while their parents home-schooled them at night. During this period, Mari regularly beat her younger sister and it was taught that she will go on to become a superstar. This is not how it worked out though.
While Naomi has won several titles and Grand Slams and reached the No. 1 rank in the world, Mari has played mostly in the lower-tier ITF circuit. Her highest ranking was 280, a spot she achieved in 2018. It was all a bit disappointing and in March 2021, she announced that she was retiring from the game. She disclosed that she didn't ultimately enjoy the journey but was grateful for all the memories and support.
Naomi Osaka's Parents and Sister are her Biggest Cheerleaders
Naomi Osaka maintains a close relationship with her sister. They often attend music concerts and e-sports finales together. They have also played doubles in a Tokyo tournament in 2017. The tennis star also maintains a great relationship with her parents. They were there to cheer her to her first Grand Slam victory in September 2018.
Following the tough and emotional match with Serena Williams, she hugged her mom and her dad before leaving a funny message for her sister on the TV screens, telling her to stop sending her weird messages. Naomi's dad continues to coach her occasionally though she now has a professional coaching team.
The tennis star cherishes her parents and sister without a doubt and often hangs out with them. She has also posted several tributes to them on social media, including appreciating her mom on mother's day. Naomi Osaka has revealed that her hope is to make her parents happy with every win. According to her, they put in a lot of sacrifices for her and she hopes to be able to repay them someday.
Who are Naomi Osaka's parents?
Naomi Osaka's parents are Leonard Francois, a Haitian-born American immigrant, and Tamaki Osaka, a Japanese. She shares the same parents with her younger sister, Mari Osaka. Her mother is from Nemuro, Hokkaido, Japan, and her father is from Jacmel, Haiti.