Michael Bolton has three daughters: Isa, Holly, and Taryn Bolton. All his three daughters are fully grown, married, and now have their own kids. They are referred to as the children of Michael Bolton's youth, as he had all three before he turned 27.
Before he became Michael Bolton, the Rockstar with multiple music awards and all, Bolton was a struggling family man. He was first and only married to a woman named Maureen McGuire in 1975. While their marriage didn't go the long haul and crashed 15 years later in 1990, they had three lovely daughters. All three of them have since started their own families, and today, his fans are wondering where Michael Bolton's daughters are and what they are currently up to.
Isa Bolton Gray is the First of Michael Bolton's Daughters
Isa Bolton, now Mrs. Gray, was the first child of Michael and Maureen. She was born on August 3, 1975, which means she is currently 46 years old. She belongs to the Leo zodiac sign, and her ethnicity is White. Her name 'Isa' has an Arabic origin, which means 'savior.'
As you already know, Isa has two younger sisters named Holly and Taryn, and they all grew happily together until the unexpected divorce of their parents. At the time of Isa's birth, her father was a singer and songwriter struggling to make it in the industry. However, by the time of her parent's divorce, Michael was on his way to the top of the music charts.
It seemed like his newfound fame wasn't well-received by his then-wife, who reports stated was a yoga instructor at the time. Being only 15 at the time, Isa was quite shaken up by the turn of events. After the split, she and her sisters began to live with their mum while their dad visited at intervals.
Isa attended Staples High School in Westport, Connecticut. Upon her graduation from high school, Isa went on to get her degree from an undisclosed university. She is currently a successful businesswoman and runs a bougie boutique – Loved – where she sells female clothing and accessories.
Speaking of love, Isa got married to the love of her life, Justin Gray. They currently have two sons, named Grayson and Jack. She is active on Instagram, and you can find her with the username @isabolton772; however, she doesn't have much of an online presence there.
Holly Bolton is Michael and Maureen McGuire's Middle Child
Holly Bolton, now Holly Dolan, is Michael and Maureen's second child. While many reports seem not to have accurate information about her date of birth, a few other ones report that she was born on July 7, 1977—two years after her sister Isa was born.
According to this alleged birth date, Holly belongs to the Cancer zodiac and is 44 years old now. In 1977, when Holly was allegedly born, her father, Michael Bolton, finally broke out onto the mainstream music scene.
Holly's childhood went pretty much like her older sister, Isa's. They both had to deal with their parents' split and get used to life without their father being around all the time. She also attended the same high school as Isa—Staples High School.
While it is believed that Holly went to college, the exact details of what school she attended and the discipline she studied have been kept away from public reach. Holly Bolton is married to a certain Mr. Dolan, and they have two children together: a son named Dylan Dolan and a daughter whose name we do not know at this time.
She and her family are currently living their best lives in Los Angeles. Holly is also moderately active on Instagram, @hollyboltonpics, and she has almost 1500 followers. Her social media is filled with smiley pictures of herself and her family, particularly her son.
Taryn Bolton is Michael Bolton's Youngest Daughter
Taryn Bolton was born on October 3, 1979, in New Haven, Connecticut. She is the last-born child of Michael Bolton and Maureen. Taryn was born under the Libra zodiac symbol and is 42 years old currently.
She is an American and belongs to the White ethnicity. She attended the same high school as her older sisters and, just like them, hasn't yet revealed the name of the college where she obtained her B.Sc.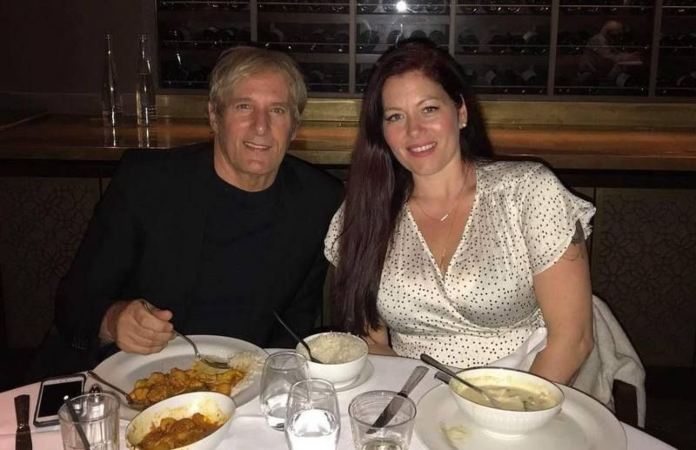 A few years ago, Taryn decided to go back to school to get her Master's degree. She enrolled at the University of Bridgeport and earned a degree in Teaching. Now she is the owner of a successful thrift shop for children's clothes in Westport called 'Around the Rosy,' a business she opened in 2013.
Before becoming a businesswoman, Taryn used to work as her father's assistant, helping him manage some aspects of his music career. Like all her sisters, Taryn is also happily married. She currently has two children, a daughter and a son.
Her daughter and first child, Amerie, was born in 2010 and held the record as Michael Bolton's first grandchild. Nonetheless, Taryn remains the most private sister of all three and is the least active on social media. There are also significantly fewer pictures of Taryn than her sisters.
Even After Divorcing Their Mother, Michael Bolton Remained Very Close to His Three Daughters
It is not unheard of for many men to drop out of their children's lives after getting divorced from their mothers. However, that is not Michael Bolton. The 69-year-old rock star never abandoned his family, not even at the height of his fame.
By 1981, Michael was already a father to all three girls, and although it wasn't easy for him to break out, the thought of his children kept him going. In his words, "once you have children, you quickly realize, the children become front and center."
Now decades later, with all his girls happily settled down, Michael is still close to his children and grandchildren. He currently has six grandchildren, two from each daughter, and he isn't scared to get messy and take care of the little kids. He reads them bedtime stories, makes meals for them, and does everything except perhaps, putting the grandbabies to sleep—and that's only because they never agree to sleep!
It's clear that being a father early helped Bolton become adept at handling children, and if the happy pictures all over his Instagram are anything to go by, he is having the time of his life with his growing family.