Maitreyi Ramakrishnan's parents are Ram Selvarajah who is his father and Kiruthiha Kulendiren, his mother.
The two Sri Lankan natives are in no way famous but they are best recognized as the parents of the Tamil-Canadian movie actress, Maitreyi. Ram who is the entertainer's father works and earns a living in the InfoTech field, but there is no information on the career path of her mother, Kiruthiha Kulendiren.
Where Are Maitreyi Ramakrishnan's Parents From?
As earlier mentioned, Ram Selvarajah and his wife, Kiruthiha Kulendiren have been accurately identified as the parents of the Tamil-Canadian actress, Maitreyi Ramakrishnan. It is common knowledge that her parents are not originally from Canada, though they gave birth to their children in the country.
Selvarajah and his wife, Kiruthiha Kulendiren spent their early life in Sri Lanka. However, with the advent of the country's civil war (1983–2009), the couple took the conscious decision to migrate out of the war-torn country as refugees. Their journey took them to Canada where they settled down in a new life and eventually gave birth to two children who are Canadian citizens.
Who is Ram Selvarajah and What Does he do for a Living?
Ram Selvarajah only came to the limelight because he is the father of a budding movie star, however, despite his daughter's fame, Selvarajah has succeeded in keeping the details of his personal life away from the prying eyes of the public. Consequently, nothing is known about his early life and family background. Ram's date of birth and age has never been mentioned anywhere on the internet space, but according to speculations, the man may be in his late 40s. Though he has long put down roots in Canada with his immediate family, Ram's roots will always be in Sri Lanka.
In the same vein, Selvarajah's educational history has remained a mystery, making it very difficult to tell the level he attained in academics. Even with the dearth of information on his level of education, it is clearly seen that Maitreyi Ramakrishnan's father is well educated. This inference is drawn from the fact that the man is gainfully employed as a specialist in information technology.
Maitreyi Ramakrishnan's father, Ram Selvarajah appears to be a man that is up to date with the current trends as he has a well-established presence on social media platforms, and this is not surprising given his background in InfoTech.
Maitreyi's dad can be located on the picture-sharing platform Instagram @ramselvarajah. His Instagram handle can currently boast of over 460 followers and still counting and at the last check, his posts on the page so far came to 21.
Ram is not only on Instagram as the father of the movie actress is equally on Twitter. He leverages the handle, @RSelvarajah in sharing tweets with fans. The actress' dad appears to be an animal lover.
Meet Kiruthiha Kulendiren, Maitreyi Ramakrishnan's Mom
Compared to her mother Maitreyi Ramakrishnan's dad Ram Selvarajah seem to be more popular despite not having much of his information in the public space. However, there are one or two facts that can be said about Maitreyi's mother, Kiruthiha.
Just like her husband Ram, Kiruthiha's birth details have never made it to the public arena but her age is guessed to be around the late 40s, putting her in the same age bracket as Ram. Evening Standard reported that she came along with her husband while fleeing from the Sri Lankan civil war.
The Sri Lankan native is obviously not a limelight seeker as searches did not reveal her presence on any of the social media platforms. Consequently, there is nothing to go by on her early life and career interests.
We only know that the Tamil citizen is a mother of two who has done her utmost best in supporting her daughter in pursuing her career in the movie industry. A report once surfaced with the claims that Maitreyi Ramakrishnan used her mother's camera in creating her audition tape; she accomplished this at a local library. The budding star was later asked to forward additional four videos followed by a screen test in LA and then she landed her debut role.
Are Maitreyi Ramakrishnan's Parents Still Together?
Internet searches have not revealed any record of divorce from Maitreyi Ramakrishnan's parents, thus, we have concluded that they are still going strong with their relationship. Besides, since neither of them appears to be fame-seekers, it may be difficult to tell when something crops up in their relationship, but for now, they seem to be doing great as a family.
To date, nothing has been said about when and how they got married but going by the age of their movie actress daughter, it would be safe to say that their union has exceeded two decades.
When Did They Have Maitreyi Ramakrishnan
The exact date of their nuptials has continued to elude social media sources but going by reports, Maitreyi Ramakrishnan's parents gave birth to her during the yuletide on the 28th of December 2001. They were residents of Mississauga, Canada, when the actress joined the family. Mississauga is one of the large cities in Canada that shared a boundary with Toronto on Lake Ontario.
From what is perceivable, Maitreyi Ramakrishnan's parents raised the youngster to be proud of her roots. Despite being born in Canada, Maitreyi has always made it clear that her Tamil heritage is a source of pride to her. The up-and-coming movie star considers herself to be more of Talil than Sri Lankan. Talking to her agency and publicist, Maitreyi said she is quite happy to be a Tamil Canadian – Tamil is her culture while Canada is her nation. She constantly dresses to reflect the culture of her people.
Maitreyi Ramakrishnan has already finished her secondary education at Meadowvale Secondary School, she proceeded to the university (the theatrical department of New York University in Toronto) to further her studies but had to defer her admission to go shoot a series in LA.
Maitreyi Ramakrishnan's Parents obviously enjoy a great bond with their daughter, both mother and father have thrown their weight behind the movie actress from the word go and have supported her career in several ways.
How Many Children Do They Have?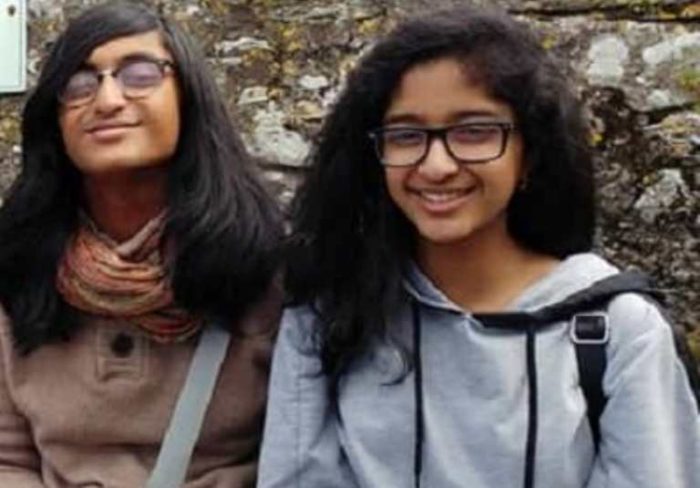 Maitreyi Ramakrishnan isn't the only child of her parents, the Tamil-Canadian movie actress has a brother who goes by the name, Vishwaa Ramakrishnan. In the same way as her parents, nothing is known about Vishwaa, but it is common knowledge that he is younger than Maitreyi by a few years.