Tianna Harris is the girlfriend of Justin Jefferson, an American football wide receiver who plays for the Minnesota Vikings of the National Football League (NFL). 
Tianna Harris was born on February 7, 2000, and is currently 23 years old. Even though she is a soccer player in her own right and is doing quite well in her career field, she became famous as the girlfriend of Justin Jefferson. Since their relationship became public knowledge, she has leveraged the attention to build her social media following and is currently an Instagram star and an athlete.
Summary of Tianna Harris's Biography
Full Name: Tianna Harris
Gender: Female
Date of Birth: February 7, 2000
Tianna Harris Age: 23 Years Old
Nationality: Canadian
Zodiac Sign: Aquarius
Sexual Orientation: Straight
Religion: Christianity
Marital Status: Single
Tianna Harris's Parents: Janet Ormston (mother)
Tianna Harris Education: Donald A. Wilson Secondary School (Whitby, Ontario), Mississippi State University (Starkville, Mississippi) and Kent State University (Portage County, Ohio)
Tianna Harris Height in Inches: 5 feet 5 inches
Tianna Harris Height in Centimetres: 165cm
Famous for: Being Justin Jefferson's Girlfriend
Tianna Harris Instagram: @tiannasheaxo
How Old Is Tianna Harris Today?
Tianna Harris is currently is 23 years old. She was born on February 7th 2000. She is Canadian by nationality, and her zodiac sign is Aquarius. The athlete and model has not shared any information on her parents such as their names, occupation, religion and other facts.
However, she has shared that she grew up in Whitby, Ontario, alongside her brother TY. Tianna and her sibling were raised by their mother, Janet Ormston, who was a single parent. There are no details about whether her mother was married to her father and whether she even has the same father with her brother.
Harris is well educated; she had her secondary school education at Donald A. Woodson Secondary school and performed so well that she graduated on the honor roll. During her school years at FC Durham Academy in Oshawa, she was able to successfully combine her academics with playing soccer
For college, she enrolled at Florida International but later made a switch to Mississippi State University as a result if coaching issues. She saw very little playing time there and this led her to make a move again. This time, she transferred to Kent State University where she became a star and a redshirt senior. According to sources, the soccer star graduated from Kent in 2022 with a bachelor's degree in Marketing.
Tianna Harris Became Justin Jefferson's Girlfriend In 2020
Rumours about Tianna Harris and Justin Jefferson started making media rounds sometime in 2020 which many speculate is when they actually started dating. The rumors turned out to be true when pictures of them kissing surfaced. Despite the rumors and how eager their fans were to know more, the two refused to actually come out as a couple.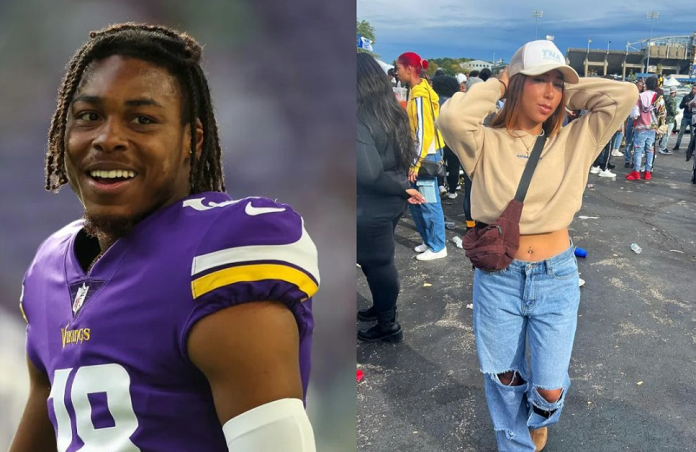 Even though it was no longer a secret that something was going on between the two, their social media platforms did not feature any photos of them together. For all we knew, any posts Tianna made about Jefferson's team could have been because of her interest in the sport as a fellow athlete.
Many speculate that the lovebirds were able to bond so well because of their common love for sports, although they are both athletes of different fields which does not come as a surprise to people as a sport is known to bring different people together, including lovers as in the case of Tianna and Justin.
Justin Jefferson Is An NFL Star
Justin Joshua Jefferson is one of the upcoming stars with great potentials in the NFL. The NFL star was born on June 16th, 1999, to his parents, John Jefferson and Elaine Jefferson. Born into a family of athletes, the celebrity was said to have developed a passion for sports at a young age. As a child, he would spend time on the field and would train hard.
He started playing football right from his days in high school at Destrehen High School. When he got enrolled in college at Louisiana State University, he played college football for about three years and then got selected by the Vikings in the first round of the 2020 NFL Draft. Going ahead, he made his NFL debut in the game against the Green Bay Packers where he recorded his very first two receptions.
He signed a four-year contract worth $13.12 million, including a $7.1 million signing bonus with the team. In 2021, Jefferson won NGC Offensive player of the week and NFC Offensive Player of the Month.
Are Tianna Harris and Justin Jefferson Still Together?
Tianna Harris and Justin Jefferson are no longer together. Even though many assumed the two were still together because of their penchant for keeping things under wraps, it recently came to light that Tianna and Jefferson only dated briefly and are no longer together.
In a recent interview where she was addressing the misconception that she is an Instagram star, she stated that the assumption happened as a result of the massive following she received while she was dating Jefferson who had a massive social media following. She clarified that they dated briefly for a short period but have since gone their separate ways.
She stated that while she loves and respects him, they are currently doing life separately and are no longer a couple. She did not say when they separated or even why the relationship did not work out. There is also no info on whether she is dating any other person.
Tianna Harris Is a Professional American Football Player
Beyond playng soccer in college, Tianna has had successful times on the field as she is a two-time SAAC Champion and has also won the Ontario Women's Soccer League. She was once a captain of her team and during her time as captain, her team won the Ontario Soccer League title twice.
She was chosen as the All-MAC First Team, the USC All-Midwest First Team and the MAC Defensive player of the year. In November 2022, KSirius Football Management located in Portugal announced that they had signed the soccer star. She is currently signed as a defender to Minnesota Aurora, a second-year franchise in the USL W League.
What Is Tianna Harris's Net Worth?
Tianna Harris's net worth is estimated to be above $100,000 which is gotten from her career as an athlete. The sports star appears to live a quiet and comfortable life and is focused on her career as an athlete.