Indiana Hawke (born 23rd of July 2011; Age: 11 years old) is the daughter of Ethan Hawke, the famous Hollywood actor and director.
Indiana is the product of Ethan's second marriage to Ryan Shawhughes Hawke. She has an older sister, Clementine Jane Hawke, and two half-siblings, Maya Ray Thurman Hawke and Levon Roan Thurman-Hawke.
Summary of Indiana Hawke's Biography
Full Name: Indiana Hawke
Gender: Female
Date of Birth: 23rd of July 2011
Indiana Hawke's Age: 11
Nationality: American
Zodiac Sign: Leo
Religion: Christianity
Marital Status: Single
Indiana Hawke's Parents: Ethan Hawke and Ryan Shawhughes Hawke
Siblings: 3
Famous For: Being the daughter of Ethan Hawke
How Old is Indiana Hawke?
Indiana Hawke is 11 years old. She was born on the 23rd of July 2011. Her exact place of birth is not listed, but she was born in the US, which makes her a citizen of America.
Indiana is the daughter of movie mogul Ethan Hawke and is the product of Ethan's second marriage to Ryan Shawhughes Hawke. At age 11, Indiana is in the process of achieving her basic academic qualifications, but the details of her educational journey have never been disclosed.
Indiana Hawke's Father is a Big Name in Hollywood
Ethan Hawke is listed as a Hollywood actor, writer, and movie director best known for the roles he played in such productions as Training Day, Boyhood, and Before Sunrise.
The son of an insurance actuary, Steven Hawke, and a charity worker, Leslie Carole, Ethan decided to be different by going into acting at an early stage in his life. Before debuting on the big screen, he first appeared in theater productions and some television shows.
The movie entitled Before Sunrise served as his big break in 1995, and he went on to make appearances in stage productions, including True West, The Seagull, and Off-screen.
Indiana Hawke's dad is also renowned for his dedication to environmental causes and charity work. The movie star is a hands-on dad, totally devoted to family life
Indiana Hawke's Mother, Ryan Shawhughes Hawke, is an Actress and Movie Producer
Ryan Shawhughes Hawke works and earns a living in the entertainment industry as an actress and producer. However, there was a time Indiana Hawke's mum was making ends meet as a nanny. In fact, it was while she was babysitting Ethan's older children that she met the movie star for the first time.
A Columbia University alum, Shawhughes recorded her onscreen debut on the set of the movie, The Hottest State, in 2006; she shared the screen with her husband, who also functioned as the director.
Shawhughes is now working in behind-the-camera-roles in some of her husband's projects. Good examples are movies such as First Reformed and Blaze.
How Did Indiana Hawke's Parents Meet?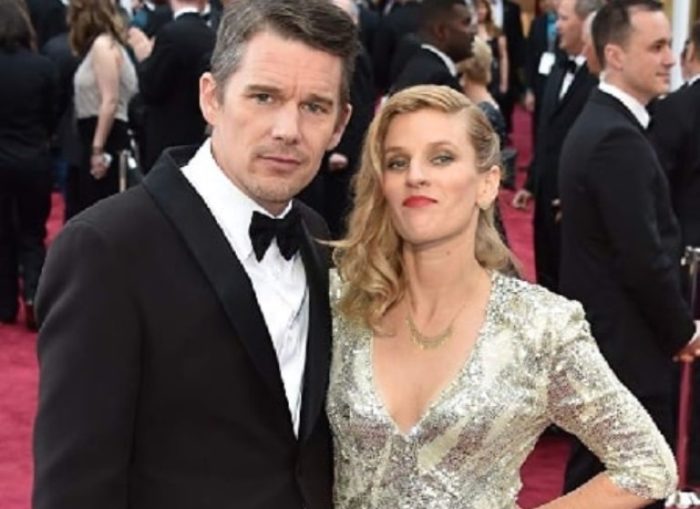 Ethan Hawke was still married to his first wife, Uma Thurman, when he met Ryan, who he employed to act as a nanny to their children. Many fans have voiced suspicion that something went on between the two while Ryan was taking care of the children, but Ethan has come up to deny having any funny business with his children's nanny.
According to the father of four, the "Sound Of Music kind of love affair" never happened between them and Ryan traveled back to her home country after working for him to earn a university degree. Thus, by the time the two started developing feeling for each other, several years had gone by.
A year after he finalized divorce proceedings with Thurman, Ethan ran into Ryan at a park, which was purely a chance occurrence. The movie star said he remembered her as an "extremely sensible, no-bullsh** woman," and he thought she might just be good for a half-madman like him.
Ethan and Ryan Tied the Knot in 2008
Indiana Hawke's parents eventually started dating and tied the connubial knot in June 2008. The couple obviously didn't want any publicity for their nuptials which led them to opt for a secret wedding. After a while, the rings on their fingers gave them away, and the couple had no choice but to admit that they were already man and wife.
Their union has endured for close to two decades, and for a man like Ethan, who never wanted anything to do with marriage after his divorce, that is applaudable. Talking about his union with Ryan, Ethan said he met his wife again when he desperately wanted and needed to stay single, as he had already ruled marriage out of his life. However, Life happened to him, and today, his love for Ryan keeps growing by the day.
Indiana Hawke's parents obviously prefer to keep their union under wraps, but that does not stop them from appearing on the red carpet with a united front from time to time. They have also been severally spotted in New York City out and about town.
How Many Siblings Does Indiana Hawke Have?
Indiana Hawke has three siblings – one direct sister, Clementine Jane Hawke, and two half-siblings – half-sister Maya Ray Thurman Hawke and half-brother Levon Roan Thurman-Hawke.
Born on the 18th of July 2008, Clementine Jane Hawke is three years older than Indiana. Maya Ray Thurman Hawke is Ethan's oldest child and Indiana's half-sister from her dad's marriage to Uma Thurman. She was born in New York City on July 8, 1998. Maya has established herself as an actress in the entertainment industry with quite a good number of productions under her belt.
Indiana's half-brother, Levon Roan Thurman-Hawke, was born on the 15th of January 2002, also in New York City. Levon has equally gone into acting and is enmeshed in the fashion world, always appearing alongside his mum at fashion events such as Dior couture shows.
Though they are different from the same mother, the Hawke siblings seem to share a close bond. Besides, they have a dedicated father like Ethan, who always creates time to spend with his family no matter how tight his schedule may be.
Ethan doesn't share many pictures of Indiana and Clementine, perhaps because they are still very young. However, his socials are suffused with images of his older kids.
Is Ethan Hawke's Daughter Inclining Towards the Performing Arts?
Indiana Hawke is not far removed from her parents and siblings, as the youngster is already showing signs that she harbors a healthy dose of artistic talent. Her passion for music was displayed during the lockdown orchestrated by the Corona Virus pandemic in 2020 when the young lady was spotted performing with her family members.
The video featured her father, two step-siblings, Maya and Levon, and her direct sister, Clementine, in a family sing-along. The oldest Hawke sibling, Maya, was the lead vocalist as the family performed a perfect rendition of the track "To Live Is to Fly." Ethan and Levon were seen strumming the guitars while Clementine and Indiana joined in the harmonies.
This is the first time Indiana will be spotted in such a performance, but it has been labeled a good start. The youngster might also have some acting genes, but we will have to rely on time to tell.