Joseph Asher is a 21-year-old son of Hollywood actors Jenny McCarthy and John Asher. He is an American YouTuber and gamer in his own right
Most of the time, the offspring of celebrities are naturally born into the limelight. Due to their association with a celebrity, they tend to draw public attention naturally. The type of fame a celebrity kids generate usually varies on different levels. Some tend to fall into the limelight more than others due to unique issues.
This can be related to the case of Evan Joseph Asher, son of movie stars Jenny McCarthy and John Asher. Right from the birth of Joseph Asher, he had piqued the public's interest because he is related to big-shot celebrities.
Over the years, asides from being their son, his fame has grown vast and wider. This is because he was diagnosed with a psychological illness at a tender age. After the illness of Evan Joseph was revealed to the public, he started gaining attention from people of different spheres of life.
His fame was no longer tied to being just a 'celebrities' child.' His increasing fame as a result of being a 'celebrities' child with an illness.' Let us journey through the life of Joseph Asher and how he has been coping so far.

Profile Summary of Evan Joseph Asher
Name: Evan Joseph Asher
Date of birth: 18th May 2002
Age: 21 Years Old
Place of birth: Los Angeles, The USA
Horoscope: Taurus
Mother: Jenny McCarthy
Father: John Asher
Step-siblings: 2
Education: High School
Hair color: Honey Blonde
Eye color: Brown
Occupation: YouTuber and gamer
Social media: YouTube and Instagram.
Evan Joseph Asher was Born to John Asher and Jenny McCarthy 21 Years Ago
Evan Joseph Asher was born on 18th May in Los Angeles, California, to Jenny McCarthy and John Asher. Currently 21 years old, his star sign is Taurus, and his nationality is American. He became famous because he was born to celebrity parents. His father, John Asher, is an American actor, screenwriter, and film director. He is best known for his performance as Gary on the USA Network's series spinoff of the movie Weird Science.
John was born in 1971 to Californian acting parents in Los Angeles. As an actor, he has featured in several movies, including October Road, Crime Scene Investigation, Fastlane, Space Cowboys, Gun, Double Dragon, Showdown, Beverly Hills, and many more. John Asher has also directed several movies, including A Boy Called Pro, Tooken, Thank Heaven, Diamonds, Counterfeit, and Chick flick. He was the producer of the movie, Dirty Love. John has also written several films and has a well-established life.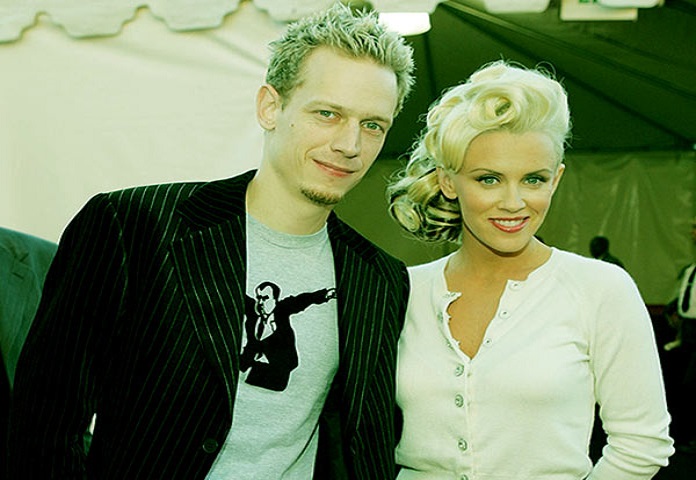 Evan's mother, Jennifer Ann McCarthy, was born in 1972, and she is an American actress, activist, model, author, and media personality. She began her career as a nude model for Playboy magazine in 1993. Afterward, she pursued a career in television and film acting. Jenny started as a co-host on the MTV game show, Singled Out, following other sitcoms like Jenny, Basketball, Dirty Love, Santa Baby, and many others. In 2013, Jenny hosted her television talk show, The Jenny McCarthy Show. She later became a co-host for the ABC talk show, The View, until 2014. McCarthy has been a judge on The Masked Singer, a Fox Musical competition, since 2019.
She has guest-starred in a variety of other television shows in addition to her TV fame and her eponymous sitcom. They include Just Shoot Me, Stacked Charmed, Wings Fastlane, and The Drew Carey Show. McCarthy has written several books about parenting, and she has researched causes and treatments for autism. She is an activist that has led quite a lot of campaigns against the use of vaccines. Her subject has caused a lot of controversies, and not only is she famous in the entertainment industry, but also in the medical and media industry.
He Was Diagnosed With Autism At the Age of Three
The life of the Asher family took a different turn when young Evan was diagnosed with an illness. He was diagnosed with autism at the tender age of three. Evan showed early symptoms of the illness in the spring of 2004. He had his first seizure when he was only two years of age. At first, he was diagnosed with epilepsy, but his symptoms grew worse after treatments. His speech was also impaired. His mother took him to a neuropsychiatric hospital in UCLA in May 2005. There, he was diagnosed with autism, which explained his redundant mental growth.
His Father's Struggles with Evan's Autism Led to their Divorce
After he was diagnosed, Jenny and John started having repeated issues in their marriage. In an interview and book, Jenny revealed that John could not cope with their son's autism. After a series of misunderstandings, they eventually went their separate ways. Jenny McCarthy filed for divorce against John Asher in 2005. During the divorce proceedings, Jenny got custody of Evan. Since then, she has been taking care of him with all her heart. Although Evan's illness was the primary reason for their divorce, Jenny has remarried, with Evan still in her custody.
Jenny McCarthy Became an Activist Due to Evan's Autism
Ever since Evan was diagnosed with autism, his mother, Jenny, has taken several measures to cure him. In 2008, she appeared on  Larry King Live, where she propagated that vaccines can trigger autism. As at the time, Evan's physician was a vaccine critic. In addition to Applied Behavioural Analysis therapy, Jenny also provided for Evan a casein-free and gluten-free diet, electromagnetics, aromatherapies, hyperbaric, chelations, multivitamin therapy, and numerous prescription drugs. In an interview, she said:
"When something didn't work for Evan I didn't stop. I stopped that treatment, but I didn't stop."
Her Efforts Helped Reduced Autism Traces in Evan Asher
McCarthy stated during rallies and talk shows that chelation therapy helps her son in the recovery process of autism. She served as a spokesperson for Talk About Curing Autism from June 2007 until October 2008. She participated in online chats, fundraisers, and other forms of support to help families affected by autism spectrum disorders.
Jenny said that her son, who was 12 at the time, was doing quite alright in 2014, Daily Beast article. She made him undergo several therapies and took several drugs just to ease his symptoms. Her efforts did not go in vain, as Evan started responding to treatment positively. She admitted that although the characteristics are not fully dissolved, his autism traces have greatly declined. Evan can now communicate and participate in activities like regular children.
McCarthy Raised Several Controversy With Her Vaccination Theory
The initial cause of autism Jenny proposed was the vaccine given to children at birth. McCarthy's research is not supported by medical evidence because the research formed by Andrew Wakefield was based on manipulative data. Her underlying thoughts that mercury in vaccines is the cause of autism have been rejected by scientific studies. McCarthy has advocated for her claim at several rallies, talk shows, and interviews. The vaccination-autism controversy led her to be awarded the James Randi Educational Foundation's Pigasus Award. In a rally, Jenny once said:
I do believe sadly it is going to take some diseases coming back to realize that we need to change and develop vaccines that are safe.
Having written three books on the subject and cause of her son's autism, Jenny has become the nation's most prominent buyer of anti-vaxxer ideology. However, her theory has been condemned by all medical institutions and individuals. Therefore, to a very great extent, her claims may not be true.
Evan Asher Has Graduated from High School and is a YouTuber
Although Evan Joseph has psychological issues, he still lives like every regular child. He recently graduated from high school, as pictures of high school graduation were splattered on the internet. He does not have a professional career yet, but he has started a YouTube Channel with the help of a friend. The channel is titled 'Gaming USA.' They have over 10k subscribers on their channel. He also owns a personal YouTube channel with about 3k subscribers. The channel's content is personal videos of Evan.