Cassandra Jade Estevez (born December 12, 1984; Age: 38 years old) is an American television personality who is widely known as Charlie Sheen's daughter with Paula Profitthe. Cassandra Jade Estevez's father is famous for playing the character "Charlie Harper" in the TV series Two and a Half Men.
Considering how famous Cassandra Jade Esteve's father is, it is not a surprise that many are eager to know about her even though she is hardly seen with her father as they both don't share a closerelationship. In this article, we will tell you all about the life of Cassandra Jade Estevez.
Summary of Cassandra Jade Estevez's Biography
Full name: Cassandra Jade Estevez
Gender: Female
Date of birth: December 12, 1984
Cassandra Jade Estevez's Age: 38 years old
Ethnicity: Mixed
Nationality: American
Zodiac Sign: Sagittarius
Sexual Orientation: Straight
Marital Status: Married
Cassandra Jade Estevez's Husband: Casy Huffman
Cassandra Jade Estevez's Child: Luna Huffman
Cassandra Jade Estevez's Height in Inches: 5 feet 6 inches
Cassandra Jade Estevez's Height in centimeters: 167cm
Cassandra Jade Estevez's Weight:72kg
Cassandra Jade Estevez's Net Worth: $800,000
Famous for: Being Charlie Sheen's eldest daughter
How Old Is Cassandra Jade Estevez?
Cassandra Jade Estevez is the eldest daughter born to Charlie Sheen and his ex-girlfriend, Paula Speert. She is 38 years old as she was born on December 12, 1984, in Los Angeles, California, United States. Cassandra is of mixed ethnicity; she has an American identity, Spanish, English, Irish, Scottish and Galician ancestry while her zodiac sign is Sagittarius.
She was born into a wealthy and famous family which indicates that she had a comfortable childhood and was well provided for. The youngster comes from a lineage of entertainers as her grandfather, Martin Sheen (Ramon Estevez), was an actor and her grandmother, Janet Templeton, was an artist.
Cassandra Jade is not the only child of her father. She has four step-siblings named Max Sheen, Sam Sheen, Bob Sheen, and Lola Rose Sheen from her father's later marriages . However, according to available reports, she does not have a very close relationship with her father but he still tries to be there for her and is very supportive of her desire to pursue a career in acting.
Coming from a very comfortable home, it is fair to say that the TV personality is well-educated. She had her high school education at a nearby school in her neighborhood where she grew up and after graduation she moved further to enroll at Loyola Marymount University.
She Has Worked As A Production Assistant
Cassandra Jade Estevez has always been in the spotlight since her birth as a result of her father's fame. She had shown interest in her father's career field as an actor but is yet to venture into it. However, she has worked as a production assistant on the CBS Schoolbreak Special television series. There is not much information on her professional life as she lives a private life and would rather not disclose much about herself.
Cassandra Jade Estevez's Father Is A Prominent American Actor
Cassandra Jade Estevez's father, Charlie Sheen whose full name is Charlie Irwin Estevez is a prominent Globe-winning American actor who is recognized for his role in notable movies like Anger Management, The Three Musketeers, Wall Street, The Rookie, Platoon, and The Arrival. Charlie was birthed to his parents Martin Sheen and Janet Templeton on September 3, 1965, in New York City, United States.
Charlie Sheen began his acting career in 1983 when she portrayed the character Ron in the horror movie Grizzly II: The Predator. Going further in 1984, he landed another role to feature in the Cold War teen drama titled Red Dawn alongside Patrick Swayze, Jennifer Grey, Thomas Howell, and Lea Thompson.
From there he went on to feature in many other films and television series taking up roles in comedy such as the movie Money Talks, All Dogs Go To Heaven 2, and the series, Two and a Half Men, and many others.
He Was Never Married To Cassandra's Mother, Paula Profit
Cassandra Jade Estevez's father, Charlie Sheen, has been married to three different women in his lifetime and has also has numerous records of extramarital affairs with several celebrities. None of those marriages, however, was to Cassandra Jade Estevez's mother, Paula Profit.
They were only lovers and reports have it that Paula was Charlie's first love and their relationship produced a daughter named Cassandra Jade Estevez. However, that wasn't enough to keep them together or at least lead them to the altar as the duo broke up sooner than expected.
Cassandra Jade Estevez Is Married To Her Longtime Boyfriend, Casey Huffman
Cassandra is married to a man named Casey Huffman. There is no information on Casey Huffman such as his career, date of birth, and family background as he loves to maintain a secret life, especially when it has to do with his personal life.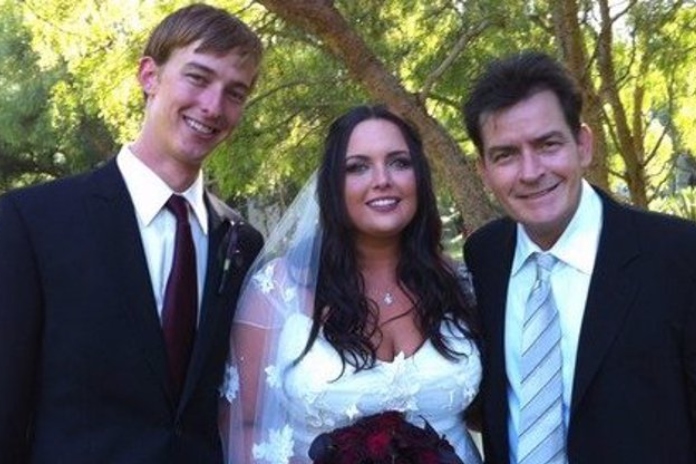 The pair walked down the aisle on September 25, 2010. There is no detail of how they met and how long they dated but according to several sources, they had met while they were in junior high and just like many love stories, they first became friends and later began dating for years after which they decided to take their relationship to the next level by getting married.
At the time of their wedding, Cassandra was about 26 years old while the age of Casey is not known. The couple had a simple wedding ceremony which took place at the Bacara Resort in Santa Barbara.
The couple is blessed with a daughter born on July 17, 2013, named Luna. There is no information on her as her parents are yet to disclose details about her to the public. Cassandra and her husband are living together and enjoying marital bliss. There has been no rumor or controversy surrounding their union.
What is Cassandra Jade Estevez's Net Worth?
Cassandra Jade Estevez has a net worth estimated to be around $800,000. Her income is mainly gotten from her career as a production assistant in various TV shows and movies. The celebrity child has not disclosed much about her career, although she had shown a passion for acting but has not gone into it fully as a career.
Meanwhile, her father, Charles Sheen, has a whopping net worth of $10 million which he got from his career in the entertainment industry.