Aman Tyler Perry (born: 30th November 2014) is a 9-year-old American who is known as the son of American actor and filmmaker Tyler Perry and his ex Gelila Bekele. 
We have witnessed several celebrity breakups over the past years, and one of them was the split of billionaire filmmaker Tyler Perry from his long-time girlfriend, Gelila Bekele. The notoriously private couple was together for about 15 years and even welcomed a child. However, their split came as a rude shock to many. People have long acclimatized to this, but the big question is now how they would co-parent their son Aman Tyler Perry.
Ever since Aman was born, Perry and Bekele have protected his privacy tightly and only shared little tidbits about him with the rest of the world. One can expect this to remain the status quo going forward as the couple seeks to shield the most precious person in their life from anything that could possibly hurt him.
Profile Summary of Aman Tyler Perry
Full name: Aman Tyler Bekele-Perry
Date of birth: 30th of November 2014
Age: 8 Years Old
Father: Tyler Perry
Mother: Gelila Bekele
Ethnicity: African-American
Nationality: American
Religion: Christianity
Meet Aman Tyler Perry's Parents – Tyler Perry and Gelila Bekele
Aman Tyler may still be just a child, but he already has many things going for him, thanks to his two famous parents. His father, Tyler Perry, is one of the most renowned filmmakers in contemporary Hollywood. He has several movies and TV series to his name, including House of Payne, The Haves and The Have Nots, Sistas, Why Did I Get Married, Acrimony, and of course, the Madea Franchise. He is also the owner of one of the largest film studios in America and is now a billionaire.
On her part, Aman's mom, Gelila Bekele, may not be as famous or as rich as his dad, but she is also an achiever herself. Originally from Ethiopia, Bekele is an internationally renowned model who has worked for Pantene, L'Oréal, Levi's, and Michael Kors. Beyond modeling, she is an activist and has dedicated her efforts to issues affecting young girls. This has led her to direct several short documentaries. The model is also interested in promoting her people's culture and has penned at least one book in that regard.
Perry and Bekele Started Dating in 2007 and Welcomed Aman Seven Years Later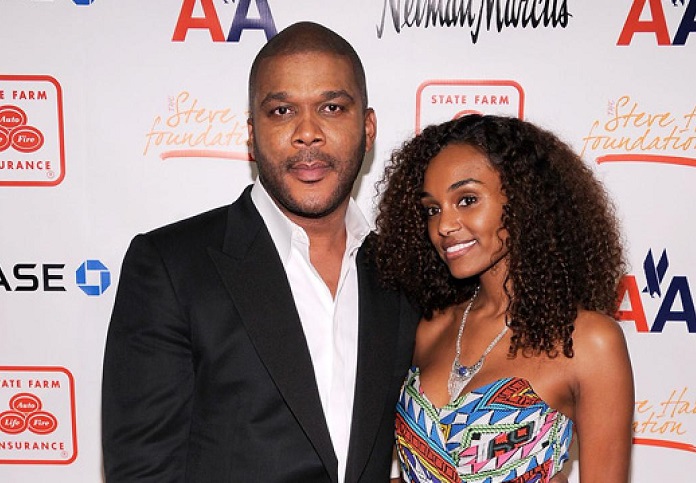 Aman's parents reportedly met at a Prince concert in 2007. They took a shine to each other, thanks to several shared interests, including music, and subsequently started dating. The relationship between the two would last for several years, during which their love for each other blossomed. They, however, refused to give the world any glimpses into this beautiful love affair. Perry and Bekele were a notoriously private couple and rarely walked the red carpet together. They also rarely posted about each other on social media and kept their professional lives separate. Such privacy perhaps contributed to the longevity of the couple's relationship, and in 2006, they found out that they were to be parents.
They were overjoyed, but as was their usual M.O., they kept things pretty much close to their hearts. On the 30th of November 2014, Perry and Bekele welcomed a son named Aman Tyler Bekele-Perry. The name, Aman, signified Peace, and as can be expected of any new parent, the couple were over the moon about the development. They kept the news to themselves for a few weeks and only let the cat out of the bag in December of that same year. Two months later, the couple organized a star-studded christening ceremony for their beloved son. On hand to serenade the guests were superstar musicians like Jennifer Hudson and Yolanda Adams, while Aman's godparents include Oprah Winfrey and Cicely Tyson.
Aman's Parents Were Together for 13 Years Before Splitting in 2020
The birth of a child, and the attendant stress, can be difficult for any couple, but in the case of Aman's parents, they handled things beautifully. They lived together and shared the responsibility of taking care of him. They also hired help when need be. Their romance continued thriving, and they made a concerted effort to keep their son out of the public eye. Neither Tyler Perry nor Gelila posted Aman's image on social media. They also took great care to ensure that there were no pictures of him flying around out there. Perry would later reveal that they took such a step because their son is not famous and needs to grow up and discover himself before being swallowed by the spotlight.
Meanwhile, that same level of discretion also prevailed in Perry's relationship with Bekele, so no one knew that they had broken up until the filmmaker took to Instagram in December 2020 to disclose that he was in a midlife crisis. According to the post, he was single and wondering what the next chapter of his life would look like. The wordings immediately alerted people that Perry and Bekele may have broken up, which later turned out to be true. True to fashion, the couple never spoke publicly about their breakup, but a source close to them stated that they remained good friends and were focused on being the best parents that they can be for their kid.
Some digging around also revealed that Tyler Perry and Gelila Bekele might have broken up around October/November 2020, as the model had shared an Instagram post in which she talked about disappointment, anxiety, and a new chapter. Of course, no one could foretell what she was talking about then, but it became pretty clear later.
Tyler Perry and Gelila Bekele Remain Committed to Co-Parenting Their Son
Aman Tyler Perry is now 8 years old, and even though his parents are no longer together, he is still growing up in a cherished environment. Perry and Bekele were never married, and as such, it is difficult to pinpoint who has primary custody of Aman or their co-parenting arrangements. However, it is reasonable to assume that Aman primarily lives with his famous dad because he has the resources to provide the little boy with the security and protection he may need.
On his part, Tyler Perry remains the protective dad, and even though he never posts his son's photos on social media, he has no qualms about sharing what his son has been up to. The billionaire filmmaker has previously described his son as the person that brings him the greatest joy and stated that he loves everything about him, including the things that drive him crazy such as Aman's unending curiosity that often leads to numerous questions.
Fatherhood hasn't been all easy, and Tyler Perry also has his fair share. The filmmaker had revealed that he nearly shed tears when he had to discipline his son for being rude to the nanny. Perry restricted himself to having a heart-to-heart talk with the boy, which starkly contrasted with his own childhood where his father was physically abusive. Another difficult thing that Perry would be doing with his son someday is having conversations surrounding racism and the police brutality that black males often face in America.
On her part, Aman's mom has largely retreated from the spotlight. The model-cum-activist has never been one to talk to the media, and she is not about to start now. She is contented with maintaining good relations with her ex and being a good mom to her son.