Joe Rogan's kids are three daughters named Lola Rogan, Rosy Rogan, and Kayja Rose Conner Rogan, whom he shares with his wife, Jessica Ditzel. Two of Joe Rogan's daughters, Lola Rogan and Rosy Rogan, are his biological children, however, he legally adopted Kayja Rose Conner Rogan, who is his wife's daughter from a previous relationship, after they were married.
Joe Rogan's career in the UFC as a color commentator has put him in the spotlight for various reasons. He is also a comedian, actor, former TV presenter, and podcast host known for The Joe Rogan Experience where he and a variety of guests discuss all manner of topics ranging from politics to hobbies. That aspect of Rogan's existence is well known but he plays the card of family close to his chest. However, when he shows those cards, they always include his three beautiful daughters. Here's what we know about them.
Lola Rogan Is Joe Rogan's First Biological Daughter
Date of birth: May 2008
Age: 15 years old
Occupation: Student
Lola Rogan is Joe Rogan's oldest biological daughter. She was born in May 2008, in Bell Canyon, California, United States. She is an American citizen by birth and belongs to the Caucasian ethnic group.
Despite the few images of Lola Rogan out and about with other members of her family on the internet, the celebrity child has lived much of her life away from the view of the media and public. That lifestyle away from the spotlight has meant that there is not much information available on the 15-year-old whose exact date of birth is currently unknown.
Joe Rogan is quite tight-lipped when it comes to talking about his daughters, including Lola, but on the rare occasions when he does, he rarely runs out of beautiful superlatives to describe their personalities. Lola still has a few years left in her teenage years, and one can only assume that she is in the process of acquiring a high level of education from some of America's best educational institutions.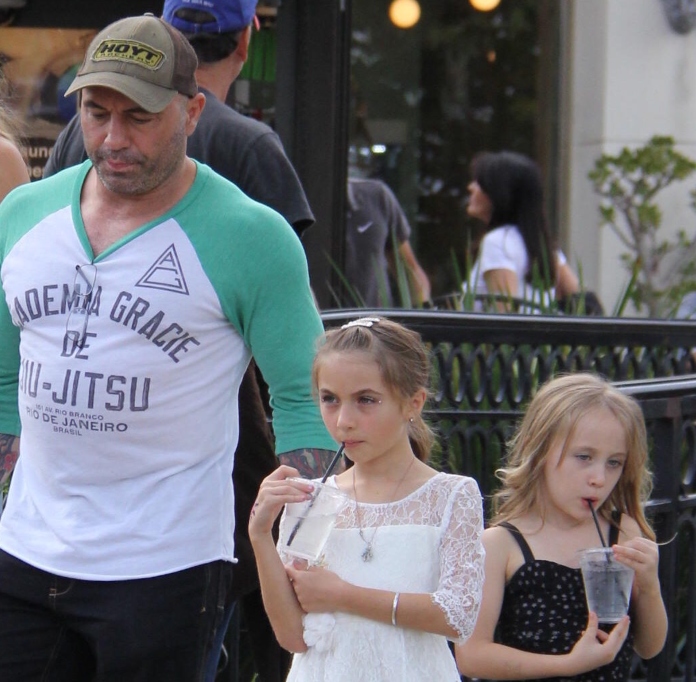 Only time will tell if she will decide to get into show business like her parents or choose an entirely different career path for herself.
Rosy Rogan Is The Youngest Of Joe Rogan's Children
Date of birth: 2010
Age: 13 years old
Occupation: Student
Rosy Rogan was also born in Bell Canyon, California, United States. However, she was born in 2010, two years after her older sister, Lola. Her exact date and month of birth are currently unknown, a lack of information made possible by her parent's decision to keep her out of the spotlight during her formative years.
Like her older sister though, she has shared the spotlight with her parents on the few occasions when they have been photographed together in public, but that is the extent of her time in the spotlight. There is no ruling out the possibility that it is an aspect of her life that is likely to change in the coming years, but the reality at present is that Rosy is also in the process of getting a quality education.
Rosy and her sister, Lola, have an older half-sister from their mother's previous relationship and suffice it to say that they adore her, and look up to her.
Kayja Rose Conner Rogan Is Joe Rogan's Adopted Daughter
Date of birth: August 23, 1996
Age: 26 years old
Occupation: Musician
Kayja Rose Conner Rogan is legally Joe Rogan's oldest daughter, having been born on August 23, 1996. She is currently 26 years old and has mixed ethnic identity from her African American birth father and Caucasian mother. Joe Rogan's paternity rights over Kayja vary from the same rights he has over Lola and Rosy and generally stem from the fact that he legally adopted Kayja after marrying his wife Jessica in 2009.
For clarity, Kayja is Jessica Ditzel's daughter from a previous relationship. The relationship in question was one she had with the late Keven "Dino" Conner, one of the singers of the pop band H-Town who lost his life in a car accident in 2003 when Kayja was just around seven years old.
Kayja's biological parents, Keven and Jessica, dated for a few years from the early to mid-1990s until they went their separate ways in 2000. Her birth father then started dating Teshya Rae Weisent not long after. She was the other person in the car when her father had the accident and died on the spot, unlike Kayja's father who died from the injuries he sustained from the accident en route to the hospital.
Keyja was almost a teenager when she was adopted by the UFC color commentator and while he rarely talks about her and his other daughters, one would not be far off in assuming that they have a good father-daughter relationship. The age difference between Kayja and her two younger half-sisters is quite significant but has not altered the dynamic of their loving relationship.
Kayja is realistically the only one of Joe Rogan's three daughters who knows what it's like to be In the spotlight. Her experience is down to the fact that she has unsurprisingly followed in the footsteps of her deceased birth father as a musician. Her talents and artistry led to the release of her first Extended Play (EP) titled Tipsy in 2017. The EP has five songs.
Joe Rogan Married The Mother Of His Biological Children In 2009
Joe Rogan's immediate family tree will not be complete without mentioning his wife, Jessica Ditzel, who is the mother of his three beautiful daughters. Jessica is a former model and cocktail waitress who was born on July 18, 1975, in Texas, United States to Jeff Conrad Ditzel and Donna Ziemer-Ditzel.
She grew up with a sister named Trinity and graduated from California State University, Long Beach, California. Jessica and Joe met in 2001, in a California lounge where she worked as a cocktail waitress. This meeting had happened not long after she had ended things with her ex-boyfriend, Keven Conner, with whom she had a daughter.
Her status as a single mother did not deter Rogan from forming a friendship that eventually led to something more with the pretty Jessica. They became engaged in 2008 before exchanging marital vows in front of close friends and family in 2009, around a year after the birth of Lola, their first daughter together.