Marc Chalamet is a French-American journalist who is famous as the father of actor Timothée Chalamet and actress Pauline Chalamet.
Chalamet's son, Timothée, made his acting debut in 2012 and has quickly established himself as a force to be reckoned with in Hollywood with several awards and an Oscar nomination to his name. His daughter, Pauline, is also not faring badly as she has been featured in acclaimed movies and TV series. All this has cast the spotlight on Chalamet but he is not one to take advantage. He rather concentrates on his distinguished career. He also supports his kids in what they do.
Summary of Marc Chalamet's Biography
Full name: Marc Chalamet
Gender: Male
Date of birth: 1953
Marc Chalamet's Age: 70 years old
Ethnicity: Caucasian
Nationality: French-American
Sexual Orientation: straight
Religion: Christianity
Marital Status: married
Marc Chalamet's Wife: Nicole Flender
Marc Chalamet's Children: Timothée and Pauline Chalamet
Marc Chalamet's Parents: Roger and Jean Chalamet
Siblings: four brothers
Marc Chalamet's Height in Inches: 5 feet 9 inches
Marc Chalamet's Height in Centimeters: 175 cm
Marc Chalamet's Weight: 75 kg
Marc Chalamet's Net worth: $500k
Famous for: Timothée and Pauline Chalamet's father
Marc Chalamet is Originally from Nimes, Southern France
Timothée and Pauline Chalamet's father, Marc Chalamet, was born in the year 1953, in Nimes, a town in the southern part of France. He has French (by birth) and American nationalities (by marriage). His ethnicity is however Caucasian.
Marc hails from a family of seven. His father, a Frenchman named Roger Chalamet, was a pastor and missionary who raised his children in the protestant Christian faith. Marc's mother is Jean and she is originally from Canada. Marc has four younger brothers whose names are not immediately available. He and his younger brothers spent much of their formative years in Chambon-sur-Lignon, a village in the hilly region of south-central France. Their family still maintains a home there to this date.
He Relocated to the U.S. after College and Began his Career as a Teacher
Marc Chalamet grew up in Chambon-sur-Lignon and had his secondary school education at Collège du Cévenol, a unique and historic international secondary school located in the village. He later moved to Lyon where he variously studied at Sciences Po Lyon and Universite Lumiere Lyon 2. At the former, he completed a program in politics and administration while at the latter, he completed a bachelor's degree program in English language and literature.
Having completed his college studies, Marc Chalamet moved to New York and settled down there to start and build his career. He started out by teaching the French language to adults at the New York branch of Alliance Française in 1977. He spent three years doing so before a new job opportunity made him move back to Paris in 1980.
He Later Switched to Journalism and Has Worked for the Likes of Le Parisien
Timothée Chalamet's father is now a journalist and it was his move to Paris that occasioned this change. The new opportunity that made Chalamet move back to France came in the form of a role as a news and photo editor for the Associated Press. He spent three years in that role during which he selected, edited, and captioned the photos used by domestic and international media.
Working for AP helped Marc Chamalet to build up his experience and in 1987, he moved back to the United States. In the States, he founded his own news organization known as News of America. Their forte was basically covering major U.S. events and providing that information for francophone media outlets.
Marc Chalamet spent 13 years building and growing his brand. During this period, he also worked as the New York correspondent for Le Parisien, a French daily that covers both international and national news.
Timothée Chalamet's Father has also Worked for the United Nations and UNICEF
Marc Chamalet may not be as famous as his kids but he has certainly built a respectable career for himself. Asides from covering news for various news media, he has also worked for reputable international organizations such as the United Nations and UNICEF. UNICEF is an agency of the United Nations tasked with providing humanitarian and developmental aid to children.
Chalamet has helped them revise, edit, proofread, and translate various documents and sensitive reports. This was from 2000 to 2016. Currently, he is an editor, writer, and translator for the United Nations. He works on a freelance basis for numerous organizations including UNICEF, UNDP, UNFP, etc.
Marc Chamalet is Married to Nicole Flender, a Former Ballet Dancer turned Real Estate
Marc Chalamet's wife and Timothée and Pauline's mother is Nicole Flender, a New York native who has Austrian/Russian origins. She is a former ballet dancer and English language teacher turned real estate broker. Flender has a degree in musical theatre from Yale University and a master's degree in French literature from NYU.
During her hay days, she performed in Broadway productions such as A Chorus Line, Fiddler on the Roof, Gypsy, Hello Dolly, and My One, etc. These days, Nicole Flender is concentrating on her career as a realtor but she has scored minor parts in some of the movies that her son has featured in.
They Have Been Together for Three Decades
Marc Chalamet and Nicole Flender have not revealed the finer details of their relationship but it is believed that they crossed paths with each other sometime in the late 80s or early 90s. Their crossing paths may have had something to do with mutual interests such as having lived in Paris and having mutual knowledge of the French language.
Whichever it was, the two got talking and later started dating. They then went on to tie the knot. From all indications, Timothée Chalamet's parents are still together to date and have a good marriage.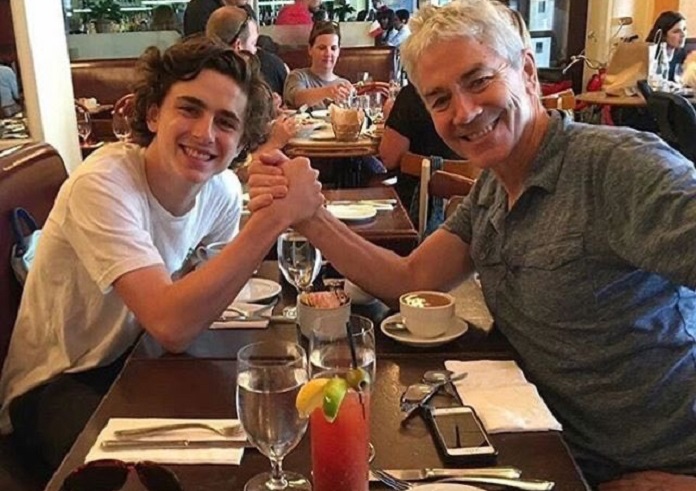 Marc Chalamet's Two Children are both Famous Actors
Marc Chalamet is the proud father of two kids and both of those kids have gone on to become popular figures in Hollywood. The first of Marc Chalamet's superstar children is daughter Pauline. She was born on the 25th of January 1992 and is currently 31 years old.
She started acting around 1999 but her breakthrough came a decade later in 2020. She is famous for her roles in the HBO max comedy, The Sex Lives of College Girls, which premiered in 2021.
The second child that Marc Chalamet has, who is equally a popular actor is his son Timothée. Timothée was born in 1995 and started his career as a teen in 2012. He has since gone on to appear in acclaimed movies such as Call Me By Your Name, Lady Bird, and Beautiful Boy. He has won numerous accolades. He also received an Oscar nomination for best actor for 2017's Call Me By Your Name, making him the second youngest actor to achieve that feat.
He Supports Them but Stays Out of the Spotlight
Marc Chalamet has a great relationship with his two kids. He supports them and cheers on their wins. He has accompanied his children to several red carpet events including award ceremonies and movie premieres. He also joined his son on set during the filming of the 2021 movie, Dune. Part of the filming took place in Abu Dhabi and his son shared a picture of both of them hanging out in the desert on his Instagram page.