Lilah-Rose Rodriguez is an American celebrity kid who was born on the 29th of February 2012. The 11 year-old is better known for being the daughter of Linda Cardellini, an American actress known for her roles in shows like Freaks and Geeks, ER, and Bloodline.
Linda had Lilah with Steve Rodriguez, an actor, art director, and makeup artist. The duo have been in a serious relationship since 2010. They have since gotten engaged but do not seem to be in a hurry to wed.
Summary of Lilah-Rose Rodriguez's Biography
Full Name: Lilah-Rose Rodriguez
Gender: Female
Date of Birth: 29th of February 2012
Lilah-Rose Rodriguez's Age: 11 years old
Ethnicity: Caucasian
Nationality: American
Zodiac Sign: Pisces
Religion: Christianity
Lilah-Rose Rodriguez's Parents: Linda Cardellini and Steve Rodriguez
Famous For: Being the daughter of Linda Cardellini
How Old is Linda Cardellini's Daughter, Lilah-Rose Rodriguez?
Lilah-Rose Rodriguez was born on February 29th, 2012, and her birth occurred on a Wednesday in Redwood City, California, United States. Obviously a citizen of America, little Lilah-Rose is of Caucasian ethnicity with a combination of Irish, Italian, German, English, and Scottish.
One significant fact about the celebrity kid's birthday is that Lilah is a Leap Day baby. What this means is that she will be only celebrating her birth anniversaries once every four years.
The little girl's parents are Linda Cardellini and her longtime boyfriend, Steven Rodriguez. Both are Christians and are raising their daughter to be a Christian too. Lilah is already of school age, but nothing has been said about her academic pursuit.
Lilah-Rose Rodriguez's Mom Had a Difficult Pregnancy
Cardellini, who announced her pregnancy to the world in October 2011, was candid about what she went through as an expectant mother. According to the Return actress, her first four months came with terrible morning sickness which was rather awful and turned her into some kind of a monster.
Then came the delivery with an even worse experience. Describing it as a complicated birth, the American movie star revealed how traumatic and dangerous it was, and as if that was not enough, she was diagnosed with health issues like pneumonia at full term.
Things got out of hand during labor, and the doctors had no choice but to recommend an emergency C-section for Linda. Lilah-Rose Rodriguez eventually came into the world with difficulty, but the mum was grateful that she survived against all odds. After birth, Linda battled a thyroid issue that called for urgent treatment. However, the storm quickly passed, and she now sees her little girl as a ray of sunshine. Cardellini described the entire experience as a crazy miracle.
Cardellini also described how getting pregnant gave her an additional 50 pounds, but she had to shed it before filming romantic scenes.
Lilah's Mum, Linda Cardellini, is a Movie Star
Linda displayed interest in acting at age 10 when she started participating in school plays in the San Francisco Bay Area, where she spent her formative years.
She started acting professionally in 1978 in a single episode of the TV series The Sooby-Doo Show. She would later go on to gain fame for her role in the teen drama entitled Freaks and Geeks, and the medical drama called ER from 2003 to 2009. She also appeared in the drama thriller Bloodline between 2015 and 2017 and the tragicomedy known as Dead to Me.
Her role in Dead to Me was what earned the prolific actress a Primetime Emmy Award nomination, and she also became a second-time nominee for the same award for the character she depicted in Mad Men.
Lilah-Rose Rodriguez's Father is an Actor and Director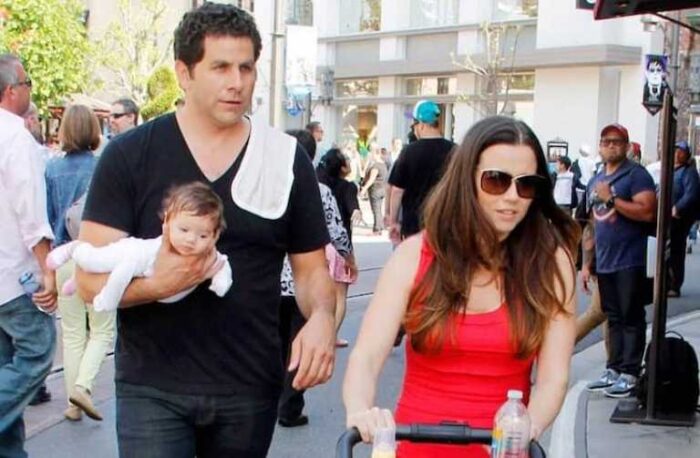 Lilah-Rose Rodriguez's father, Steve Rodrigues, is also part of the entertainment industry. He is listed as an actor, art director, and makeup artist. Steve started as an actor in 1996 by scoring a role on the set of the TV series Pacific Blue.
The American actor later played other roles in productions like Looking for Lola, Tracey Takes On, Clockwatchers, Russians in the City of Angeles, Passion before Midnight, Sinful Deeds, and Border Blues.
He made his last acting appearance in 2004 and now functions as an art director. He also doubles as a makeup artist. Compared to his girlfriend and baby mama, Linda Cardellini, Steven is not so popular, but that does not seem to matter in their relationship.
What is Lilah-Rose Rodriguez's Parents' Relationship Status?
Lilah-Rose Rodriguez's parents are yet to tie the nuptial knot. Steve Rodrigues and Linda Cardellini are in a committed relationship that started as far back as 2010. However, the couple first crossed paths earlier when Steve was 11 and Linda was 10. According to the actress, they were in grade school together when she first saw him flaunting amazing bike skills that she found completely irresistible. Steve was the newest kid in the school, and she started crushing on him after that meeting.
The duo eventually lost contact with each other after graduation, but fortunately, they reconnected around 2010, and before long, it downed on them that they were actually meant to be together.
The couple has been great partners since then, and their daughter's coming has cemented their relationship and made it stronger.
Lilah-Rose Rodriguez's Parents became Officially Engaged in 2013
Linda was in an interview session on The View when she announced her engagement to Steve and shared what has been described as her knee-weakening proposal story.
Linda said they were having dinner in New York City in June 2013 with their baby, her sister, friend, Maura (Tierney), and cousins when Steve surprised her with his marriage proposal. Suddenly, Steve brought out their baby and then started choking up and then went on bended knees and popped the big question.
Linda, who obviously said yes, put the ring on baby Lilah's finger and took a picture which was later shared on Twitter. In the caption, the Freaks and Geeks actress wrote that her baby is helping them celebrate their engagement, and she described it as a beautiful experience.
My daughter Lilah Rose wants everyone to know that her mommy and daddy are getting married… pic.twitter.com/Xf1nCoSPGt

— Linda Cardellini (@lindacardellini) June 7, 2013
It has been 13 long years since the couple became officially engaged, and they have not announced plans for their wedding. However, the duo are still together, and there is hope that wedding bells will eventually ring for them.
Lilah Shares a Great Bond with her Parents
Since she gave birth to her baby girl, Cardellini seems to be always talking about Lilah-Rose Rodriguez. Mother and daughter obviously enjoy each other's company as they are always seen together. Lilah was barely 14 months old when Linda described her as an introvert with her own way of commutating with adults. She points out the closes she prefers to wear, and her likes and dislikes are expressed through actions as against to words, the actress said.
The same applies to Lilah's dad, Steve Rodrigues, who obviously dotes on his baby girl. Both parents confess that her coming changed their lives completely, making them realize the kind of unconditional love that only an offspring can evoke.
Does Lilah-Rose Rodriguez Have Siblings?
For now, Lilah has no siblings from either her mother or father's side. She is the only child born to Steve and Linda, and the celebrity duo seems not to be attempting to enlarge their small circle.
She Lives a Protected Life
Both Linda and Steve are highly protective of their daughter. However, Lilah has been several spotted out and about town with them. There was one adoring picture when the cast members of Freaks and Geeks reunited for a photo shoot, and Linda was spotted holding her baby.
@lindacardellini, I think this is my favorite from the @VanityFair shoot. I love our little ladies together! pic.twitter.com/sUyaHial

— Busy Philipps (@BusyPhilipps) December 7, 2012
However, Steve and Linda make a conscious effort to keep Lilah protected from the media as much as possible.
Is She Showing Signs of Following her Parents' Career Path?
Lilah is only 10 and too young to show serious interest in following any career path. However, it has been speculated that the celebrity kid may well end up as an actress, but time will tell.