Jordan Belfort is an American entrepreneur and former stockbroker whose life inspired the 2013 film Wolf of Wall Street. He has two children, a daughter named Chandler and a son named Carter. Chandler Belfort is a mental health counselor, while Carter is a marketing and management specialist. Both Chandler and Carter were still quite tender when their father was apprehended by the authorities for securities fraud and did not fully grasp what was going on.
They were able to escape the aftermath of his illegal dealings and had a relatively normal childhood. Both Chandler and Carter are all grown up now and are making their way in life. They also have a great relationship with their father, who has turned a new leaf.
Summary of Jordan Belfort's Daughter, Chandler Belfort's Bio
Full name: Chandler Belfort Winter
Gender: Female
Date of birth: 29th of June 1993
Chandler Belfort's Age: 29 years old
Ethnicity: Caucasian
Nationality: American
Zodiac Sign: cancer
Sexual Orientation: straight
Education Institution attended: Muhlenberg College and New York University
Marital Status: married
Chandler Belfort's husband: Connor Winter
Chandler Belfort's Parents: Jordan Belfort and Nadine Caridi
Siblings: Carter Belfort
Chandler Belfort's Height in Inches: 5 feet 8 inches
Chandler Belfort's Height in Centimetres: 172
Chandler Belfort's Weight: 58 kg
Chandler Belfort's Net worth: $500,000
Famous for: Jordan Belfort's Daughter
Chandler Belfort's Instagram: Chandler winter
Chandler Belfort is the First Child Born to Jordan Belfort and His Second Wife – Nadine Caridi
Jordan Belfort's daughter is named Chandler Belfort. She is his only biological daughter and was born on the 29th of June 1993. Her mother is Jordan Belfort's second wife, Nadine Caridi. Caridi is a former model who now holds a doctorate in somatic and depth counseling. Jordan Belfort and Nadine Caridi started dating in 1989 after she left her then-boyfriend for him.
They were quite besotted with each other and tied the knot in 1991. They then settled down to family life in New York and welcomed Chandler two years later. When Chandler was born, her father had already set up his successful, albeit illegal, stock broking operations. She, therefore, lacked for nothing in material wealth, but there was a snag. Her father serially cheated on her mother and even got physically abusive on one occasion.
He also used drugs recklessly and, on one occasion, smashed up his convertible Mercedes while she was inside and unbuckled. She luckily survived, but the whole thing made for a tense environment in their home. Her mom wanted her father to clean up his act for several years, but he did not, so she divorced him in 1998.
She is a Licensed Mental Health Counsellor
Following her parents' divorce and her dad's subsequent incarceration for securities fraud in 1999, Chandler Belfort primarily grew up with her mom. Her mom relocated them to California, and they escaped the bad press that came with her father's indictment. She, therefore, had a relatively normal upbringing. For her education, Chandler Belfort attended the Vistamar School in California.
She received her diploma in 2012 before she attended Muhlenberg College in Pennsylvania. There, she studied psychology, Spanish language, literature, and culture and completed her degree in 2016. Between 2017 and 2019, Chandler Belfort attended the NYU Steinhardt School and obtained a master's degree in mental health counseling.
She is now a mental health counselor and started by interning at Berkeley College from 2018 – to 2019. She spent the next two and a half years working in private practice before setting up her own Chandler Winter Counselling in August 2021.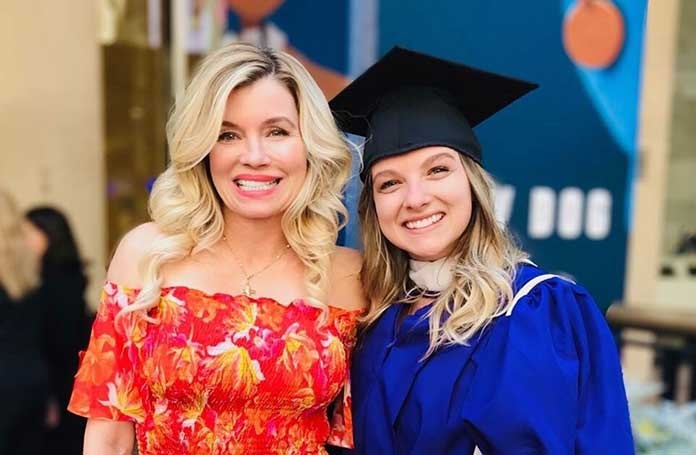 She is married to her College Sweetheart, Connor Winter
Chandler Belfort is married to her college sweetheart Connor Winter. Connor Winter is a product manager and video producer who presently works for themuse.com, an online career platform that helps people navigate their entire career journey, including job searches.
Connor Winter holds a degree in business marketing and finance from Muhlenberg College and graduated in 2015. Chandler and Connor Winter first crossed paths during their days in college. This was around 2012, and they started dating after a few months of friendship. The two dated for several years and remained together even after college.
They got engaged in December 2019 and tied the knot on the 21st of November 2021. The ceremony featured all their loved ones, and Chandler's dad, Jordan Belfort, walked her down the aisle. He later shared a picture of them and described it as a special day with his beautiful daughter.
Summary of Jordan Belfort's Son, Carter Belfort's Bio
Full name: Carter James Belfort
Gender: Male
Date of birth: 15th of August 1996
Carter Belfort's Age: 25 years old
Ethnicity: Caucasian
Nationality: American
Zodiac Sign: Leo
Sexual Orientation: straight
Education institution attended: Vistamar School, Los Angeles Film School
Marital Status: single
Carter Belfort's Parents: Jordan Belfort and Nadine Caridi
Siblings: Chandler Belfort
Carter Belfort's Height in Inches: 5 feet 7 inches
Carter Belfort's Height in Centimetres: 170 cm
Carter Belfort's Weight: 67 kg
Body measurements in inches: 41-33-40
Body measurements in centimeters: 104-83-101
Carter Belfort's Net worth: $500,000
Famous for: Jordan Belfort's son
Jordan Belfort's Second Child is a Son named Carter Belfort
Jordan Belfort's second child is a son named Carter Belfort. He was born on the 15th of August 1996 in New York City. The mother of Jordan Belfort's son is Nadine Caridi, his second wife. When Carter was born in 1996, his parents' marriage had already started experiencing challenges due to his father's infidelity and drugs.
This made for some tense moments and arguments in their home, and his mom finally divorced their father in 1998. Carter Belfort grew up with his mom in California while his dad was incarcerated for securities fraud. His Dad later got out of jail around 2006 and made an effort to be in touch with the family. They were able to reestablish good relations, which remains the case to date.
He attended the Los Angeles Film School
Like his elder sister, Carter Belfort attended the Vistamar High School. This was from 2010 to 2014, and he excelled in sporting activities such as volleyball and soccer. For his college education, Carter Belfort studied at Muhlenberg College for just a year before going to the Los Angeles Film School in 2015.
He studied there for three years and obtained a bachelor's degree in arts, entertainment, and media management in 2018. Carter's decision to go to film school may have been influenced by his dad, who has a popular movie based on his life and has become a celebrity in his own right.
He is the Vice President of Brand Development at Jordan Belfort
Carter Belfort commenced his career as an intern at the Beverly Hills media and entertainment company, ROAR, in 2017. After that, he interned at the Elevator Studio in West Hollywood from 2019 to 2020. Carter Belfort now works for his dad. He joined his dad's former company, Global Motivation Inc., in April 2020.
The company is now known as Jordan Belfort Inc. and manages his dad's speaking engagements, seminars, etc. Carter previously held the positions of marketing specialist and strategic marketing specialist at Global Motivation Inc. He is now the Vice President of Brand Development at Jordan Belfort.
Carter Belfort is also a Hip Hop Artist and Raps under the Name – Of the Drunken Poet
Carter Belfort is not active on social media, which makes it difficult to figure out what he is doing in his private life. However, it is known that he is also a budding hip-hop artist and raps under the name the drunken poet. He has several songs to his credit, namely Ballad of the Host, Like a Rolling Soul, Two Times Not To Mind, The Signature, etc. He has rapped on his dad's podcast. His dad also promotes his music on his social media accounts.