Jenni Rivera may have ended up as one of the famous Banda musicians in history but she had a tough journey on her way to the top. The situation was no different in her personal life. The late singer got married a total of three times in her life but all three marriages ended in divorce due to one unsavory reason or the other. Rivera's first Husband, Jose Marin, was physically and emotionally abusive. He also went on to sexually abuse their daughters, as well as the singer's younger sister. Rivera's second husband ended up being unfaithful to his matrimonial vows while her third husband, Esteban Loaiza, allegedly stole from her. Rivera was truly unlucky in love but as she once said, she didn't regret a thing as she got the best gifts of her life in her kids from these marriages.
Inside The Three Marriages That Jenni Rivera Lived Through
The late Jenni Rivera was married thrice in her lifetime. Her first marriage was to Jose Trinidad Marin in 1984. It lasted until 1992 and they had three kids together. By 1997, Rivera got married a second time to a man named Juan Lopez. This marriage lasted up until 2003 and they had two kids together. Jenni Rivera's third marriage was to MLB star, Esteban Loaiza, from 2010 to 2012. Each of these unions led to bad experiences for the singer but she never allowed her experiences to weigh her down but rather channeled it into the powerful lyrics of her hit songs.
Her First Husband, Jose Trinidad Marin, is in Jail For Abusing the Couple's Daughters
Full Name: Jose Trinidad Marin
Date of Birth: 15th of February 1964
Age: 57 years
Birth Place: Mexico
Nationality: Mexican-American
Duration of Marriage: 1984 to 1992
Children: Chiquis, Jacqie, and Michael
Jenni Rivera's first husband is Jose Trinidad Marin. Born on the 15th of February 1964, he grew up in Mexico but subsequently migrated to California where he ran into Rivera. The two commenced a relationship while the singer was still in high school. She got pregnant and they tied the knot in 1984. They later welcomed a daughter named Chiquis the next year. Rivera and Marin were married for a total of eight years during which they welcomed another daughter, Jacqie, and a son named Michael. Marin was emotionally and physically abusive towards his wife and she ended up divorcing him in 1992. Five years down the line, it turned out that Marin had sexually abused the couple's daughters, as well as Rivera's younger sister, Rosie.
The allegations were terrible and the police launched a manhunt for him. He spent nearly 10 years evading the law before he was apprehended in April 2006. He was subsequently tried for multiple counts of aggravated sexual assault and continuous sexual assault of a child and sentenced to 31 years in jail. Jenni Rivera's first husband remains in jail to date but on a positive note, their kids have gotten over the trauma and are thriving. Their, eldest daughter, Chiquis is an award-winning Banda singer like her mother while Jacqie is a budding singer and Instagram influencer. Michael is a mural and signage artist.
Her Second Husband, Juan Lopez, Died in Jail While Serving Time For Selling Hard Drugs
Full Name: Jose Trinidad Marin
Date of Birth: 15th of February 1964
Age: 57
Birth Place: Mexico
Nationality: Mexican-American
Duration of Marriage: 1997 to 2003
Children: Jenicka Lopez, Johnny Lopez
Following her divorce from Jose Marin in 1992, Jenni Rivera concentrated on her music career and spent the next three years trying to break through. She performed at many venues and it was during one of such performances at an L.A. bar that she met Juan Lopez. This was in 1995 and they began dating. They later got engaged and tied the knot in 1997. Just a few weeks after their wedding, Lopez was charged with coyote activities, helping undocumented immigrants cross the Mexican border. He was found guilty and spent the next six months in jail. Upon getting out, he and Rivera carried on with their union and went on to welcome two kids, a daughter named Jenicka (b. October 1997) and a son named Johnny Angel (b. February 2001).
Lopez, unfortunately, cheated on Rivera multiple times and she filed for divorce in 2003. Following the divorce, the couple parted ways and Lopez seemingly continued with his shady dealings as he was convicted of selling hard drugs in 2007. He was sentenced to jail and spent two years there before dying of pneumonia. Rivera has also passed on too but the kids she and Lopez had together continue to make the family name proud. Jenicka is a plus-size model who is quite popular on Instagram while Johnny is attending college and plans to become a music producer in the future.
The third Husband, Esteban Loaiza, is a Retired Baseball Player Who Allegedly Stole From the Singer
Full Name: Esteban Antonio Loaiza Veyna
Date of Birth: 31st of December 1971
Age: 49
Birth Place: Mexico
Nationality: Mexican
Duration of Marriage: 2010 to 2012
Children: None
Jenni Rivera's third marriage was to MLB star, Esteban Loaiza. Loaiza is originally from Mexico and spent 13 years in the MLB (1995-2008). During this time, he played for teams such as Pittsburgh Pirates, Toronto Chicago White Sox, and Los Angeles Dodgers. He never won the World Series but received individual accolades such as AL Strikeout Leader and two-time All-Star nomination. Rivera and Loaiza began their relationship in the late 2000s and got hitched on the 8th day of September 2010 in a ceremony held at Hummingbird Nest Ranch in Simi Valley California. It was quite a secretive one but it was nevertheless glamourous. Following the nuptials, Rivera and Loaiza settled down to family life with great promise.
They made several appearances on Rivera's reality TV show, I Love Jenni, and lived a jet-setting glamorous life. All was seemingly well in their world but this illusion was shattered after a series of issues. Rivera accused Loaiza of having an affair with her eldest daughter, Chiquis. Chiquis was embittered by such an allegation and it led to an estrangement between mother and daughter. Rivera later filed for divorce from Loaiza in October 2012, citing irreconcilable differences. It was later reported that she caught him stealing a significant sum of money from her. It means Jenni Rivera was not living with her last husband by the time she passed away in December 2012.
The Late Jenni Rivera Was an Award-winning Singer, Reality TV Star, and Entrepreneur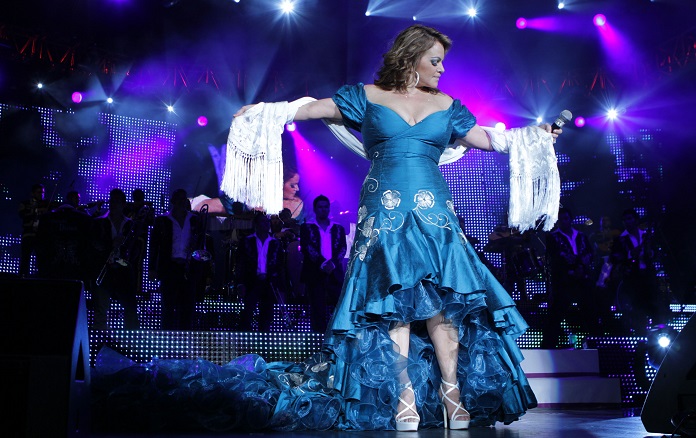 Not many people can overcome a teen pregnancy and an abusive marriage to become a superstar but this is exactly what Jenni Rivera did in her lifetime. Born to immigrant parents in the year 1969, Rivera grew up in Long Beach, California, and enrolled in school much like other kids of her age. She later got pregnant while in high school and went on to marry the father of her child. She then had her daughter and managed to complete high school. The then-married Jenni Rivera thereafter embarked on her college studies. Her marriage meanwhile soured and she found herself divorced in 1992.
That same year, she released her first single and though there was an initially lukewarm reception to her music, she persevered and released album upon album until her music resonated with the public. Rivera would go on to sell 15 million records in the course of her career. Her eponymous 10th studio album, Jenni, topped the Billboard Top Latin Albums chart and she also received numerous awards, including two Billboard Music Awards and 22 Billboard Latin Music Awards. Away from music, Rivera also made waves as a reality TV star and started numerous successful businesses before her demise in December 2012.