The late James Arness was, without doubt, one of the biggest western icons in Hollywood history, and along with him on his glorious journey was his wife, Janet Surtees. Though Surtees first got to know the Gunsmoke star when he was already one of the biggest screen idols in America, she refused to be blown away by his fame. She kept a cool head and that trait that would continue to serve them well into marriage. Despite living in the spotlight, Surtees and Arness built a long-lasting union and were together for 33 years before the legendary actor passed away in 2011. A decade from that time, Janet Surtees remains satisfied to pursue her life out of the spotlight.

Profile Summary of Janet Surtees Arness
Name: Janet Surtees Arness
Date of birth: N/A
Place of birth: N/A
Ethnicity: Caucasian
Nationality: American
Occupation: Clothing store employee
Husband: James Arness
Children: Jim Surtees
Stepchildren: Three, including Rolf Arness
Janet Surtees Worked in a Clothing Store Before Her Romance With James Arness
Several Hollywood stars have gone ahead to marry ordinary individuals, and one of them was the late James Arness. As at the time that he met his future wife, Janet Surtees, she worked in a clothing store to make a living. Before then, Surtees attended high school and possibly got a college education, but these facts are unknown for sure. There is also not much information about her date of birth, place of birth, or family background except that her brother and dad worked as pilots. Janet Surtees came from a humble background, but as can be seen from her relationship with Arness, she remained pretty grounded and did not lose her head because he was some big Hollywood star.
She and James Arness Began Dating During the Last Season of Gunsmoke in 1975
Despite the litany of movies and TV shows he featured in, James Arness's name will forever be associated with the CBS series Gunsmoke, where he portrayed the laconic, fair-minded, and incorruptible Marshall Matt Dillon of Dodge City. His 20 year run on the show made him a household name in America and beyond. It also gave him the chance to meet the eventual love of his life, Janet Surtees. When Arness was rounding up work on Gunsmoke in 1975, he was already divorced and had suffered some other heartbreak along his way. His close pals figured that he needed some assistance on the dating front, and one of those that took this task to heart was his makeup artist on Gunsmoke.
The makeup artist discussed Arness with his wife, who owned a clothing store, and the two decided to set the actor up on a date with one of the clothing store's employees named Janet Surtees. A single mom, Surtees was initially reluctant to go on a date with Arness despite knowing that he was a big acting star. She later agreed, at least to tell her Gunsmoke fan of a son she met one of the show's stars, and the date turned out to be a wonderful one. She and Arness spent the entire night discovering exciting facts about each other and made plans to go on another date the very next day.
They Tied the Knot Two Years Later in 1978
The couple's second date turned out to be even better than the first as Arness went all out to show Janet a good time. He took her grocery shopping for dinner items before flying the both of them out on a private plane to his large residence in the mountains. Once there, they engaged in an outdoor picnic and horseback riding before Janet flew back to her home. It was a perfect date by any measure, and as such, it came as a rude shock to Janet when Arness stopped all further communication after that date. He failed to call her for the next three months, and her employer urged her to reach out.
She stoutly refused to do so and insisted on leaving the ball in the actor's court. In her thinking, he probably had countless girls calling him and therefore had to be the one to call her if he was interested in dating her. Janet Surtees firmly stuck to her guns for three months before Arness finally called her. He asked her out again, and she agreed to another date. They quickly picked up from where they left off and resumed a serious relationship. They dated for a few years before tying the knot in 1978.
The Couple Never Had Kids Together But Had Four Children from Past Relationships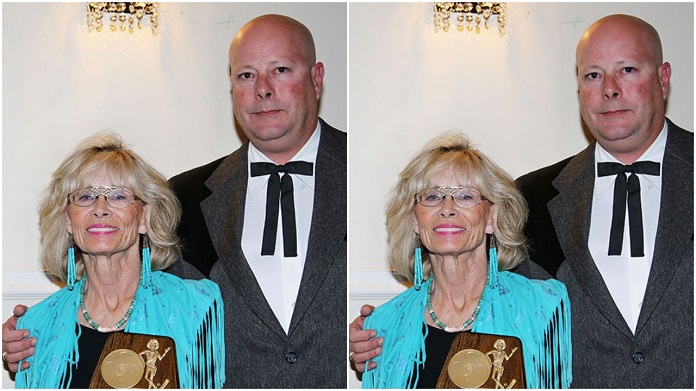 Even though Janet Surtees and James Arness were together for nearly four decades, they never had any children together. This could have been for a variety of reasons, but they never lacked love in their lives. They helped each other achieve several feats and built a loving home for the children from past relationships. For instance, Arness was previously married to Virginia Chapman from 1948 to 1960. The union produced two children, a son named Rolf and a daughter named Jenny Lee. The actor also adopted Virginia's son from an earlier relationship named Craig.
Craig Arness grew up to be a renowned photographer. He worked for National Geographic in the 70s and 80s and produced several books and stories or them. His work for the magazine earned him several awards from The National Press Photographers Association. He later left Nat Geo to co-found his stock photo agency, Westlight. Craig Arness was indeed an accomplished fellow before he died in 2004. Another accomplished son that Arness was Rolf Arness. Rolf inherited a love of surfing from his dad, James, and took it up seriously after suffering a fall at the age of nine. He grew up to become an outstanding surfer and ended up winning the World Surfing Championship in 1970.
James Arness also had a daughter named Jenny Lee. Born in 1950, she had trouble with drug use for several years and died of a drug overdose at 25. On her part, Janet Surtees had a son named Jim Surtees before she met Arness. No details exist about who his father is, but Arness gladly accepted Jim into their family, and they all lived together while he was in his formative years. Jim is all grown up now but lives his life out of the spotlight. There are not many details on where he resides or what he does for a living.
Janet Surtees and James Arness Remained Together until the Actor's Demise in 2011
Janet Surtees and James Arness made their home in the Brentwood neighborhood of southern California and were married for 33 years. Although Arness was a very famous actor, they avoided the spotlight, limiting their public appearance to the occasional ceremony to honor Arness. They also attended some Gunsmoke conventions in Dodge City and lent their time to assisting various charitable organizations. The couple had a great marriage, and Arness revealed the same in a letter that he posted on his website a few months to his demise.
In that letter, he thanked fans of Gunsmoke for their tremendous support over the years and went ahead to described his wife as a special person. He also described her and his family as the best part of his life. James Arness died on the 3rd day of June 2011 in his home, and right by his side was his wife. His funeral was private, and the family asked that in lieu of flowers, donations can be made to his favorite charity, United Cerebral Palsy. Janet Surtees has kept out of the spotlight since her husband's death. She continues to devote her time to charity activities and her grandkids.