Richard Williams is still alive. The legendary tennis coach, who trained his two daughters – Serena and Venus Williams, into some of the greatest athletes in the world, presently lives in Palm Beach, Florida.
Williams was previously a dominant figure on the professional tennis tour as he cheered his daughters to victory. He, however, retreated from the spotlight in recent years. News reports now show that he suffered a series of strokes around 2016 which affected his memory and speech. Williams is better now and frequently appears on the Instagram page of his son, Chavoita LeSane. He has also been spotted playing with his granddaughter – Olympia – born by his daughter, Serena.
How Old is Richard Williams?
Richard Williams is 81 years old as he was born on the 14th of February 1942. He is a native of Shreveport, Louisiana, and his name at birth is Richard Dove Williams Jr. Williams spent his formative years in Louisiana before moving out to Michigan and then California. In California, he took some tennis lessons. He also watched the sport on TV.
Richard Williams was astounded when he saw a player win $40,000 at a tournament. This sealed his decision to start training his little girls in the sport so that they could also make money and escape from poverty.
Richard Williams Actively Supported his Daughters on Tour in the 2000s and early 2010s
Richard Williams began training his daughters in tennis when they were still below the age of five. He coached them with determination, and they soon began playing on the southern California junior tennis circuit. He later moved the family to Florida, where both girls attended Rick Macci's tennis academy in Delray Beach.
Williams also continued coaching his daughters, and they began winning professional tournaments in the 90s. Serena Williams later won her first Grand Slam at the U.S Open in 1999, while Venus won her first at Wimbledon in 2000. Both girls also landed the number one spot on the world rankings.
Serena Williams and Venus Williams went on to dominate all through the 2000s and early 2010s, and their father, Richard Williams, was their biggest supporter and hype man. He defended them from bigots. He also carried placards during games to support them. Even though some of their opponents were not comfortable with such on-court antics, their father paid them no heed.
Richard Williams also celebrated exuberantly whenever his daughters achieved victory. When Venus won the Wimbledon title, he declared they were "straight outta Compton", a reference to their poor roots. He also crashed the broadcasting studios of NBC and performed a triumphant dance to the admiration and surprise of the analysts.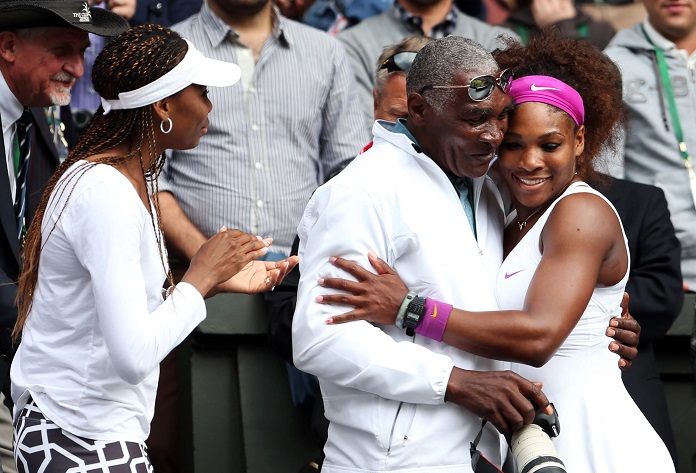 Williams Has Retreated from the Spotlight in Recent Years and Did Not Participate in the Making of the 2021 Biopic – King Richard
After years of being his daughters' biggest cheerleaders on tour, Richard Williams started withdrawing from the public spotlight sometime in the mid-2010s. One of the reasons for this was that he reportedly couldn't deal with the emotional strain of watching his daughters take on each other. Another factor could also have been that he wanted them to take the glory that was theirs fully.
Whichever it was, Richard Williams returned home to Florida and avoided going to major tournaments to watch his daughters. He also avoided award ceremonies and the like. He also did not attend his daughter, Serena's wedding to tech founder Alexis Ohanian on the 16th of November 2017.
Richard Williams also did not participate in the making of the highly-acclaimed 2021 biopic King Richard. The movie focused on his influence as well as the role that he played in his daughter's path to greatness. It featured several stars, including Will Smith, who won an Oscar for playing the titular character. Despite the movie being about him, Richard Williams did not participate in the production. He also did not attend any of the premieres of the movie or the award ceremonies.
Richard Williams Suffered a Series of Strokes in 2016 But is on the Mend Now
The release of King Richard pulled Richard Williams back into public consciousness. Many people wondered whether the once dominant tennis coach was still alive and, if so, where he lived and what he was up to presently. The fact remains that Richard Williams is still alive, although he has suffered some health challenges.
Court records show that Richard Williams suffered about two strokes in 2016. The stroke caused him to suffer memory loss. He also dealt with a neurological condition that affected his speech. All this required him to undergo therapy, psychological, physical therapy, and speech therapy, to get better. He also gave a power of attorney to his son, Chavoita LeSane, to manage his legal affairs. LeSane now acts as his translator and helps him communicate with people.
He Filed for Divorce from his Third Wife, Lakeisha Graham, in 2017
Court records further reveal that Richard Williams filed for divorce from his third wife, Lakeisha, in 2017. Williams and Lakeisha married in 2010 and welcomed a son named Dylan together. They, however, had issues and filed for divorce. Richard Williams also filed a series of lawsuits against his wife. He accused Lakeisha of forging his signature on a document to transfer one of his houses to her, which she then used to obtain a mortgage loan worth $152.000.
Williams asked the court to set aside the transfer as his signature was forged and his mental capacity impaired. He also sought a restraining order against his wife and sued her for stealing his social security checks. These lawsuits lingered for some time, but it seems to have been finalized. Williams and Lakeisha also never finalized their divorce.
Where is Richard Williams Now?
Richard Williams presently lives in Palm Beach, Florida. His past health challenges, as well as his old age, have taken a toll on him, but his children still work hard to make sure that he has a good life. His son, Chavoita LeSane, takes primary responsibility for his care, and they spend copious amounts of time together. Chavoita often shares pictures of them hanging out together, going to restaurants together, etc. He has also shared a picture of both of them returning to Williams' hometown of Shreveport for some filming activities.
Chavoita loves his father very much and has described him as my best friend, my source of wisdom, and my rock. Richard Williams also has a good relationship with his famous daughters. In November 2021, he was pictured at the home of Serena Williams and playing with his granddaughter named Olympia. Serena dubbed the picture a rare sighting and praised her father as the only G.O.A.T and King Richard. She said he still motivated them and fondly declared that she called him daddy.