Mike Holmes is currently unmarried after ending his first marriage in the early 1990s. The Canadian construction expert has since not found the need to tie the knot. However, he is presently in a long-term relationship with his partner, Anna Zappia.
Mike Holmes caught the public's attention with his hit TV series Holmes on Holmes. The series deals primarily with Mike coming up with solutions to the needs of homeowners. These solutions sometimes require the celebrated TV host and personality to identify structural deficiencies such as plumbing and insulation, among many other challenges.
The show has given birth to other syndicated shows, including Holmes in New Orleans, Holmes: Makes It Right: Retooled, and Holmes 911, among others. He also featured in the second season of Rock the Block, a competition-like TV series. The Canadian construction engineer keeps his personal life private, and as such, questions have arisen concerning his marital status. This article answers most of those questions about Mike Holmes' personal life.
Is Mike Holmes Married?
The simple answer to that question is a clear no. It should come as no surprise that the question about Mike's marital status would be the first one on the list, especially when you consider the fact that he has worked on his reality show for years with some members of his immediate family, primarily his children, but has not found the need to introduce their mother to the general public.
A simple reason for this is that Mike Holmes is big on privacy when it revolves around matters in his personal life. Secondly, the TV host's first marriage ended in a divorce under not-so-pleasant circumstances. He has since remained unmarried, although there have been several relationships along the way.
Who Was Mike Holmes' First Wife?
Certain reports claim that Mike Holmes was married to his ex-wife Alexandra Lorex for around ten years. The knowledge that Mike Holmes was previously married certainly whetted the appetite of fans and viewers to find out more about the woman he was previously recorded to have been married to.
Born on August 3, 1963, in Toronto, Ontario, to Jim and Shirley Holmes, a then 19-year-old Mike Holmes married Alexandra Lorex in 1982. How or when the relationship that led to marriage began is still unknown. However, it has been reported that Mike Holmes and his ex-wife, Alexandra Lorex were childhood sweethearts.
Over the next few years, the then-married couple had the best time as a family, but neither of them foresaw what was to come, and we don't think they were prepared for it. The beginning of the end of Mike Holmes' first marriage started with the crash of the Canadian economy in the early 1990s. Mike's businesses took a heavy hit which led to unexpected losses in income.
During this period of economic recession, Mike Holmes also had to deal with the tragic and quite untimely death of his parents. A combination of the woes in Mike's personal and professional life invariably strains his marital relationship. Things came to a head when Mike and Alexandra decided to call it a day on a marriage that is said to have lasted nearly ten years.
Is Mike Holmes In A Relationship?
Yes. Mike Holmes has been in a relationship with his long-term partner, Anna Zappia, since 2000. Their first encounter with each other, however, began long before that. Shortly after the Holmes on Holmes star's divorce from his first wife, he came in contact with Anna, and he claims she was the one that encouraged him to pick up the pieces of his life and resurrect his flailing career as a construction engineer.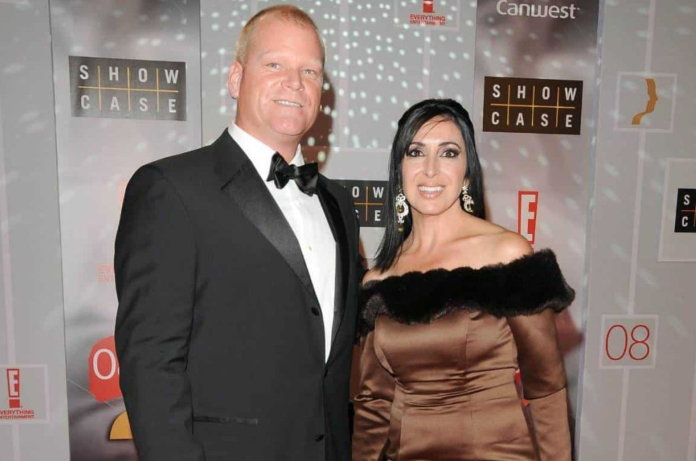 He took her advice to heart, and it didn't take long for Mike Holmes to land on his feet. Mike has claimed that his roles on several TV reality series would have been impossible without Anna's and his close associates' influence since he was initially hesitant to take on the responsibilities of being a TV reality star.
Who Is Mike Holmes' Wife?
Mike Holmes is currently unmarried. However, some publications claim he has been heard calling Anna Zappia his wife on multiple occasions, and this has left a lot of his fans and the general public wondering if the long-term couple had a secret marriage. Closer scrutiny has revealed that there is no truth to the speculation that Mike and Anna are a married couple.
The home expert has described Anna Zappia as the perfect partner and claims that they have been happy together for a very long time. The couple, whose relationship began officially in 2000, has been together for more than two decades.
Despite that the couple has yet to tie the knot officially as man and wife, the relative longevity of their relationship shows that they are very committed to each other. Mike Holmes and Anna Zappia have also not had any high-profile issues since the beginning of this long relationship.
Mike Holmes Is A Proud Father Of Three Children
Inexplicably, Mike's relationship with Anna has failed to produce any children despite how long they have been together as a couple. However, he had three children with his first wife before their divorce over 30 years ago. It's even more interesting when one factors in the reality that all of Mike Holmes' children were born before he turned 25 years old.
His first child was a daughter named Amanda Holmes. Amanda was born in 1984, a couple of years after Mike and his ex-wife, Alexandra, tied the knot. Sherry Holmes, Mike's second child and daughter, was born in 1987 before Mike proudly welcomed a son who he named after himself. Mike Holmes Jr. was born in 1989.
Holmes' divorce did not and has not stopped him from having a close relationship with his children. As a matter of fact, all three children are closely involved in the family business in one way or another.
Mike Jr. and Sherry are actively part of the business on-screen, while Amanda's part is more of a behind-the-scenes role. It was revealed that Sherry initially wanted no part in the business as she only wanted to raise enough money to travel the world.
Nonetheless, she has since been convinced to alter her perspective. Mike Jr.'s role in the business began as early as his 13th year when his father, who himself started getting lessons at age 6, started mentoring him. He has since been a mainstay in the running of the business.
He is Also A Grand Dad
At the moment, Mike Holmes is also a proud grandfather of 3. His first daughter Amanda has been married twice. Her first marriage was to Adam Belanger, but the union was dissolved under unknown circumstances.
She is currently married to an unidentified partner and is a proud mother of two children, namely Emily and Wyatt. Mike's daughter, Sherry, became engaged to her then-fiance, Blake Steed, in 2017. The couple tied the knot soon after, and together, they have a daughter who they named Cali Kay Holmes Steed.
The youngest of Mike Holmes Sr.'s children, Mike Jr., married the love of his life, Lisa Grant, in 2017, coincidentally the same year his immediate big sister got engaged. The marriage has yet to produce any children yet.