Evelyn Melendez and Jordan Knight are still married. Despite the rumors about their marital issues, the duo have managed to sustain their union for almost two decades and still counting.
Evelyn became Mrs. Evelyn Melendez Knight on the 12th of September 2004 when they exchanged wedding vows in the US. Their union has been blessed with the birth of two children – Dante Knight and Erick Jacob Knight. The Knight family currently resides in Milton, Massachusetts, in the United States of America
Who Is Jordan Knight's Wife?
Evelyn Melendez is Jordan Knight's wife. Evelyn was born in the United States on May 17th, 1970, making her an American by nationality. Evelyn's ethnic background is said to be White.
Evelyn Melendez Knight has never disclosed details about her parents and has not said anything about growing up with siblings. However, it is common knowledge that she was born into a Christian household.
The details of Melendez's educational history are not in the public space. However, due to the fact that she once worked as a fashion model, fans have wondered whether the mother of two had any formal fashion training before joining the industry.
Evelyn Earned a Living as a Model
Before she got married and became the wife of a top celebrity, Evelyn was earning her keep as a fashion model. However, the brands she worked with are not known. Apart from her modeling gigs, there are online reports that claim she is an entrepreneur and also functions as a public speaker, but these are subject to verification.
Despite her foray into the modeling world, Evelyn Melendez's only claim to fame is being the wife of celebrity musician and actor Jordan Knight. Nevertheless, she still pretends to maintain a low profile.
Evelyn Melendez and Jordan Knight Wedded in 2004
Evelyn Melendez and Jordan Knight became officially married on the 12th of September 2004. However, the couple started dating sometime in 1996. The romantic duo went on to date for the ensuing eight years before culminating their relationship by tying the nuptials. They even had one of the children in 1999 before their wedding.
Jordan and Evelyn's wedding was a private ceremony with just family and close friends in attendance. At the time of their nuptials, Jordan hadn't achieved the level of popularity he enjoys today, thus, it was not well publicized.
Are Evelyn Melendez and Jordan Knight Still Together?
Evelyn Melendez and her spouse, Jordan Knight, have kept the embers of their love burning for almost two decades, but that is not to say that the couple has not encountered marital issues.
In fact, they have been rumored to be divorced a couple of times in the past. The first time we heard of the couple's separation was in 2002, but the news turned out to be fake. In 2016, more serious separation news about Jordan and Evelyn hit the tabloids, and this time, their split was attributed to infidelity and alcohol abuse on the musician's part. The grapevine alleged that the entertainer was secretly having an affair with a female fan simply called Jackie from Germany.
Though the couple never deemed it necessary to address the speculations about their split, there seemed to be an atom of truth in the 2016 marital issues, as rumors had it that they reconciled in 2017.
Since then, no news of separation has been heard from Evelyn Melendez union with Jordan Knight. The celebrity duo even celebrated their 17th wedding anniversary in style. This was witnessed on the 12th of September 2021 and effectively dispelled any rumors of divorce or separation for them.
Notwithstanding their marital issues, Evelyn and Jordan's enduring marriage is a palpable testament to the couple's commitment to each other. They owe part of their success to the decision to always abstain from media attention.
No doubt, this particular lasting celebrity marriage has drawn adoration and admiration from both fans and industry colleagues alike.
Inside Jordan Knight Family
Jordan Nathaniel Marcel Knight comes from the Canadian family of Allan Knight and Marlene Putnam, who are both Episcopal priests from Ontario. While Marlene is a Dunnville, Ontario native, Allan was born in Meaford, Ontario.
The Knight family is a large one with six children, with Jordan as the youngest. The singer's siblings include – Allison, Sharon, David, Christopher, and Jonathan.
Jordan and Jonathan are both musicians and started their careers with New Kids on the Block boy band, which reigned between the 1980s and 1990s.
After he got married to Evelyn Melendez, Jordan went on to build his own family with his wife and two sons, who are all grown up. The father of two is currently living in Milton, Massachusetts, US, with his wife and two sons.
Who are Jordan Knight's sons?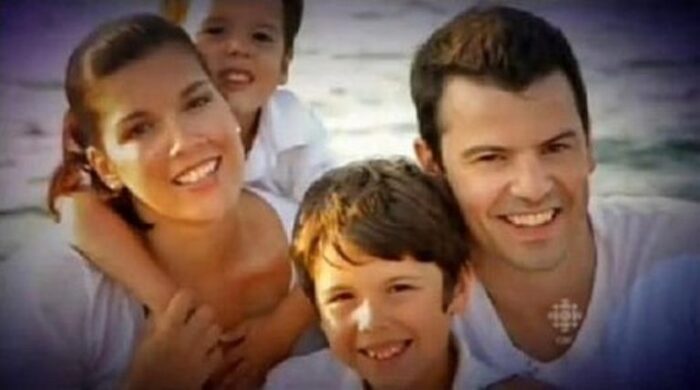 Evelyn Melendez and Jordan Knight are parents to two children – all boys. Their first child, Dante Knight, was born before they got married. Dante announced his entrance on August 25th, 1999, and his parents dated for additional five years before deciding to tie the knot. Dante is currently 23
The Knight family welcomed their second bundle of joy, Eric Jacob, who came to complete their joy on the 21st of February 2007. Erick, who was born in Boston, is now 16 and is seven years younger than his big brother.
Is Jordan Knight Gay?
No, Jordan Knight is not gay, though he has been rumored to be homosexual in the past. The musician and actor has proved his straight sexual orientation beyond reasonable doubt by remaining in his marriage for almost two decades. Apart from that, he was active in the love department long before meeting his wife, Evelyn Melendez, and all the partners he dated were from the opposite sex.
What Is Shanna Moakler and Jordan Knight's Relationship?
As earlier mentioned, Jordan had always had an active love life before he tied the marriage knot, and one of the women he dated was Shanna Moakler (runner-up for Miss USA 1995). The duo started their relationship in 1996, but unfortunately, their affair lasted for just one year before it crashed in 1997.
When Jordan was rumored to have split from Evelyn in 2016, Shanna's name came to play in the musician's life a second time as speculations claimed he went back to his former girlfriend. However, it turned out to be false as he later went to reconcile with his wife.
Before Shanna, Jordan was dating American actress Jessica Huntington, but their dalliance was regrettably short-lived.