KK Dixon (real name: Kadre Dixon, born August 31, 1999) is a 23-year-old celebrity ex-girlfriend of Ja Morant, the NBA star. KK Dixon is gradually coming into her own as a student at Fisk University since the relationship ended and they went their separate ways. However, the former couple shares a child.
Ja Morant is a 23-year-old professional basketball player who plays as a point guard for the NBA franchise Memphis Grizzlies. His relationship with KK Dixon is on record as his longest lasting so far, and that particular off-court statistics has invariably thrust her further into the spotlight and piqued the public's interest where she is concerned. Join us as we take a look inside the life of KK Dixon, Ja Morant's ex-girlfriend.
Summary of KK Dixon's Biography
Full Name: Kadre Dixon
Nickname: Keke (KK) Dixon
Gender: Female
Date of Birth: August 31, 1999
KK Dixon's Age: 23 years old
Ethnicity: African American
Place of Birth: Antoine, Arkansas, United States
Nationality: American
Zodiac Sign: Virgo
Sexual Orientation: Straight
Religion: Christianity
Marital Status: Single
KK Dixon's Ex-Boyfriend: Ja Morant
KK Dixon's Children: 1, Kaari Jaidyn Morant (daughter)
KK Dixon's Parents: DeShannon Dixon (father), Christal Dixon (mother)
Siblings: 2, Tyrik Dixon (brother), Braylee Dixon (sister)
KK Dixon's Height in Inches: 5 feet 10 inches
KK Dixon's Height in Centimetres: 178 cm
KK Dixon's Weight: 64 kg (143 lbs)
Eye Color: Black
Hair Color: Light Brown
Education: Bentonville West High School, Arkansas, and Fisk University, Nashville, Tennessee
Famous for: Being NBA star Ja Morant's ex-girlfriend
KK Dixon's Instagram: @kkdixonnn
What Is KK Dixon's Age Now?
KK Dixon is 23 years old now. Contrary to several publications that claim that she was born in 2000, KK's Instagram page shows that the Arkansas native, who celebrated her 23rd birthday on August 31, 2022, was born on August 31, 1999. Her birth name is Kadre Dixon, and the name she is popularly addressed by is a nickname derived from her birth name Kadre.
KK Dixon was born under the birth sign of Virgo and belongs to the African American ethnic group. Her skin tone might be much lighter than the average African American, but she is a full-blooded African American. Her birth status allows her to enjoy the rights, privileges, and responsibilities of an American citizen.
KK Dixon was born in Antoine, Arkansas, but several sources indicate that she spent her formative years in Bentonville, Arkansas. She received her high school diploma from Bentonville West High School. She moved to Tennessee to continue her studies after high school and is currently a university undergraduate at Fisk University in Nashville, Tennessee.
Who Are KK Dixon's Parents?
KK Dixon is one of three children born to DeShannon Dixon and his wife, Christal Dixon. Beyond their name identities, there is not sufficient information about KK Dixon's parents, including what they do for a living and where they reside at the moment.
While not trying to be pessimistic, we cannot rule out the possibility that KK's parents might be separated. That said, KK's parents had three children, one of whom is KK. To clearly understand the structure of KK's birth family, we must point out the fact that she is her parents' middle child.
Her older sibling, a brother, was reportedly born on February 18, 1998, and subsequently named Tyrik Dixon. Tyrik plays professional basketball with the Missouri State Bears. The content of his Instagram page shows that he is also a father to a little girl. KK Dixon's younger sibling is a girl named Braylee Dixon.
It would appear that Braylee prefers to live her life away from media attention and scrutiny as there isn't much information about her on the internet or the various known social media platforms. These pieces of unavailable information include her date of birth and what she is currently up to at the moment.
KK Dixon Is Ja Morant's Ex-Girlfriend
On her own, we probably wouldn't be talking about KK Dixon. However, she became a hot topic of conversation when the news of her relationship with NBA star Ja Morant broke. Ja Morant is a point guard for the Memphis Grizzlies. Born in Dalzell, California, Ja Morant is the son of Tee and Jamie Morant.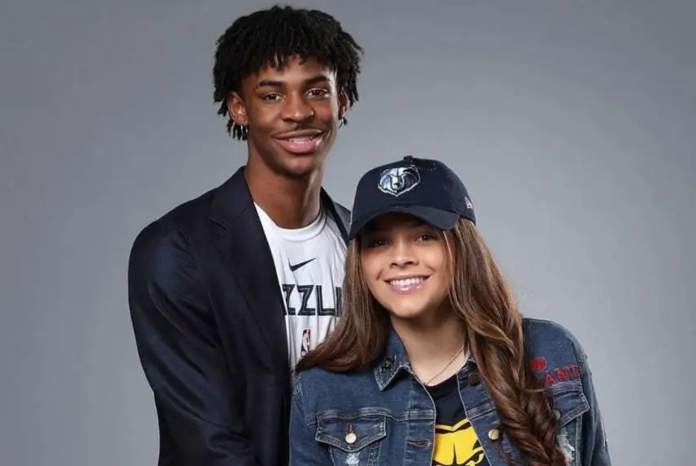 He played basketball at Crestwood High School before playing for Murray State College on scholarship from 2017-2019. He performed so admirably that they retired his number 12 jersey. He was selected 2nd overall by the Memphis Grizzlies in the Round 1 of the 2019 NBA draft. He has since gone on to put up impressive numbers for the Grizzlies and picked several awards and recognitions for his efforts.
KK Dixon And Ja Morant Announced They Were Dating In 2018
Dixon and her ex-boyfriend were notorious for keeping details of their relationship under the radar when they were together, and that decision affected knowledge of their relationship timeline. The date they started dating is unknown, but the former couple announced they were dating sometime in 2018.
What was not in doubt was the level of devotion and attention Dixon and Morant gave to their relationship while together. They posted cozy pictures of each other across their various social media platforms. They seemed inseparable and destined for a long-term future, but the dynamics of their relationship suddenly changed not long after the birth of their child together.
Meet KK Dixon's Children
KK Dixon has one child with Ja Morant, a daughter named Kaari Jaidyn Morant. The former couple's daughter was born on August 7, 2019. Not long after that, KK and Ja went their separate ways, with Dixon retaining primary custody of their daughter even though they agreed to co-parent.
To date, the events that led to the disharmony and ultimate break-up of the relationship between Dixon and Morant have yet to be revealed to the public. Bluntly put, the public would not have found out about the split were it not for the former couple's social media activities which included unfollowing each other across social media platforms and deleting every trace of their relationship on those platforms.
Amidst the separation drama, neither KK nor Ja has allowed any of it to affect their relationship with their daughter, who turned 3 in August 2022. KK, for one, is thrilled about the new things she keeps learning as Kaari's mom, while Ja tells anyone who cares to listen how much of an inspiration his daughter has been to him.
She Is Now A University Undergraduate
KK Dixon is a student at Fisk University, Nashville, Tennessee, as of the time of writing. Her course of study has not been made public, but she is also an athlete who competes on her school's Volleyball and Basketball teams. Sources say she might not be on the same level as her ex-boyfriend, but she is nonetheless an exciting prospect who might one day end up in the WNBA.
As regards her personal life, it would appear that KK is flying solo at the moment as there have been no records of past or existing romantic dalliances since she broke things off with Ja Morant. However, we are aware that given her age, that aspect of her life can change in an instant. We only hope she reveals it earlier than she did in her relationship with Ja Morant.