Sherrill Sajak is an American woman who is best known as the first wife of TV personality Pat Sajak.
From an ordinary weatherman in the 70s, Pat Sajak has risen to become one of the most notable TV personalities in America, as well as a prominent part of its pop culture. He has hosted the game show, Wheel of Fortune, since the 80s, and now reigns supreme as the longest-reigning TV game show host in the world. He has also won numerous accolades and featured in several other TV shows as well. It has been a glorious run for Sajak and one person who has prominently been by his side is longtime wife, Lesly-Brown Sajak, but Sherrill Sajakv occupied that spot first.
Pat and Lesly enjoy a successful union and have two kids. The couple has become a fixture on the red carpet over the years but Lesly is not actually Sajak's first wife. The legendary TV star was married to a lady named Sherrill Sajak. They divorced at a time his career was still taking off and since then, she has flown under the radar while her ex-husband has risen to celebrity status.
Profile Summary of Sherrill Sajak
Full ame: Sherrill Sajak
Date of birth: 1945
Age: 77
Ethnicity: Caucasian
Nationality: American
Occupation: N/A
Spouse: Pat Sajak (1979 to 1986)
Children: one
Sherrill Sajak Was a Single Mom Prior to Her Romance With Pat Sajak
Not a lot of information exists about Sherrill Sajak's life prior to her marriage to Pat. As such, it is hard to come by details about her family background, birthplace, or childhood experiences. Her educational background and career details are also not handy. What we do know is that Sherrill Sajak was born around the year 1945 which makes her just a year older than her famous ex-husband who was born in 1946. It is also known that she has American nationality and is of white ethnicity.
Sherrill Sajak grew up to become a hardworking lady and by the time she was in her late 20s, she welcomed a son. She fended for him as a single mom for the next six years which couldn't have been easy. She however did a superb job and also made sure to make out some time for herself. It was in one of such moments that she would meet and begin a relationship with the then-upcoming radio deejay, Pat Sajak.
She and Sajak Began Dating in 1978 and Married a Year Later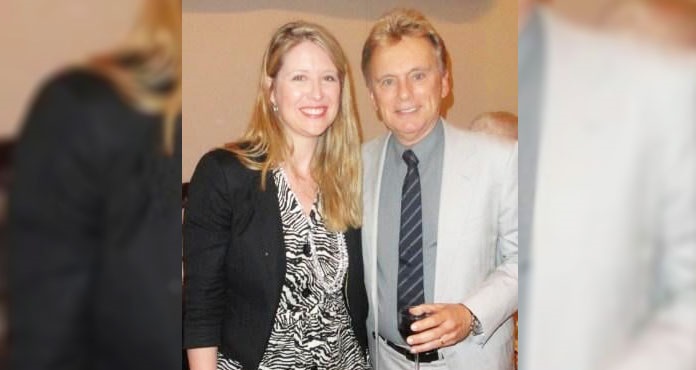 It is hard to tell where Sherrill Sajak is now or what she is up to these days but we do know her whereabouts back in 1978, when she first met Pat Sajak, and that was Nashville. At that time, Pat had already served in the Vietnam War as a disc jockey for the troops and came out to pursue a career in that direction. He deejayed for several radio stations and by the early 1970s, found himself working for a Nashville-based radio station known as WSM. It was during this time in Nashville that Sajak bumped into Sherrill, a fellow upwardly young professional like him. They got talking and before long, sparks of attraction were flying between both sides.
Some men have hesitations about dating a single mom and Pat Sajak may have also experienced such in the course of dating Sherrill. He did not let this deter him though and delved straight into a steady relationship with her. The couple dated for about a year during which their romance blossomed. Pat happily incorporated Sherrill's son into whatever they did and when he asked Sherrill to marry him, she gladly accepted. They went on to tie the knot in the year 1979. The wedding ceremony must have been beautiful but it would have also been on a small scale as Sajak was yet to build up any fortune back then.
This is in stark contrast to his second marriage in 1989 which was an extravagant affair that featured celebrity attendees, a large contingent of security guards, and exclusive publishing rights to People Magazine for lots of money.
The Couple's Marriage Lasted For Seven Years Before Their Eventual Divorce in 1985
Following their honeymoon, Sherrill Sajak and Pat Sajak settled down to family life. Sherrill focused on her career pursuits as well as taking care of her son. Sajak pitched in where he could as he got a running start to fatherhood. He also continued pursuing his burgeoning career and was soon offered the opportunity of joining an LA-based TV station, KNBC, as their weatherman. He snapped it up and so he and his young family ended up relocating to Los Angeles. In Los Angeles, the entire family continued thriving. Pat Sajak achieved further milestones in his career and by 1983, he was picked to take over as the substantive host of the popular TV game show, Wheel of Fortune.
This was a major coup for not just Sajak but the entire family. He became richer and more famous and so their days of scrimping were truly over. One would have thought that Sherrill and Pat would now go on to live happily forever but this was not to be. They experienced some issues between them and by 1986, they were officially divorced. The couple never disclosed the cause of their divorce and all we have are speculations. It is possible that the demanding nature of Sajak's burgeoning career made it difficult to spend any quality time with Sherrill and his stepson. It could also be that they simply grew apart. Whatever the reason was, it was so strong that Sajak declared that marriage wasn't for him and that he would not be getting married again.
Sherrill Sajak Has Moved On With Her Life While Her Ex-Husband Has Now Remarried
It has been more than three decades since Sherrill Sajak and Pat Sajak divorced and both have moved on with their separate lives. The couple never had any child together and have nothing to tie them to each other as such. Sherrill Sajak stays away from the spotlight and it is difficult to tell whether she ever remarried or choose to stay single. Whichever it is, there is no doubt that she will have lots of loved ones in her life thanks to both immediate and extended family members. There is also her son who is all grown up now and must be thriving as well.
On his own side, Sherrill's ex-husband is also thriving. The former army DJ is now a legendary TV host thanks to his long run as the host of Wheel of Fortune. He has received three Daytime Emmy Awards for outstanding game show host. He has also guest-hosted other prominent TV shows such as Larry King Live. In his personal life, Pat Sajak is married to a model-turned photographer named Lesly Brown-Sajak. They tied the knot in 1989 and remain together to date. Their marriage has produced two children namely daughter, Maggie, who is a country singer and TV host, and son, Patrick, who is a medical doctor.