Peaceful home life is always important for success in other pursuits. For the likes of Emmy-nominated actress Marin Hinkle, she can rely on her husband of over 20 years, Randall Sommer, to provide the same. Randall Sommer is a high-flying attorney who works for a prestigious law firm in the Los Angeles area. He and Hinkle got together at a point when she was still a working actress and stuck together through the difficult and lean years. Now that she is a notable screen star with several popular TV shows to her name, they bask in the fame and have appeared together on the red carpet. They, however, take great care to shield the finer details of their personal life from public consumption.

Profile Summary of Randall Sommer 
Full name: Randall Gerson Sommer
Date of birth: 1960s
Nationality: American
Ethnicity: Jewish
Spouse: Marin Hinkle (m. 1997)
Children: Son named Ben
Education institutions attended: Columbia Law School, University of California Santa Cruz.
Occupation: lawyer and former theatre director
Sommer and Hinkle Have been Married for Over 20 Years
Randall Sommer and Marin Hinkle first commenced their relationship around 1996. At that time, Sommer had gone back to law school while Hinkle was a poor and struggling actress. They bonded over their shared experiences on the theatrical circuit in New York. They also found common ground in law practice, given that Hinkle's mother was a judge. The two began dating without further ado, and their romance blossomed. They may not have had much in terms of material possession, but they were perfectly happy with each other.
Randall Sommer and Marin Hinkle got married on 29th November 1997. They continued pursuing their respective paths as well as building a family life together. By 2000, Hinkle began scoring more Hollywood roles, and they decided to move to Los Angeles to have better opportunities. This move necessitated Sommer rewriting the bar exams, but he did not grumble and choose to make that sacrifice for the good of his family in the long run.
The Couple Share a Teenage Son Named Ben
Randall Sommer has one child, a son named Ben. He and Hinkle welcomed Ben around 2003 following their relocation to Los Angeles. It wasn't easy caring for a kid with their busy careers, but they managed. He also made sure to lend his wife a helping hand so that she could pursue her Hollywood dreams. All that hard work has now paid off, and the family is living happily. They make their home in a multimillion-dollar abode located in Cheviot Hills, Los Angeles.
The house measures 3,228-square-foot and was originally built in 1924. It boasts three bedrooms and three bathrooms, and other wonderful amenities. Sommer and Hinkle very much live out of the spotlight and limit their red carpet appearances to a few sporadic events. One reason for this could be Sommer's busy schedule with his legal practice. It could also be that they deliberately choose so to protect their family. Whichever it is, they cherish their privacy, and the only insight we get into their family life is what Hinkle decides to reveal.
For instance, in 2019, she disclosed that they initially pursued a progressive upbringing for their son. They allowed him to choose whether to indulge in his dad's Jewish culture or not. They also enrolled him in experiential-based learning in a school without grades, many assignments, etc. Ben loved the freedom of choosing his own culture and religion, but he also very much preferred structured learning with grades, assignments, and AP classes. His parents had no choice but to enroll him in one.
Randall Sommer is a Former Theatrical Director
Randall Sommer was originally born Randall Gerson Sommer. His exact date of birth is not available, but he was most likely born in the 60s. His nationality is American, and he has Jewish ethnic origins. Although there are not a lot of details existing about Sommer's family background or childhood experiences, it is easy to figure out that he must have been a bright and intelligent student as a child. He not only completed his high school diploma at a good time but enrolled in a degree program at the University of California at Santa Cruz.
Randall Sommer received his BA in 1988 and, instead of getting a regular job, decided to explore his love for theater. He thus spent much of the 90s learning the ropes of theatrical production. He served as a theater director and an assistant director in places such as Los Angeles and Chicago. Afterward, he moved to New York, where he held similar roles in several productions both on and off-Broadway. One of his Broadway credits is as an assistant director on the original musical, Jelly's Last Jam. Jelly's Last Jam ran from 26th April 1992 to 5th September 1993 and tallied 569 performances.
He is an Attorney Practicing in Los Angeles
Randall Sommer now makes his living as a lawyer. After getting his fill of the arts, he decided to switch tracks once more and study for a law degree. He was accepted into Columbia law school in the mid-90s and spent a few years there, during which he excelled in his studies. He was a James Kent Scholar, a Harlan Fiske Stone Scholar, and a Book Review Editor of the Columbia Law Review. He also received several prizes, including the James A. Elkins Prize in Constitutional Law and the Paul R. Hays Prize in Civil Procedure.
Randall Sommer completed his JD in 1999 and kick-started his career as a clerk for the Honorable Robert W. Sweet in the United States District Court for the Southern District of New York. He later relocated to Los Angeles and successfully wrote the bar practicing exams. Sommer is now a certified member of the California bar and has served as a special prosecutor for the Los Angeles City Attorney's office, first-chairing several jury trials. He is currently involved in private legal practice and is a litigation partner at the Los Angeles office of Munger, Tolles & Olson.
His area of expertise includes litigating complex commercial cases, including class actions and contractual disputes, in areas of financial services, energy, retail, entertainment, and aerospace industries. In conducting his cases, he calls on his theatrical experience in presenting the visual elements of his case before the court. Randall Sommer is also doing his bit to give back to society by offering pro bono legal services in worthy areas such as prisoners' rights and immigration law.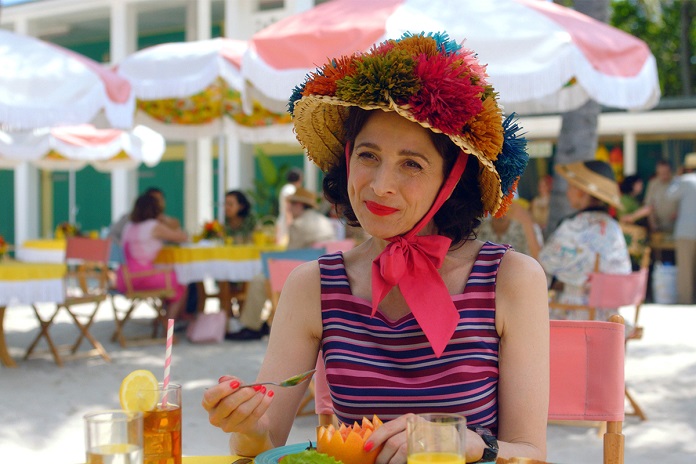 The Columbia alum is certainly a high-flying attorney who has achieved a lot. Still, his wife remains more popular than him, given the visibility that comes with an acting career. Marin Hinkle debuted as an actress with stage productions and a string of minor TV roles in the mid-90s. She endured some tough times, but she preserved, and today, she is now a notable star in Hollywood.
Hinkle has appeared in several movies and TV series, including Two and a Half Men, Once and Again, Quarantine, The Haunting of Molly Hartley, Dark Blue, and The Marvelous Mrs. Maisel. The Marvelous Mrs. Maisel revolves around a Midge Maisel, a New York housewife who discovers her flair for comedy after her husband leaves her. Hinkle portrays Midge's mom, and her performance has fetched her critical acclaim. She has also received two primetime Emmy nominations for outstanding supporting actress in a comedy series in 2019 and 2020.