Meleasa Houghton is the first wife of an American gospel singer Israel Houghton who became popular in 2016 following her divorce from her cheating ex-husband of over 20 years. Meleasa was married to Israel Houghton until 2016. She was nominated for a Grammy Award for Best Gospel Performance/Song.
Celebrity cheating rumors are not peculiar to the Hollywood scene, just like with regular people, relationships of various kinds can sometimes be brought to an end amid cheating rumors.
Infidelity can exist in all levels of human life, the gospel community is not exempted from this iteration which helps reiterate the fact that everyone cheats, it may hurt the people involved but it happens. This article draws focus on Meleasa Houghton, a famed award-winning gospel singer who came into the limelight as a result of her divorce from her ex-husband, Israel Houghton.
Meleasa Celeste Houghton's Profile Summary
Name: Meleasa Celeste Houghton (née Duncan)
Date of Birth: March 1, 1964
Age: 59
Place of Birth: Pennsylvania (probably)
Parents: Duncan III and Letricia E. Duncan
Siblings: Gilbert H. Duncan, Terrence E. Duncan, and Ruby H. Duncan
Spouse: Israel Houghton (divorced 2016)
Education: Penn Hills High School
Profession: Musician
Net worth: between $1 million and $4 million
Meleasa Houghton Was Raised A Christian
Meleasa Celeste Duncan was born in the United States on March 1, 1964, to Christian parents Gilbert H. Duncan III and Letricia E. Duncan (née Plummer). While it is not clear where exactly she was born, it is safe to say even if she wasn't born there she must have spent a part of her childhood in Pennsylvania, given that she attended high school there.
Meleasa was raised in a Christian household alongside three siblings, two brothers; Gilbert H. Duncan and Terrence E. Duncan, and a sister; Ruby H. Duncan. There is very little information to be found about her childhood or her family members, given that the singer has chosen to remain tight-lipped when pressed for info but if the old pictures of the Duncan clan from her childhood are anything to go by, this African-American family was and still are very tight-knit. Unsurprisingly, she has no qualms about expressing her affection for her family on the internet.
A picture shared by the star on Mother's Day in 2018 shows her expressing her love and support for her mother. The picture shows a little Meleasa with her parents and siblings. The seemingly endless array of pictures that the star has shared and continues to share of her mother is a testament to how close the two were, past tense because, sadly, Letricia, her mother, died on October 7, 2020, at the age of 78. The star continues to share pictures on her Instagram in memory of her.
Meleasa attended Penn Hills High School but upon graduating, opted out of pursuing a degree in college, instead, she went on to pursue a career as a gospel musician. It was while in the pursuit that she met her now ex-husband Israel Houghton.
Meleasa Met Israel Houghton In 1994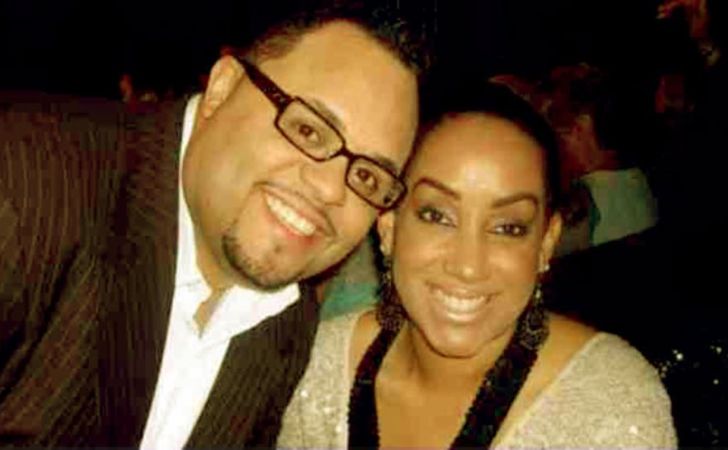 While still pursuing solo projects on the side, Isreal Houghton started the band Israel & the New Breed in the early 90s. It was while working with his band in Pittsburgh in 1994 that he met Meleasa. The duo dated for four months before they decided to tie the knot that year.
Together, the two of them had three children, their first child Mariah, was born on the 31st of August 1995 and is currently a model and an Instagram influencer. Mariah married boyfriend Byron Rideau in 2016 but sadly the two called it quits in 2019 after 3 years of marriage.
Their son, Israel Sonny Houghton was born shortly after, he is a singer, songwriter, and music producer, seemingly following in the footsteps of his parents. In addition, he serves as the director of Beat Bank's marketing department.
Lillie Milan is the last of the three, she was born on the 21st of October 2003. She graduated from high school sometime in 2020 and immediately began preparations for college. Lillie and Sonny seem rather close, they work together at Beat Bank, and in their spare time, they share short clips of themselves singing together, a few of which can be seen on Meleasa's Instagram.
Israel Houghton Has Three Other Children
Besides his three children from his marriage with Meleasa Houghton, Israel is also the father of three other children.
Jordan Houghton
Before Israel met Meleasa, he had a child with a girlfriend who has to this day not been named. That child was named Jordan. There is little information given about their relationship in the past but presently, both father and son are on good terms. Jordan currently works as a creative pastor for Living Water Fellowship and is also a musician. He is married to Lēaira Marie Houghton and together they have two children; Carter and Nova Houghton.
Kingston and Khristian Houghton
These two were products of an affair Houghton had with one De Vawn Moreno in the last five years of his marriage to Meleasa. According to the Texas State Attorney General's office's child support division, it has been confirmed that Houghton fathered two sons out of wedlock, Kingston and Khristian, who were born in 2012 and 2014, respectively, and that he paid child support for them after he was sued by Moreno for unpaid child support.
Meleasa and Israel Called it Quits Amid Confirmed Rumors of Infidelity
The gospel singing duo separated in 2015 after over 20 years of marriage. Israel acknowledged cheating on his wife on several occasions in order to distract himself from the troubles in his marriage to Meleasa. He went on to say that he and Meleasa were apart for the last five years of their marriage before filing a divorce in 2016. The two were officially divorced in February of 2016 and agreed to be civil with each other, given that they have joint custody of their three children.
Meleasa Houghton is currently single and there have been no rumors or dating speculations, the singer seems to be focused on her family and her music career.
Israel on the other hand began dating and eventually married former Disney star and current host of The Real Adrienne Bailon in Paris just eight months after his divorce. This fact caused the media to speculate that Bailon was the reason for his divorce.
This was disproved with Houghton, stating that his marriage was over before Bailon became his girlfriend. Bailon and Houghton met and became friends while filming I'm In Love With A Church Girl, a movie starring the former and produced by the latter. The two married at the Hotel Plaza Athénée Paris, France in November of 2016.
Houghton's children from Meleasa continue to maintain a relationship with him, and it seems his daughter Mariah has warmed up to Adrienne and the two have become somewhat close.
Meleasa Houghton Got Her Breakthrough in the 2000s
While Houghton began pursuing a career in music in the 1990s she did not break into the music scene till the early 2000s, a while after she met Israel and joined his band Israel & New Breed and they began working together. The band, as well as Meleasa, were signed to the Integrity Music label, a Christian record label founded by David C. Cook, while specifics of when exactly they were signed into the label is had to tell, it's safe to say it was probably between the late 1990s and the early 2000s.
Real, the band's first album was released in 2002, to great reviews, it is currently number 13 in Top Gospel Albums. In 2004, they placed number 146 on Billboard 200 when another new album, Live From Another Level, was released, followed by "Alive in South Africa" in 2005 which reached number 62 on Billboard 200. The gospel star continued to move on to greater heights with the band and in 2007, with the release of Live at a Deeper Level which achieved number 48 on Billboard, the band was pretty famous in the gospel scene.
As the band's lead vocalist, she was responsible for some of the greatest gospel successes including popular hits like, Jesus at the Center, Rez Power, How Awesome is our God, Alpha and Omega and Your Presence is Heaven.
How Successful Is Meleasa Compared to Israel Houghton?
Considering the fact that it was the band that Israel founded that thrust Meleasa into the limelight, Israel is obviously the more successful one of the duo as he was the leader of the band. Meleasa did have her moments and was adored by the majority of fans.
She has been a recipient of coveted awards, including a Grammy nomination in 2015 and although she did not win, she gained recognition as an amazing singer and a brilliant performer. That same year she took home the GMA Dove award for the Best Traditional Gospel song.
On the other hand, her ex-husband Israel is a more decorated singer, he is a six-time Grammy winner (three for Best Pop/Contemporary Gospel Album) and has also been nominated for a Daytime Emmy Award. His success is also reflective in his net worth estimated at $8 million while Meleasa is said to be worth between 1 and $4 million
Where Is Meleasa Houghton Now?
Since their divorce, Meleasa Houghton has kept a very low profile, making it difficult to tell what she is up to per time. As far as the media knows, she is yet to remarry and continues to sing. A trip to her Instagram account shows that she is very much involved and dedicated to spending ample time with her children and grandchildren.
Key Takeaways
Meleasa Houghton, born Meleasa Celeste Duncan on March 1, 1964, is an acclaimed American gospel singer who has won several accolades for her work, including a GMA Dove Award.
Born in Oceanside, California, to Gilbert H. Duncan III and Letricia E. Plummer, Meleasa was raised in a devout Christian family. She has three siblings and has often expressed her love for her family on social media.
She was married to the famous gospel singer Israel Houghton from 1994 to 2016. During their marriage, the couple collaborated on many gospel songs. They share three children together: Mariah, Sonny, and Milan Lilly Houghton.
Meleasa was nominated for a Grammy in 2015 for Best Gospel Performance/Song for the song "How Awesome is Our God". She has also created numerous gospel hits such as "Alpha and Omega", "It's Not Over", and "Chasing me Down".
Despite her professional success, Meleasa's marriage with Israel Houghton ended due to Israel's infidelity. Israel fathered two children, Kingston and Khristian, with DeVawn Moreno during his marriage to Meleasa.
Following her divorce, Meleasa's focus has shifted from her musical career to her family and philanthropy. She is known for her charity work focusing on child welfare and women's empowerment.
She has a significant online presence, frequently sharing snippets of her life with her over 12,800 followers on Instagram. Her social media accounts reflect her love for her family and her dedication to her faith.
Meleasa has a net worth of between $1 million and $4 million. This includes the significant financial settlement she received from her divorce with Israel Houghton, which is said to be half of his net worth and a monthly child support payment.
Despite the end of her professional musical career, Meleasa's influence continues through her children, who have followed in her footsteps into the music world. Her son, Sonny, is a singer-songwriter and music producer, and her youngest daughter, Milan, is a content director at Beat Bank.
Meleasa Houghton resides in Paget Parish, Bermuda. After her divorce, she took a step back from her music career and currently does not seem to be in any romantic relationship. Her primary focus appears to be on her family, philanthropy, and faith.