Ageless vampire looks and musical prowess were attributes that qualified Pharrell Williams as a very eligible bachelor. Not one to share too much about his private life, the ace music producer for a long time kept details of his love life away from the media until when "the one" showed up in this life. The woman Pharrell deemed worthy enough to reveal to the world as his woman was Helen Lasichanh. Though she lives largely away from the public eye, one thing about her has stood out over the years – her style. Lasichanch has built a reputation for her unconventional fashion sense off and on the red carpet whenever she shows up with the Happy singer.
Profile Summary of Helen Lasicanch
Full name: Helen Lasichan
Date of Birth: 22nd July 1980
Place of Birth: Miami, Florida
Origin: Ethiopian and Laotian
Age: 41
Height: 1.8 m
Marital Status: Married
Spouse: Pharrell Williams (2013 – date)
Children: 4 (Including son Rocket Ayer Williams)
Helen Lasicanch Has African and Asian Roots
Helen Lasicanch was born on the 22nd of July in 1980, in Miami Florida. Though an American by nationality, Lasicanch's looks loudly screams she is of mixed descent – she has roots from the African nation, Ethiopia, as well as the Southeast Asian country, Laos. She was also raised in Miami and attended Miami Coral High School from where she graduated in 1998. Lasicanch was an athlete in school as an active volleyball player. She continued to play the sport during her time in college at St. Thomas University. She was in 2001 named the Florida Sun Conference Player of the Year.
Helen Lasichanh Is A Model And Stylist
After schooling, Helen Lasichanh pursued a career in modeling and has now added designer and stylist to her repertoire. Details about her work as a model are not known as she never made it big enough to attract national attention. Lasichanh is also a stylist and this is evident in her dress sense. She looks fabulous each time she walks the red carpet with Williams. One of her outstanding looks of all time was at the 2017 Met Gala – a place where celebrities tend to outdo one another in a head-turning contest. Helen Lasichanh brought strong competition by donning a puffy, mascoty red outfit.
Just like her modeling career, a lot about Lasichanh's works as a stylist is also not known publicly, like almost everything about her life, the towering black beauty keeps this off the media radar. However, thanks to her marriage to one of today's biggest stars, we all get the chance to enjoy a glimpse of her creativity. She is a regular on The Best Dressed List of the Huffington Post.
Helen Lasichanh has been spotted getting involved in charitable activities. Over the years, she has been seen alongside her husband handing food items to the less privileged at the Los Angeles Mission Christmas Celebration.
Helen and Pharrell Met At A Dinner Party
Helen and Pharrell Williams' journey began with a meeting at a party. Williams was immediately attracted to her and knew instantly that something would happen between them. In his 2014 interview with Oprah, he told the legendary TV personality how he was so enamored by her and just wanted to know her and did not care about what content she had. Unfortunately, the feeling was not mutual as Helen was in another relationship at the time, thankfully, she fancied him enough to at least remain just friends with him, but Williams did not immediately respect her unavailability, not with the way he felt towards her. The Grammy winner told Oprah how Helen ignored a bunch of texts he sent to her at the beginning. In a stroke of luck, things would turn out in Williams' favor, but he had to wait for two and a half years… you know what they say about the patient dog. Like a perfect romantic story, their relationship blossomed all the way to the aisle.
Williams added that what attracted him to Helen was the similarities they shared. He described her as "different" and one who stood out and enjoyed marching to the beat of her own drum. Another similarity the pair share is their love for music. Like Pharrell, Helen Lasichanh is a fan of A Tribe Called Quest and both spend time bonding over their music. Pharrell has revealed that this was a deal-breaker for him in any relationship he was pursuing, if the woman was not into Tribe, that was it!
However, it was not all smooth sailing when Helen came back on the market. Williams admitted to Oprah that he had hurt her a lot at the beginning but quickly adjusted his ways, realizing that he was not ready to let go and could as well stick with her and do the right thing.
@cloudnove plaid is definitely making a comeback! Check out @Pharrell & Helen Lasichanh's fabulous #wedding attire! pic.twitter.com/vf0uiukmSk

— Jessica Marie (@BridalBaroness) October 17, 2013
After five years of dating, Pharrell and Helen got engaged in 2012. The following year in 2013, they got married precisely on the 12th of October. Their wedding which was held on a yacht was a private affair, however, a couple of photos got out and many were shocked to see that the couple both wore plaids for their wedding outfit. There was nothing much to this except an expression of their unconventional, fashion-forward proclivity. While Pharrel wore a red one over a white shirt, Helen chose a navy blue one which was made into a flowing gown that she accessorized with long necklaces and beaded earrings. Their wedding was a huge party and had in attendance industry greats like Usher and Busta Rhymes who performed a mini-concert at the reception. A source told Us Weekly at the time that it was the most fun wedding that they'd ever attended.
The Stylist and Pharrell Have Four Kids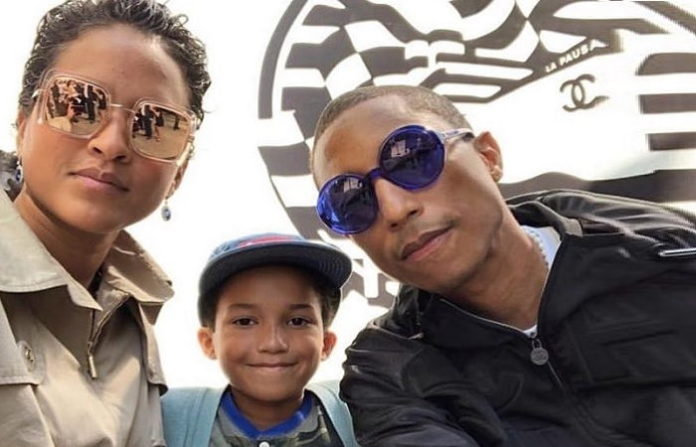 Before their official wedding in 2013, Helen and Pharrell welcomed their first child, a baby boy they named Rocket Ayer Williams in November 2008. During his 2013 appearance on Today show, he told Savannah Guthrie that Rocket was the best song that he has ever co-written and with his "bestie" Helen. Pharrell explained the meaning of his son's name to Oprah saying that just as the Indians named their kids after elements of the earth, they chose to name their son after a man-made machine that is made to ascend.
In September 2016, the couple announced that they were expecting. The babies, which turned out to be triplets arrived in early 2017. A rep from the couple confirmed the birth of the children, as well as the health of the mother but never gave details about the gender or identity of the kids. Williams has on many occasions spoken of his triplets and how raising them has been like, in one instance he referred to them as a tribe.