Erin Burnett is an American news anchor, and she currently anchors CNN's Erin Burnett OutFront. The 47-year-old has also worked for CNBC in the past, where she co-anchored Squawk on the streets and hosted the Street Signs. Burnett is one of the most successful ladies in her field as she has gotten involved in several notable experiences. She appeared on NBC's Meet the Press, Today, MSNBC's Morning Joe, and NBC Nightly News and made occasional appearances on The Celebrity Apprentice, where she worked as an advisor to Donald Trump.
Her career as an anchor has skyrocketed so high, and she has begun to gain attention from the public. Many use her as a role model, and they want to know more about her personal life, especially her romantic affairs. Questions like, 'Is Erin Bunnet married?' 'How many times has she been married?' are often found on the lips of people. Read this article to find out.
Erin Burnett and David Rubulotta Have Been Married Since 2012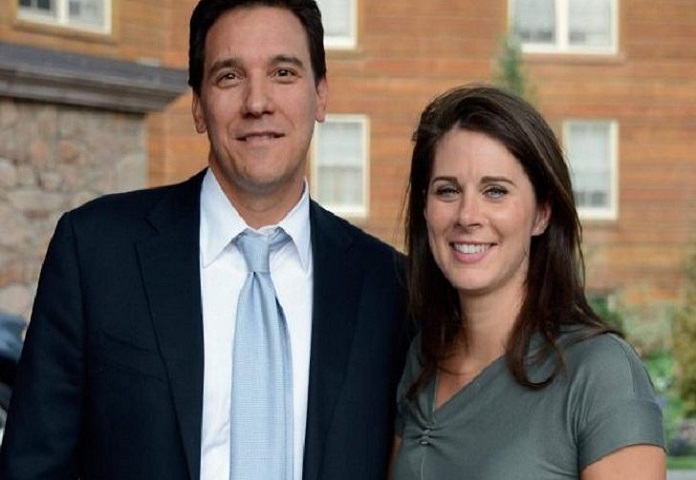 She is presently married to David Rubulotta, but, certainly, she had never gotten married in the past. Her past romantic affairs and relationships have not been revealed to the public by Burnett. However, considering the spacious length of time Erin and David courted before marriage, it can be said that Erin had very few romantic escapades before settling down with David. Knowing each other for close to twenty years, it is often rumored that they could be each other's first love. Since then, they have made their relationship and marriage enviable due to the love and affection they share towards each other. Although, everyone wonders how the couple met each other.
The Couple Met on a Blind Date in 2002
In 2002, the hopeless romantic duo was set up on a blind date by their mutual friend, Nicola Lokko. In an interview, the couple reminisced on the details of their first meeting. Erin acknowledged that the moment she saw David walk into the restaurant in his black suit and trimmed hair, she knew he was 'the one.' And true to her intuitions, the couple started officially dating a year after their meeting, and they got engaged eight years after their relationship.
They had their Wedding Ceremony in New York City Hall Nine Years Later
In August 2011, David Rubolotta planned a romantic getaway for himself and Erin at a secluded island in the Caribbean. During their stay there, he proposed to her with a 30-carat diamond ring under the sunset during their stroll, and Erin agreed to his proposal. They tied the knot on December 21, 2012, at New York City Hall with a Christmas theme attached to it. The couple said it was Christmas-themed because that season was their favorite season of the year.
Erin Burnett dressed in a beautiful red gown made by Chanel, which added spice to the whole ceremony and was indeed a memorable moment. The dress code for the guests was formal clothes of dresses and suits to basic casual wear. After exchanging marital vows, the reception was held at Atlantic Grill Restaurant.
At the time of their marriage, Erin Burnett was already very successful in her career as she was working with CNN at the time. Before her marriage, she already had several achievements in the line of her career as well.
Erin Burnett's Husband was a Broker for Lehman Brothers
David Rubulotta was born in Pennsylvania in 1973. He got a degree in marketing and advertising at Villanova University.  After that, he secured a master's degree in marketing from the University of Columbia in 1993. Presently, David is the managing director of a big bank. Before that, Rubulotta used to be a broker at Lehman Brothers, a top-notch investment company in the United States. He made the bank flourish with his knowledge in stock and monetary investigations. Later on, Citibank offered David an executive position, and his great skills also helped Citibank's success skyrocket. When he married Erin Burnett, he was already the managing director of the company, earning half a million dollars per annum.
Erin Burnett and David Rubulotta Have Three Children
The dream of most couples is to grow their family as soon as possible after they get married. The same held true for Erin Burnett and her husband, David Rubulotta. Their dream became a reality as they had their child less than a year into a marriage. The couple has added two more since then and now have three children.
Their First Child, Thomas Burnett Rubulotta, was Born in 2013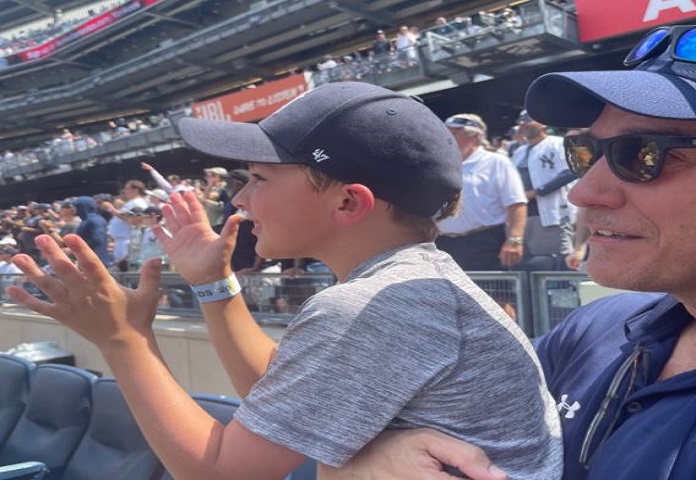 Eleven months into their marriage, the couple welcomed their first son and child, Thomas Burnett Rubulotta, on November 29, 2013. After his birth, Erin Burnett announced to people that: "Dave and I welcomed a healthy, happy baby boy at 9:47 pm, Friday, November 29. He weighed in 8lbs.., 10oz." Currently, Thomas is 10 years old and nothing much is knowing about what he is up to at the moment.
Their Second Child, Colby Isabelle, Arrived in 2015
The second child came as a girl on July 18, 2015. She was named Colby Isabelle Burnett Rubulotta. Currently, 8 years old, Colby is still young. Like her brother Thomas, their parents have kept the children's personal lives a secret from the public. But considering their ages, they would be only school students.
The Couple Welcomed Their Third Child, Owen, in 2018 
Their third and maybe last child, Owen Thomas, was born on August 23, 2018. When she was pregnant with Owen, she expressed her excitement to People, saying: "We are so excited for number three. As one of three myself, I think it's a lucky number." Owen is only 5 years old and is most likely in pre-school. The family lives in their apartment located in the Upper West of New York.
Erin Burnett's Career Journey took her from Goldman Sachs to Citigroup and Bloomberg
Burnett began her career as a financial analyst at Goldman Sachs. She worked on mergers, acquisitions, and corporate finance in the banking division. While working there as an analyst, she was offered the position of a writer at CNN for the show Moneyline with Stuart Varney, Lou Dobbs, and Willow Bay.
After working there for a while and acquiring the needed experience, she resigned from the position and worked her way to the top, as she earned the place of Vice President of Citigroup's digital media group, Citi media. After quitting her job at Citigroup, Erin Burnett moved on to join Bloomberg Television as anchor and stocks editor. From 2005 to 2011, Burnett was the host of CNBC's Street Signs, and alongside Mark Haines, she co-anchored Squawk on the Street. 
On December 7, 2010, Erin Burnett presented an investigative report on the chemical lord, Transammonia, who was performing transactions in Iran. According to her, a wholly-owned subsidiary of Transmmonia in the USA purchased ammonia from Iran. Due to her reports, immediate actions were taken by the Swiss Subsidiary, and they terminated contracts between themselves and Iranian companies. The following year, the investigative report she made was nominated for an Emmy.
Erin Burnett Left CNBC for CNN After Working There for Five Years
After working with CNBC for over five years, Erin Burnett eventually left the network on May 6, 2011. She subsequently joined the network's rival news outlet, CNN, on October 3, 2011. Not long after, she began headlining her prime-time news program called Erin Burnett Outfront at CNN, New York City Studios.
She has run several documentaries, including City of Money and Mystery, The Russian Gamble, Dollars and Danger: Africa, The Final Investment Frontier, On Assignment: Iraq, Big Money in the Middle East, and many more. Erin Burnett has also featured in the movie Edge of Tomorrow as a news anchor.