Rihanna's height is 5 feet 8 inches, the equivalent of (1.73 m or 173 cm). She weighs an estimated 60 kg or 132 lbs. The superstar singer has had a slim physique over the years but has also been curvy and thick at times. Through it all, she has consistently retained a stylish look and is now a trailblazing fashion icon.
Rihanna's Bio
AGE: 35 years old
BIRTHDAY: 20 February 1988
BIRTHPLACE: St Michael, Barbados
BIRTH SIGN: Pisces
ETHNICITY: black
FATHER: Ronald Fenty
MOTHER: Monica Braithwaite
SIBLINGS: Rajad Fenty, Rorrey Fenty, Samantha Fenty, Jamie Fenty, and Kandy Fenty
HEIGHT: 5 feet 8 or 1.73 m or 173 cm
WEIGHT: 60 kg
CHEST: 34 inches or 86 cm
WAIST: 24 inches or 61 cm
HIPS: 36 inches or 91 cm
A Look at Rihanna's Height and Weight
Rihanna is 5 feet 8 inches tall which is the same as a height of 173 cm or 1.73 m. She also weighs an estimated 60 kg. The superstar singer's height makes her taller than the average woman out there. The average height of women globally is put at 5 feet 3 inches meaning that Rihanna is a good five inches taller than the average woman in the world.
Who is Taller Between Rihanna and Her Baby Daddy, ASAP Rocky?
Rihanna is two inches shorter than her baby daddy, ASAP Rocky who is 5 feet 10 inches tall. She and the rapper began dating in 2020 and remain together to date. They welcomed their first child together in May 2022.
How Tall is Rihanna Compared to Drake?
Several reports have it that these two superstars dated in the past. This remains unconfirmed but the Canadian singer and rapper has never hidden his admiration for the Barbadian songstress. Drake is 5 feet 11 ¾ inches tall or 182.2 cm. This means that Drake is 3 ¾ inches taller than Rihanna.
What is the Height Difference between Rihanna and Chris Brown?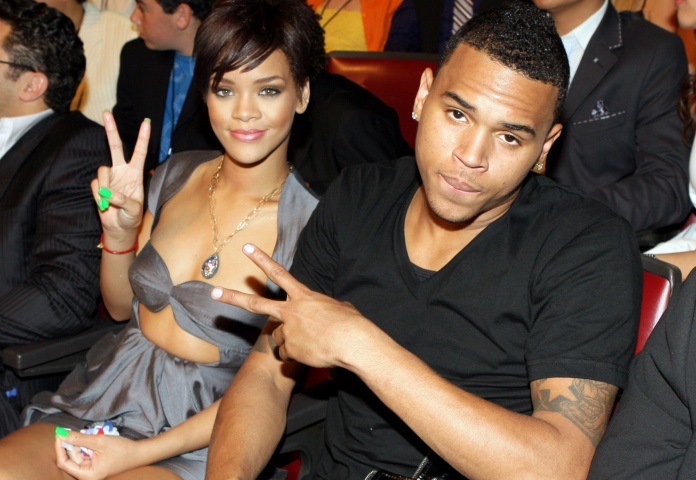 Rihanna dated fellow award-winning singer, Chris Brown, for a cumulative three years starting in 2007. The relationship was, however, marred by the fact that Brown was physically abusive.
While it is difficult to tell if the two are back on friendly terms, Chris Brown is taller than Rihanna. Chris Brown is 6 feet ¼ inches or 183.5 cm tall. This makes him 4 and a half inches taller than Rihanna.
Who is Taller Beyoncé or Rihanna?
Fans have for so many years yearned for a collaboration between these two heavyweights but it is not forthcoming. People remain hopeful though. Beyoncé is 5 feet 7 or 170 cm tall. This means that Rihanna is one inch taller than Beyoncé.
Rihanna's Height Compared to Lewis Hamilton
Rihanna sparked dating rumors with Lewis Hamilton, the famous British F1 driver, in August 2015 when they were spotted vacationing together in Barbados. Hamilton however shot the dating rumors down. Lewis Hamilton is 5 feet 7 inches tall which means that Rihanna is an inch taller than him.
How Much is Rihanna's Weight?
Rihanna weighs an estimated 60 kg or 132 lbs. Her other body measurements are chest – 34 inches (86 cm), waist – 24 inches (61 cm), and hips – 36 inches (91 cm). Rihanna has maintained a slim physique over the years but she has also been thick and curvy at times, making for what the singer herself refers to as a fluctuating body type.
One of those times when Rihanna was curvy was in mid-2019 and this inspired her to make extra-size outfits for her Fenty fashion brand. She stated that it only makes sense that her brand should carry what she can wear and people praised her for the move.
The Singer Gained Some Weight during Pregnancy but Remained Stylish
Rihanna got pregnant with her first child around August/September 2021. She was quite ecstatic as she had always wanted to become a mom. As the pregnancy progressed, Rihanna added some pounds as is normal for pregnant women. The added weight generated some comments online, some of which were hurtful. Some asked her to wear a shirt while others called her body gross.
Rihanna remained unperturbed and used that opportunity to revolutionize maternity style. Instead of drab long overalls, she wore sexy and even skimpy outfits that proudly showed off her pregnant belly to the whole world. This fetched her praise from several quarters with many magazines praising her.
She is in No Hurry to Lose Her Pregnancy Weight but is Taking Things Easy
Rihanna gave birth to her first child in May 2022 and has been taking things easy. The singer has not joined the chorus of celebrities who go to great stress to lose their pregnancy weight and snap back to their prepartum status. She is taking things easy and following a steady step to lose weight.
In the meantime, the Umbrella crooner remains proud of her body. She has been seen at multiple public events and remains her ever-stylish self.
Rihanna Regularly Works Out and Often Has Multiple Personal Trainers
Prior to her pregnancy, Rihanna stayed in shape through regular workouts. She hit the gym on a daily basis if she had the time. She also works out in the middle of the night while on tour. The superstar singer often works out with personal trainers and has even had two at the same time. Some of those she has worked with include Ary Nunez and Harley Pasternak.
Rihanna also worked out with Navy soldiers while preparing for her role as a naval petty officer in the 2012 film, Battle Ship. Rihanna's regular workouts comprise weighted squats, lunges, calisthenics, and tae kwon do. She also indulges in capoeira, the Brazilian martial art that combines elements of dance, acrobatics, and music.
Rihanna's workout regimen also includes finding the right outfit as well as the right music to put her in the mood for workouts. She also takes breaks in between workouts to build her strength.
She Also Maintains a Healthy Diet and Has a Personal Chef
The primary reason Rihanna works out a lot is to be able to eat as much as she wants. The singer loves food but takes care to eat as healthily as possible. She has a personal chef named Debbie Solomon who goes with her everywhere she goes. Her breakfast includes four hard-boiled eggs, a piece of toast with no crusts, and a bowl of mixed fruits. Other meals during the day include vegetables, rice, pasta, and proteins.
Rihanna also tries as much as possible to stay hydrated. The superstar singer allows herself one cheat day each week during which she can eat as she likes. On such days, she can indulge in snacks such as Oreos, cereal, Cheetos, Cup o' Noodles, red and white wine, vodka, soda, Frappuccinos, and garlic olives.