Future's baby mamas are eight in number and they have been identified as Brittni Mealy, Jessica Smith, singer Ciara, India J, Eliza Seraphin, professional dancer Joie Chavis, Cindy Parker, and one woman who has chosen to not be identified.
The world-famous rapper has had eight children, one each with his eight baby mamas. He has maintained a great relationship with some of his baby mamas even after they parted ways. But this is not the same with some of his other baby mamas.
Meet Future's Baby Mamas
As we have already explained, the rapper, Future has as many as eight baby mamas so far. But who are these baby mamas? How did they meet and how did their romance go? Let's take a look at Future's love life so far.
Jessica Smith Is Future's First Baby Mama
Number of Children: 1 (A son called Jakobi)
Jessica Smith is Future's first-ever baby mama. The former couple started dating in 2001. The circumstances of their initial meeting remain unclear, as details about their early connection are limited. However, their relationship continued to develop, and in 2002, they welcomed a son named Jakobi.
Unfortunately, their relationship did not withstand the test of time, and Future and Jessica Smith eventually parted ways. Following their separation, Future embarked on new chapters in his life, making new music and becoming more popular, while Jessica chose to maintain a low profile, intentionally keeping her personal life out of the public eye.
Jessica Smith's preference for privacy has made it challenging to gather substantial information about her life outside of her romance with Future.
India J
Age: 40 years old
Number of Children: 1 (A daughter called Londyn)
Following his separation from Jessica Smith, Future's romantic journey led him to India J, with whom he shared a rather deep connection. According to our findings, from July 2007 to November 2012, Future was involved in a romantic relationship with India J. Their relationship spanned over five years, during which they experienced various ups and downs together.
In March 2009, around two years into their relationship, India gave birth to their daughter, whom they named Londyn. The arrival of Londyn brought joy and new responsibilities to Future and India's lives. However, despite their shared commitment to parenthood, the couple faced difficulties in their relationship that ultimately led to their separation in 2012.
The reasons behind their breakup remain undisclosed, as both Future and India have chosen to keep the details of their separation private. However, the two are still cool with each other. In fact, on one Mother's Day, the rapper even took the opportunity to extend his heartfelt wishes to India J, a clear testament to their past bond and the respect he holds for her role as a mother.
Brittni Mealy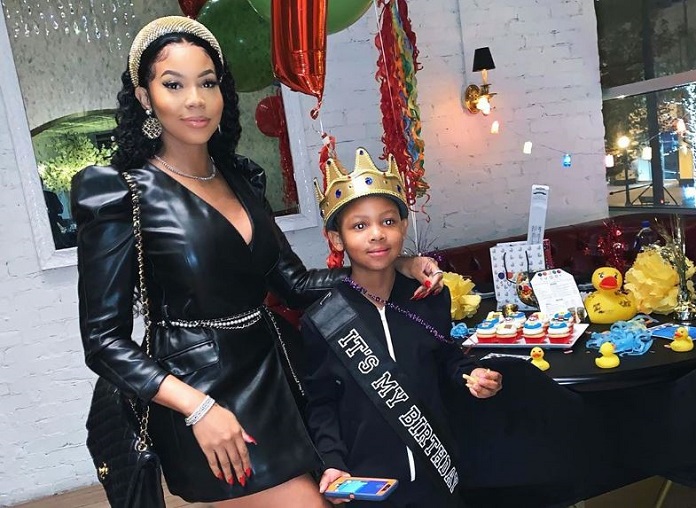 Age: 33 years old
Occupation: Entrepreneur
Number of Children: 1 (A son called Prince)
The story of Future and Brittni Mealy dates back to their initial encounter in late 2009 at an Atlanta club, where Brittni used to work as an exotic dancer. Future, being a frequent visitor, took notice of her and expressed interest in her performances. They exchanged numbers, formed a friendship, and engaged in phone conversations. However, at the time, Brittni was already in a relationship and thus, their connection didn't progress any further.
Their paths crossed again when Brittni began working at Magic City, a renowned adult entertainment venue in Atlanta. It was there that Future reconnected with her, showing a genuine pursuit of their relationship. They embarked on numerous travels together, providing care and support for one another. Eventually, they decided to take their relationship to the next level, moving in together and deepening their bond.
Brittni became pregnant with their son, and their relationship appeared strong and promising. This was a period when Future's career had not yet soared to its current heights. Their son was born in December 2012, marking a significant milestone in their journey as a couple. However, as Future's success escalated, Brittni began to experience a change in his behavior toward her. She revealed that his newfound success coincided with mistreatment and disrespect within their home.
To her shock, she even discovered that Future had another family residing just four miles away on the same street where they had moved in together. Despite this revelation, Brittni found herself deeply in love and hoped that Future would rectify the situation, as he promised when the time was right. However, things did not and they eventually parted ways. It appears that they did not remain friendly after breaking up.
In August 2021, Brittni took to social media to expose Future's alleged mistreatment of their eight-year-old son. She shared screenshots of text messages sent by Future to their son, where he appeared to use abusive language towards Brittni. In these messages, Future allegedly instructed their son to request clothes from his mother and later made derogatory remarks about her. Brittni, deeply upset by this behavior, called out Future publicly, denouncing him as a coward for sending such hurtful messages to their young child.
She shared her frustration and disappointment, emphasizing that her son was just eight years old and should not be subjected to such treatment. However, Future did not respond to these claims.
Ciara And Future Famously Dated
Age: 37 years old
Occupation: Singer, songwriter, businesswoman and actress
Number of Children: (A son called Future Zahir Wilburn)
The world-renowned American singer, songwriter, businesswoman, and actress, Ciara is also among the mothers of Future's children, and their relationship has had its fair share of ups and downs. Ciara and Future first met and began dating in the year 2012. Their romance made headlines around the world and it appeared that they were the perfect couple.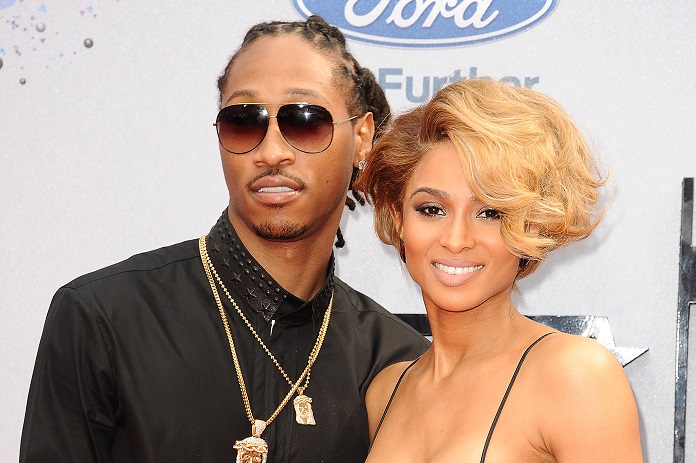 They got engaged in October 2013. Several months after their engagement, the couple welcomed their son named Future Zahir Wilburn, into the world on May 19, 2014. Soon after the birth of their son, the couple's relationship hit the rocks. In fact, just three months after their son's birth, Ciara called off the engagement. It was revealed that Future had been unfaithful during their relationship, causing irreparable damage to their trust and leading to their separation.
The aftermath of their breakup was marked by legal disputes and public accusations. In January 2016, Ciara took legal action against Future, filing a defamation lawsuit against him. She accused him of spreading false information about her co-parenting skills on social media and in interviews, tarnishing her reputation.
Additionally, Ciara claimed that Future had made threats towards her then-boyfriend, Russell Wilson, who is a prominent NFL quarterback for the Seattle Seahawks. These alleged threats further escalated the tensions between the former couple. In response, Future filed a countersuit against Ciara, asserting that he could not have damaged her reputation because, according to him, her career was already declining. He went as far as labeling her latest album at the time as a "flop," challenging the impact he allegedly had on her professional standing.
The legal battle between Ciara and Future eventually reached a resolution. In January 2017, Ciara's $15 million defamation lawsuit was dropped, bringing an end to their public feud. Ciara has since moved on and found happiness in her marriage to Russell Wilson.
Joie Chavis
Age: 34 years old
Occupation: Dancer and Instagram star
Number of Children: 1 (A son called Hendrix)
In mid-2017, Future embarked on a romantic relationship with Joie Chavis, who happens to be a talented professional dancer. The couple's connection resulted in the birth of their son, about a year later in 2018. Interestingly, however, by the time their son arrived, Future and Joie had already parted ways romantically.
Despite the end of their romantic involvement, Future and Joie Chavis have managed to maintain a remarkable relationship and successfully co-parent their son, Hendrix. Evidence of their amicable co-parenting can be seen in the events surrounding their son's life. Future actively participated in Joie's baby shower for Hendrix, demonstrating his support and involvement even after their separation.
Furthermore, he was spotted celebrating their son's first birthday, highlighting the commitment they both have toward providing a loving and unified environment for their child. Surprisingly, despite not being in a romantic relationship, Future and Joie have continued to spend time together and even go on vacations together. Last year, they embarked on a trip to Turks & Caicos to celebrate Joie's birthday.
Although they clarified that their connection was solely platonic, their ability to enjoy each other's company and create positive experiences for their son speaks volumes about their ability to maintain a strong friendship. On Mother's Day, Future took to social media to express his gratitude and appreciation for Joie's role as a mother.
In a series of heartfelt tweets, he thanked Joie for being an incredible mom and acknowledged her dedication and strength in raising their child. His message conveyed respect and admiration, highlighting their mutual understanding and commitment to their shared parenting responsibilities.
Eliza Seraphin
Age: 39 years old
Occupation: Instagram star
Number of Children: 1 (A daughter called Reign)
Future and Eliza Seraphin, a popular Instagram model hailing from Florida, began dating in 2016. During the years between 2016 and 2018, Eliza and Future reportedly had an on-and-off relationship, characterized by their intermittent connection. In 2018, Eliza publicly announced her pregnancy, asserting with unwavering confidence that Future was the biological father of her child.
A year later (in April 2019), she made headlines when she gave birth to their beautiful daughter named Reign. However, it appears that Future failed to acknowledge that he was the father of the child. Eliza was not happy about this so, in August of the year 2019, she took to social media and publicly called out Future, labeling him as a "deadbeat" father.
Subsequently, she initiated legal proceedings by filing a paternity suit against him, seeking child support as well as reimbursement for various medical expenses incurred during her pregnancy.
In an emotional Instagram post during that time, Eliza revealed her earnest attempts to reconcile with Future for the sake of their child, expressing her reluctance to involve the courts in their affairs. According to her, she did not want to get the courts involved at all and tried to make things work for the sake of their daughter.
In May 2020, Eliza's attorney confirmed the outcome of a DNA test that conclusively established Future as the biological father of Eliza's child, confirming what she had asserted from the beginning. In recent times, it appears that Future and Eliza have made up and are now on good terms to co-raise their daughter.
Cindy Parker
Number of Children: 1 (A son called Legend)
Future dated a woman called Cindy Parker around the year 2018. Not much is known about how they first met and started dating because they did all this in secret. In 2019, Cindy Parker gave birth to their son, Legend. However, Future refused to acknowledge his paternity and denied being the father of Legend.
In response to Future's denial, Cindy took legal action by filing a lawsuit against him. Her objective was to compel Future to accept his role as the father of their newborn son, Legend. To demonstrate her belief in Future's paternity, she even granted their child Future's legal last name, Wilburn. In her lawsuit, Cindy sought court orders affirming Future's legal paternity, as well as requesting child support and custody.
However, Cindy's legal case encountered obstacles and experienced delays due to difficulties in serving Future with the necessary legal documents. Consequently, Cindy requested the court's permission to utilize alternative methods to serve Future. The judge granted her request, allowing Cindy to successfully serve Future with the legal papers.
In response to being served, Future filed his answer to the lawsuit on February 28, 2020, indicating his active involvement in the legal proceedings. Surprisingly, only a few weeks later, Cindy made a surprising move by requesting the court to dismiss all claims in the case. This sudden request for dismissal suggests the possibility of a settlement reached between Cindy and Future outside of the courtroom.
Throughout the paternity battle and legal proceedings, Cindy Parker remained outspoken about her situation with Future. At one point, she formed an alliance with another of Future's baby mamas, Eliza Reign, who had also engaged in a legal battle with Future regarding paternity and child support.
Future Has A Son With An Unnamed Woman
Not all of Future's baby mamas are known to the public. Despite the huge interest of the media in his personal affairs, he has managed to keep some of his romantic overtures hidden. According to reports, he has a son with an unnamed woman. The son is called Kash, but his mother's identity remains under wraps.
Some reports also say he has a daughter called Paris with another unnamed woman. But this claim is not clear just yet.
Is Future Dating Anyone Now?
Future is currently not known to be in a relationship. His most recent publicized romance was with Dess Dior, a social media influencer and rapper hailing from the United States. Dess Dior has cultivated a significant following on various social media platforms and has her own YouTube channel where she shares her music.
The relationship between Dess Dior and Future became public in November 2020 when they made their first joint appearance in an Instagram post. Subsequently, they were spotted together on multiple occasions, and both individuals shared photos of their outings on their respective social media accounts. The public display of their relationship piqued the interest of fans and followers, sparking speculation about the nature of their connection.
In February 2021, rumors regarding their engagement began to circulate after Future surprised Dess Dior with a diamond ring, shortly after Valentine's Day. This gesture ignited speculation and led many to believe that the couple had taken their relationship to the next level. However, Future has not provided any official confirmation or shared his perspective on the matter.
However, in a twist of events, in October 2022, Dess Dior revealed in an interview with The Shade Room that she was single. Following this revelation, both Future and Dess Dior took steps to remove traces of their relationship from their social media accounts. Future deleted all posts related to Dess Dior, and Dess Dior followed suit by removing any content associated with Future. Additionally, they no longer follow each other on Instagram, further indicating that they have gone their separate ways.
While the specific reasons behind their split remain undisclosed, the actions taken on social media suggest that the relationship between Future and Dess Dior has come to an end. Following this, there have been no more reports of Future being in any new relationships.