Cynthia Sanchez Vallejo is the first daughter of Chalino Sánchez, the slain Mexican singer and songwriter, who was known for his Regional Mexican music, especially his corridos. She was born in July 1987 and has not revealed much about herself as she is a very private person.
Because of her famous father's influence, Cynthia Sanchez is also a celebrity. She has gained a fair following on her social media handles, especially the followers of her late father who are curious to learn more about his daughter. Everything you need to know about Cynthia Sanchez's life is provided here.
Summary of Cynthia Sanchez Vallejo's Bio
Full name: Cynthia Sanchez Vallejo
Gender: Female
Date of birth: July 1987
Cynthia Sanchez's Age: 36 years old
Nationality: Mexican
Sexual Orientation: Straight
Marital Status: Single
Cynthia Sanchez's Parents: Chalino Sanchez and Marisela Vallejos
Siblings: Adian Sanchez
Famous for: Being Chalino Sanchez's daughter
Who Is Cynthia Sánchez Vallejo?
Cynthia Sánchez Vallejo was born in July 1987 in Los Angeles, California, to Chalino Sanchez and Marisela Vallejos. Her day of birth is still unclear because neither her, her mother, nor father have mentioned it, but based on the birth date of her brother, Adan Chalino, who was born in 1984, one can deduce that Cynthia Sanchez will be in her mid-thirties because she was born three years after her brother.
In the same vein, Cynthia has not disclosed any details about her early life, including the cities or towns she was raised in or the kind of upbringing she received.
Cynthia Sanchez's Parents Got Married In 1984 in Los Angeles, California
Cynthia's parents, Chalino Sanchez and Marisela Vallejos Felix, met for the first time through the former's cousin while working in Los Angeles. They became friends and as their friendship grew, they developed feelings for each other and began dating. They dated for some time and decided to take their relationship to the next level by committing to each other in holy matrimony.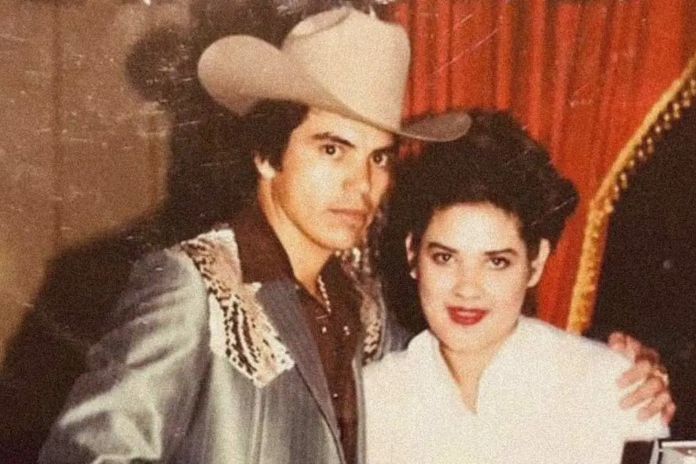 Cynthia's parents finally got married in 1984 in Los Angeles, California. Meanwhile, her mother, Marisela Vallejos, was already pregnant. And so it wasn't so much of a surprise when less than a year after they tied the nuptial knots, their union was blessed with their first child, a son named Adán. A couple of years later, in 1987, the couple welcomed their second child, Cynthia.
Cynthia Sánchez Is The Only Surviving Child Of Her Parents
Cynthia Sanchez Vallejo must be wishing that the warmth she received as a child growing up with her older brother would continue but it was not to be so. She lost her only brother, Adán Santos Sánchez Vallejo, to the cold hands of death in 2004 at the age of 20. He was killed 12 years after his father's murder. Cynthia's late brother grew up as his father's prototype – carrying his looks, his musical talent and was tipped to do much than his father in Mexican music.
However, on March 27, 2004, a week after a concert he had attended, Adan Sánchez decided to embark on a promotional road trip through Sinaloa, the state where his father was born. He was driving his father's 1990 Lincoln Town car going to a concert in Tuxpan, Nayarit, Mexico.
Unfortunately, the car tire blew on the highway between Rosario and Escuinapa and Adan lost control of the vehicle which led to him sustaining severe head injuries and later losing his life. He was just twnty years old when he lost his life.
Cynthia Sanchez's Father Was A Famous Mexican Singer and Songwriter
Cynthia Sanchez's father, Chalino Sanchez, was a well-recognized singer and songwriter from Mexico posthumously called "El Rey del Corrido". He was born on August 30, 1960, in Mexico. He was widely known for his many narcocorrido recordings and also for surviving a gunshot while performing in Coachella, California.
Chalino had a difficult past in Sinaloa, Mexico. He was 15 years old when his sister was allegedly raped by a wealthy and dangerous man named "Chapo" Perez. Two years after the incident of the rape, Chalino, in anger, reportedly shot and killed Perez in an act of revenge for what he did to his sister. He then left for Tijuana with a gun and a Jesús Malverde chain.
The Mexican singer had illegally entered the United States and settled in Oregon before moving to Los Angeles where he began working various jobs, including dangerous and illegal jobs like selling drugs and assisting his brother's immigrant smuggling business.
Cynthia's father, Chalino, began his music career while he was serving his 8-month prison sentence. In prison, he started to practice music and exchange stories with other inmates from Sinaloa, Mexico. This became a source of inspiration to him and led to his writing the song titled "Corridos", a type of Sinaloa song that recounts the exploits of revolutionary heroes and notorious bandits.
Her Father Was Murdered
Tragically, Chalino Sanchez was murdered in Mexico on May 16, 1992. That day, he received a death threat in the form of a letter while he was performing on stage which prompted him to leave the stage halfway into the performance. However, while he was in transit in Culiacan, his vehicle was intercepted by an unknown assailants dressed in police uniforms and he was murdered. His body was found the following morning, having been shot twice at the back of his head.
Cynthia Sanchez Is Not In Any Known Relationship
Cynthia Sanchez Vallejo is a very private person and has not been generous with information about her life, most especially her personal life. It is not known if she is married, if she's in a relationship, or is she has dated anyone in the past, as she has not disclosed any information relating to this aspect of her life.
However, it is generally believed that the famous child is single and is probably focused on her career which is also not known to any source.
What Is Cynthia Sánchez Vallejo's Net worth
At the moment, Cynthia Sanchez Vallejo's net worth is yet to be determined. She is so far excelling in keeping her life and occupation very close to her chest and as a result of that, her earnings have remained private. However, her mother, Marisela Vallejos is a businesswoman and has a huge net worth estimated to be around $3 million.