It isn't easy taming a wild and crazy rocker, but one woman that has managed to do that is Francesca Hetfield. Hetfield is an American costume designer. She is also better known as the wife of Grammy-winning rock star, guitarist, and songwriter, James Hetfield of Metallica fame. Hetfield and her husband have been together for more than two decades now, during which they have made a satisfying home life for themselves. They also live a rich and famous lifestyle with several properties to their name. The couple has encountered their fair share of troubles, but Hetfield has practiced the kind of tough love that has straightened her famous hubby up.

Francesca Hetfield's Profile Summary
Full name: Francesca Tomasi Hetfield
Gender: Female
Date of birth: the 27th of January 1970
Francesca Hetfield's Age: 52 years old
Ethnicity: Italian-American
Nationality: American
Zodiac Sign: Aquarius
Sexual Orientation: Straight
Education: Overland High School Colorado
Marital Status: Married
Francesca Hetfield's Husband: James Hetfield
Francesca Hetfield's Children: Cali, Castor, and Marcella Hetfield
Francesca Hetfield's Height in Inches: 5 ft. 9 inches
Francesca Hetfield's Height in Centimetres: 175 cm
Francesca Hetfield's Weight: 59 kg (128 lbs)
Body measurements in inches: 38-26-36
Body measurements in centimeters: 96-66-91
Francesca Hetfield's Net worth: $1 million
Famous for: James Hetfield's wife
Francesca Hetfield was Born in Argentina but Grew up in Vail, Colorado
Francesca Hetfield was born on the 27th of January 1970 in Rosario, Argentina. She spent the first few years of her life there before her family relocated to the town of Vail, Colorado. In Colorado, Hetfield had a typical American upbringing and indulged in the beautiful nature and wildlife that was in abundance. For her high school diploma, she attended Overland High School and completed her diploma in the late 80s.
Not much information exists about Francesca Hetfield's family background, but we know that she has some Italian origins, given that her original surname is Tomasi. It has also been revealed that she grew up in a family full of macho men who expected the ladies to carry out tasks such as cooking. Despite such an environment, or perhaps because of it, Hetfield grew up with a sophisticated mindset, believing that men and women were equal.
She Served as a Costume Designer for Metallica in the Early 90s
It is hard to tell what Francesca Hetfield does for a living presently, but back in the day, she served as a costume designer for the famous band that her future husband co-founded, i.e., Metallica. In the music world, costume designers are the brains behind the show-stopping outfits our favorite musicians wear on stage during concerts. While doing their work, the designer liaises with the artist, the set designer, and the choreographer to make sure everyone is in agreement and that the outfits will work with the stage design, song lineup, choreography, costume changes, etc.
Being a costume designer is obviously hard work, and Francesca Hetfield was able to perform this task impeccably for Metallica for several years. One of such years was in 1992 when the band embarked on their Wherever We May Roam tour. The tour lasted for 14 months, August 1991 to December 1992, and touched down in various cities in North America and Europe. It was indeed a massive gig, and Hetfield's expertise as a costume designer contributed to its success.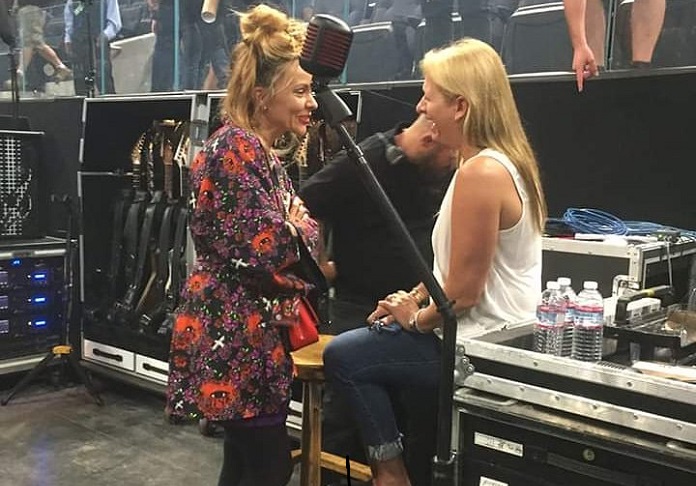 Francesca and James Hetfield Began Dating in 1992 and Tied The Knot in 1997
Francesca Hetfield has been with her husband for about thirty years now, and their inspiring story dates back to 1992. At the time, James was touring the globe with his bandmates while she was one of their costume designers. This required them to work together for several weeks, and they inevitably became pals. They later started dating. The couple dated for about five years, during which several issues threatened their romance. One of them was the wild and crazy lifestyle of rock stars. Another was the grueling recording and touring schedule that they kept.
Despite all this, Francesca and James stayed true to each other and later got engaged. They then tied the knot on the 17th of August 1997. By that time, James was one of the biggest rock stars in the world and could have easily afforded a talk of the town wedding. However, his anti-establishment instincts railed against it, and he and Francesca had a much down-to-earth event. It was nevertheless beautiful, and the couple embarked on a honeymoon afterward. They then returned to continue with their regular lives.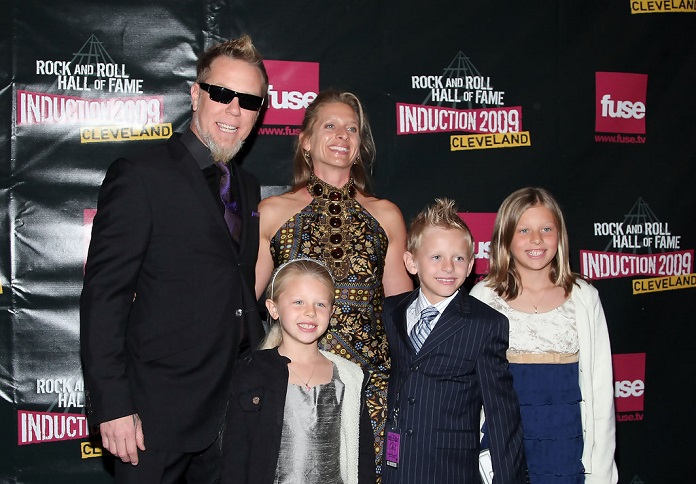 The Couple Has Three Children – Two Daughters and a Son
Francesca Hetfield has three children from her marriage to James Hetfield. The first is a daughter named Cali Tee, who was born on the 13th of June 1998. Their second child, a son named Castor Virgil Hetfield, followed on the 18th of May 2000. Francesca and her husband welcomed their third child, Marcella Francesca, on the 17th of January 2002. The couple has built a lovely family dynamic over the years and regularly do stuff together. For instance, in 2009, when James was inducted into the Rock and Roll Hall of Fame, alongside his Metallica bandmates, Francesca and the kids were on hand to support him.
The whole family was also pictured together in 2012 as they attended the Los Angeles premiere of the hit movie Journey 2: The Mysterious Island. Also, in 2018, Francesca and her family were spotted holidaying on the Greek island of Mykonos. For the trip, they had an impressive yacht and participated in fun activities such as swimming, sun tanning, and jet skiing. The Hetfields previously made their home on their massive 500-acre ranch, Rocking H1 Ranch, located in San Francisco. However, in 2016, they decided to relocate to Francesca's hometown of Vail, Colorado.
James later revealed that his decision was informed by Colorado's abundant natural activities, such as hunting. Another even more urgent reason for the move was the snobbish and elitist attitudes of their Bay Area neighbors. According to the singer, his neighbors had strong political and environmental beliefs and looked down on anyone who didn't conform.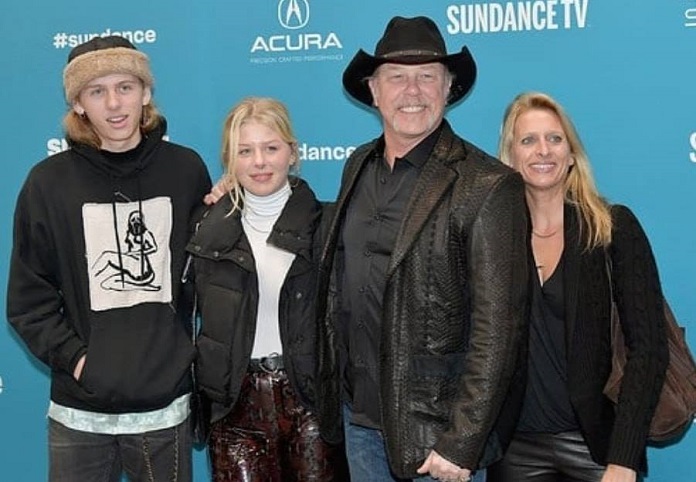 Francesca Hetfield and Her Husband Has Had To Deal With His Alcohol Addiction
Francesca Hetfield and James Hetfield have enjoyed an exemplary and long-standing union, but it hasn't been all bliss. The couple has faced serious challenges, including James' alcohol addictions. The rock star started drinking at an early age, and when he tasted success as a musician, things got worse. He and his bandmates sometimes performed drunk. He also took to drinking at home and would often ask his little daughters to fetch a beer for him. Of course, all this drinking affected his behavior negatively, but he did not do anything about it. He continued in his ways until 2001, when Francesca put her foot down.
She insisted that she didn't want her kids to grow up in such an environment and asked him to get help. She also threw him out of the house for good measure. This tough love had a tremendous impact on James Hetfield. He was the product of a broken home and didn't want that for kids. He, therefore, quit drinking. He also entered a rehab program and spent seven weeks there, during which they stripped him down to the bones and slowly rebuilt him. Upon completing the program, he moved back in with Francesca, and she welcomed him with open arms.
James Hetfield has remained sober for several years now, but he did suffer a relapse in 2019. He underwent rehab again, and Francesca supported him all through it. The singer is immensely grateful for his wife. He appreciates that she threw him out as it was the wake-up call he needed. He has also described her as the most amazing person who not only stuck with him through hell but helped to bring him out of the hell hole.