From her infidelity-plagued marriage with Biggie Smalls to her rumored hookup with Tupac, Faith Evans has had a very eventful love life. This has often served as fodder for tabloid gossip but the Grammy-winning singer remains undaunted. She has given love another chance on several occasions and has no regrets, seeing as she has gotten some great children out of the bargain. Faith Evans has a total of four children, including her daughter, Chyna, whom she had at the age of 20. Others are sons, Christopher Wallace Jr, Joshua Russaw, and Ryder Russaw, whom she welcomed during her first and second marriages.
The singer loves her children wholeheartedly and is their No. 1 advocate. She often lavishes praise on them on social media and has previously put her career on hold for their sake. Faith Evans' third marriage was to Grammy-winning record producer and DJ, Stevie J. in 2018. It lasted for about three years before they split in late 2021. The divorce is shaping up to be contested as finances are involved but issues of child custody will not arise as Faith Evans did not have any child for Stevie J.
Faith Evans' First Child is Daughter, Chyna Tahjere Griffin
Full name: Chyna Tahjere Griffin
Date of birth: 1st of April 1993
Age: 29
Birthplace: Los Angeles
Father: Kiyamma Griffin
Occupation: singer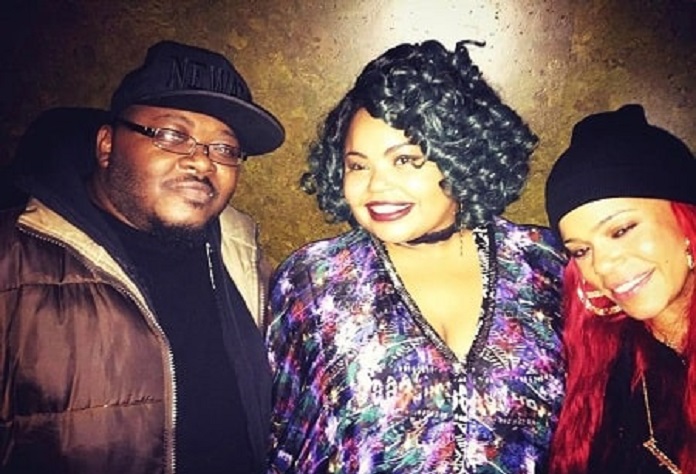 Faith Evans has a total of three baby daddies and the first one is music producer/composer, Kiyamma Griffin, with whom she had her very first child, Chyna Tahjere Griffin, in 1993. Kiyamma Griffin is a native of Newark, New Jersey. He is a music producer, composer, vocalist, and multi-instrumentalist. He has produced songs for the likes of Mary J. Blige, Michael Jackson, Usher, and Christopher Williams. His genre of music now focuses on gospel going by his social media posts. Evans first got to know Griffin while she was living in Newark in the early 90s. At that time, she was in her first year of college and they fell heads over heels in love with each other.
Their romance blossomed until they discovered that she was pregnant. The young couple were ill-prepared for such and were at a loss as to what to do. They however decided to keep the baby and relocated to Los Angeles in search of better opportunities there. In L.A., Evans and Griffin found it hard to land opportunities in the music industry and this left them struggling to make ends meet. This remained the status as they went on to welcome their child, a daughter named Chyna Tahjere Griffin, on the 1st of April 1993. The coming of the newborn was a thing of joy but it further strained the couple's finances and relationship. They broke up when their baby was a few months old and Faith Evans moved on solo.
Chyna Tahjere is a Budding Singer and Dropped Her First Single in 2021
Chyna largely grew up with her mom for the first few months of her life. The status however changed after her mom met and married the late rapper, the Notorious B.I.G, in 1994. Chyna was about a year old at that time and she and her mom lived with Biggie in his New York apartment. He proved to be a very doting stepfather and so she reveled in the love that he and her mom lavished on her for the next few years. The marriage between Chyna's mom and Biggie later had issues as a result of the latter's infidelity and her mom wound up leaving him for good in early 1997. By March of that same year, the rapper was gunned down.
The loss was a very traumatic one for Chyna Tahjere but she had to move on with her life. Her mom shortly remarried in 1998 and she gained a second stepfather in the person of music producer, Todd Russaw. He equally turned out to be a loving parent and so, Chyna had a good childhood. She completed at least a high school diploma and is now pursuing a busy life as an adult. Chyna has followed her mom's footsteps into music. She is a budding singer and dropped her debut single, Don't Speak, in February 2021. The track heavily favors the R&B genre which shows that she may have inherited her mom's genes. On a personal note, Chyna Tahjere has a great relationship with her mom. She has also revived her relationship with her biological father which is also a good thing.
Christopher Wallace Jr. is Faith Evans First Son and Her Second Child
Full name: Christopher George Latore Wallace Jr.
Date of birth: 29th October 1996
Age: 25
Birthplace: New York City
Father: Biggie Smalls
Occupation: actor and entrepreneur
Faith Evans has a total of three sons and the first son, who is also her second child, is Christopher Wallace Jr. His father is the late rapper, Christopher Wallace Sr. aka the Notorious B.I.G. Evans and Biggie first got to know each other in the early 90s as a result of their mutual connection to Bad Boy Records. They fell fast for each other and wed after just eight days of dating in August 1994. The couple made their home in New York and had some happy times. Their respective careers blossomed and they collaborated musically. At the home front, Biggie proved to be a doting stepfather to Evans' daughter, Chyna.
The couple's marriage later ran into issues as a result of Biggie's serial cheating. Evans broke up and made up with him on several occasions in 1996. It was amidst this turbulence that they welcomed Christopher Wallace Jr. in October 1996. The birth of the little one motivated Evans to try reconciliation again but Biggie continued his cheating ways. She left him for good in early 1997 and he was murdered a few months later. Christopher Wallace Jr. thus lost his father when he was barely a year old and it was quite a sad one. He however didn't feel the impact too much as his mom went on to remarry music executive, Todd Russaw in 1998.
Christopher Wallace Jr. is an Actor and Entrepreneur
Christopher Wallace Jr grew up with his mom, his older half-sister, Chyna, his half-brothers, and his stepfather in places such as New Jersey and California. Even though his mom later divorced his stepfather, they remain close and he refers to him as dad and second dad. Christopher Wallace Jr. attended Santa Margarita Catholic High School in California and graduated in 2014. Since leaving school, he has pursued various interests, including an acting career. He has featured in a handful of movies and TV series, including Everything Must Go, Kicks, Scream, and Notorious. The latter is a 2009 biopic about his late dad and he played the younger version of his biological dad.
Asides from acting, Christopher Wallace Jr. is a budding entrepreneur and launched his cannabis brand, Come Think Big, in 2019. The young man was motivated to launch the brand as a result of his step-father who advised him to pursue different interests and also honor his biological dad's legacy in his own way. Christopher Jr. got thinking and realized that cannabis had been hugely beneficial to him. He, therefore, joined forces with his stepfather, as well as entrepreneur, Willie Mack, to launch the brand. The first line of Come Think Big is titled Frank White and features a limited edition top shelf, flowers, pre-rolls, vapes, gummies, apparel, pens, pencils, journals, and sketch pads. Beyond cannabis, the company is also interested in charity projects, as well as criminal justice reform.
Christopher Wallace Jr Once Faced Speculations That He Was Gay
Christopher Wallace Jr. also tried his hands at music as a teenager. He was previously in a group known as the Origami Prophets and his mom served as their manager. The group tried out some record labels but a deal failed to materialize at the end of the day. Wallace Jr. is not beating himself up about it though. He believes in pursuing the type of music he loves and is not bothered by people's expectations.
There are no indications into Christopher's personal /love life yet. Even though he must have dated some ladies over the years, he has kept it well away from the public eye. The only insight into his love life came in his high school years when they were rumors that he was gay. The young man had posted a picture of himself holding a guy from the back and people jumped to their own conclusions. He was later forced to clarify things. He stated that he and his friend were only reenacting the iconic Jack and Rose pose from Titanic and nothing more.
Faith Evans Third Child is Son, Joshua Jahad Russaw
Full name: Joshua Jahad Russaw
Date of birth: 10th of June 1998
Age: 24
Birthplace: Los Angeles
Father: Todd Russaw
Occupation: model, content creator, DJ, record producer, and singer
Faith Evans' third child is another son, Joshua Jahad Russaw. He was born on the 10th of June 1998 and his father is Todd Russaw. Todd Russaw is an accomplished music executive and talent manager with over two decades of experience in the music industry. He served as the A & R director at Motown Records in the 90s and helped R&B icon, Missy Elliot, with her first album. He has since worked with producers such as Pharrell Williams, Babyface, and Sean Combs on several collaborations. He is also an entrepreneur and co-founded the cannabis brand, Come Think Big.
Faith Evans and Todd Russaw first ran into each other in the course of their mutual involvement in the music industry in the 1990s. They became good pals and eventually started dating in 1997. They then welcomed Joshua in 1998 and wed that same year. Joshua grew up with his parents, his older half-sister, Chyna, his older half-brother, Christopher Jr., and his younger brother, Ryder, in places such as New Jersey and California. He had a good childhood by all standards but he was disappointed when his parents decided to file for divorce in 2011.
Joshua was only 13 years old at that time and must have been hurt and confused by it all. The pain however lessened with time and he grew up to have some happy times. He split his time between mom and dad and they showered their love on him. Joshua Russaw most likely attended the same Santa Margarita High School as his half-brother, Christopher Jr. He received his diploma around 2016 and is now pursuing his own path in life.
He is a Model, DJ, Record Producer, and Content Creator
A trip to Joshua Russaw's social media pages will show that he has followed in his parents' footsteps. He variously describes himself as a producer, DJ, content creator, R&B singer, model, etc. He is still a fast-rising fellow but he has already done some notable work. For instance, in August 2021, he produced the track, Can You, for a singer known as FIH. Joshua maintains a great relationship with every member of his family. His dad regularly shares pictures of him with his brothers on social media.
His dad also wished him a happy 23rd birthday in 2021 while thanking God for his existence. In a similar vein, on the occasion of Joshua's birthday in 2020, his mom posted a throwback picture of him as a child and described him as witty, talented, and handsome. Joshua's family has been quite supportive of his career goals. He has modeled for the Frank White cannabis brand. He also deejayed at their gala night in November 2021.
Her Fourth Child is Son, Ryder Evan Russaw
Full name: Ryder Evan Russaw
Date of birth: 22nd of March 2008
Age: 14
Birthplace: Los Angeles
Father: Todd Russaw
Occupation: N/A
Faith Evans' fourth and last child is a son, Ryder Evan Russaw. Ryder was born on the 22nd of March 2008 and his father is Todd Russaw. Evans and Todd had been married for about a decade before Ryder's birth but they couldn't make their marriage work anymore and divorced when he was three years old. Ryder mostly grew up with his mom, his older brother – Joshua, his older half-brother, Christopher Wallace Jr, and his older half-sister, Chyna.
His dad also made a great effort to have a constant presence in his life. The love of these five individuals has helped Ryder to flourish and he is living an active life despite being on the autism spectrum. His heart-warming story is a result of his family's efforts over the years, including his parents who have waged legal battles for his wellbeing.
Ryder is on the Autism Spectrum and Evans Has Fought Hard to Give Him a Normal Life
Faith Evans first noticed that Ryder may be challenged when he wasn't still verbal by the age of three. She tried to get his pediatrician to diagnose him so that they could get early intervention and support but this proved to be an uphill battle. She was therefore forced to use her own funds to pay for speech and occupational therapy for him. She also sought out others with similar issues and her research put her in touch with a behaviorist. The behaviorist took over Ryder's academics and therapy from 2016 while Evans also stepped back from an active career so that she could look after her son.
Ryder is about 14 years old now and his parents continue their efforts to ensure that he has a normal and happy life. They have put him in a regular school in the Los Angeles Unified School District (LAUSD). They also file due process complaints whenever he is mistreated or mishandled. Evans has also founded a non-profit organization known as Ryder's Room Inc. The foundation raises awareness about autism and also provides families with resources on how they can help their children. Such resources include individualized education program consultations.
Evans also hosts a weekly YouTube symposium on the issues of autism. All these efforts are to ensure that her son and other autistic children can have the same quality of life as any other child their age.