Da'Naia Jackson is a celebrity wife of YouTube relationship expert Derrick Jaxn. Her husband, Derrick, is an author, relationship expert, and YouTube personality. In light of the challenges they experienced in their marriage not too long ago, there has been a general curiosity about the wife of the famous YouTuber. This article explores all there is to know about Da'Naia Jackson.

Summary Of Da'Naia Jackson's Bio
Full name: Da'Naia Jackson
Gender: Female
Date of birth: December 21, 1989
Da'Naia Jackson's Age: 33 years old
Place of birth: Denver, Colorado, USA
Ethnicity: African-American
Nationality: American
Zodiac Sign: Sagittarius
Sexual Orientation: Straight
Religion: Christianity
Marital Status: Married
Da'Naia Jackson's Husband: Derrick Jaxn
Da'Naia Jackson's Children: 2 Daughters
Da'Naia Jackson's Parents: Leslie Keith Broadus Sr. and Linda Faye Buchanan
Siblings: 3 (One Sister and Twin Brothers)
Da'Naia Jackson's Height in Inches: 5ft 5inches
Da'Naia Jackson's Height in Centimeters: 165 cm
Da'Naia Jackson's Weight: 74kg (163 lbs)
Da'Naia Jackson's Net worth: $700k
Famous for: Being the wife of celebrity YouTuber and author Derrick Jaxn
Da'Naia Jackson's Instagram: @dun_nay_uh_jackson
Da'Naia Jackson Was Born in Denver, Colorado, in 1989
Da'Naia Jackson was born on December 21, 1989, in Denver, Colorado. Her birth name is Da'Naia Latrice Broadus, and she is of the African-American ethnic group. Her father's name is Leslie Keith Broadus Sr., while her mother is Linda Faye Buchanan, both African-Americans. Da'Naia's parents had three other children after her. A few years after her birth, her younger sister came along, followed by Da'Naia's twin brothers. The identity of her siblings is not public knowledge.
Currently, Da'Naia and her siblings are the only surviving members of her birth family. She hasn't shared the date of her mother's death, but records show that her father died a few months after his 30th birthday on July 25, 2002. She was almost 13 at the time. She had a close relationship with her grandparents, Larry George Philips and Gertha Lee Evans, who died precisely nine years apart.
Larry died first on December 17, 2009, before Gertha joined him on December 17, 2018. After high school, Da'Naia Jackson spent her growing up years in Denver, Colorado. She had her high school education at Smoky Hill High School in Denver, Colorado. Soon after her high school graduation, she studied Hospitality Management at Tuskegee University. She later bagged a degree in her chosen field of study and another in Sales and Marketing in 2012.
She and Her Husband, Derrick Jaxn, Met in College
Da'Naia Jackson's time at Tuskegee University brought her in contact with the man who turned out to be her husband years later. Vital information on the timeline of their relationship in college is not available at this time.
The couple who began dating in 2009 has been together for more than a decade now, and their relationship has produced a daughter named Marley in October 2016. Not long after the birth of their daughter, Derrick asked Da'Naia to marry him, and she accepted. They became officially engaged in November 2016.
She Officially Became Derrick Jaxn's Wife in 2018
The engagement lasted for two years, during which Da'Naia, who had gained 64 pounds due to postpartum depression after Marley's birth, embarked on a weight loss regimen, eventually achieving the figure she was satisfied with before her wedding. She and Derrick were officially married on January 13, 2018. Exactly one year after she began her weight loss program.
The couple, who had a daughter, pre-engagement and before marriage, had previously expressed their desire for at least two more children as a married couple. Half of that wish has been fulfilled by the birth of a second daughter. In all, they have two beautiful daughters together, though not much is known about the particulars of the second daughter, not even her name.
Da'Naia Jackson's Marriage To Derrick Jaxn Almost Fell Apart
The union between Da'Naia Jackson and Derrick Jaxn has had its share of challenges. After 13 years and two kids into their relationship, Da'Naia and her husband faced a scandal – all of Derrick's own making – that almost broke them apart forever. In early 2021, a woman named Candice De Medeiros had revealed in an interview with blogger Tasha K that she had been romantically involved with popular YouTuber Derrick Jaxn.
Allegedly, she had texted with Jaxn before having a torrid affair with him all through the summer of 2020. In her defense, she stated that she was under the impression that the father of 2 was separated from his wife, Da'Naia Jackson, as he had told her so. To further strengthen her claims, she presented a damning selfie of herself and the celebrity on his matrimonial bed as proof that the affair did happen.
As the scandal unraveled, it was also rumored that Derrick had gotten another of his girlfriend's pregnant. However, the rumor was not as credible as the Medeiros scandal. Da'Naia Jackson was left with no choice but to leave the marriage for a while, stating that she would neither tolerate nor accept the disrespect and disregard Derrick has shown for their marriage vows.
Derrick, on his part, made amends by taking responsibility for his actions and acknowledging his irresponsible behavior in the wake of the scandal. This show of repentance from Derrick convinced Da'Naia of her husband's mentality change. The couple took to Instagram to lay to rest any lingering components of the scandal.
Da'Naia Jackson reiterated her firm stand on infidelity and pointed out that she had forgiven her husband and was ready to forge ahead with the marriage. Derrick begged for forgiveness and spiritual support from fans who had been let down by a personality who had failed to practice what he preaches.
Da'Naia Jackson Had Filed For a Divorce with Certain Demands
It might interest readers to know that before Derrick's shocking confession, Da'Naia Jackson had filed for the dissolution of her marriage on August 28, 2020.
While claiming that the couple had been separated for the stipulated six-month period when she filed, she also demanded primary physical custody of her two children, who were minors, and all final decision-making rights regarding their welfare. She also demanded child support and alimony from Derrick.
In addition to these demands, Derrick would also pay her lawyer's legal expenses. However, Derrick, who had a chance to respond but chose not to, was let off the hook after Da'Naia ended the divorce proceedings on October 2, 2020, barely two months after she initiated said proceedings.
She Claims She was Raped Once Upon a Time
While explaining the turbulent experiences and feelings she went through during the revelation of her husband's infidelity, Da'Naia Jackson recalled the many emotions, including rage, murder, suicide, and obsession, she felt as the scandal raged on.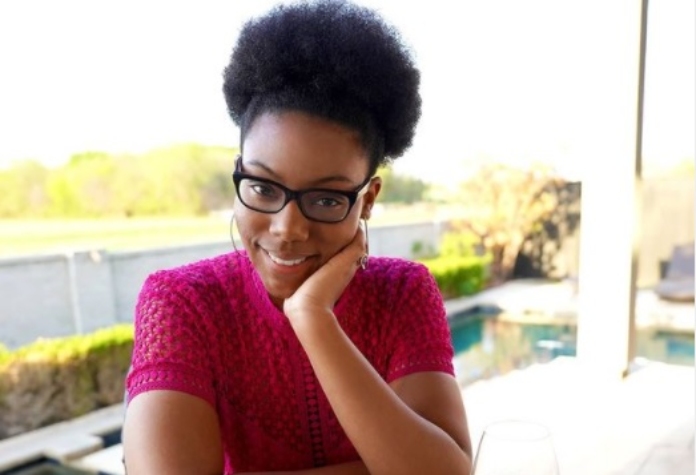 She also revealed that those feelings were compared to the same emotions she felt after she was raped. However, the revelation that she was raped was not enough to overshadow the cheating scandal. As such, there is no credible information regarding the events that led to the rape or afterward.
Jackson is a Stay At Home Mother of Two
These days Da'Naia is a stay-at-home mother who is more focused on her children's upbringing. She also supports her husband's career in the best way she can. She has served as the CEO of ShopDerrickJaxn LLC since 2014 with a substantial net worth of $700,000. Back at Tuskegee University, she was the Vice President of the Hospitality Club and a member of the Marching Crimson Pipers Band.
After college, she worked for TEK systems in 2012, selling IT services. She left TEK in July 2014 for Veredus A Hays Company to work as an account manager. A year later, she worked for tech USA as an account executive. She stayed for four months before eventually resigning in February 2016.