Erin Angle is the wife of Jon Bernthal, an acclaimed actor, and Walking Dead star. She is also the niece of a legendary pro wrestler – Kurt Angle. Erin Angle is an accomplished American trauma and anesthetist nurse in her own right
Angle and Bernthal started dating in 2000 and remained together for the next decade despite several tribulations. The couple later got hitched and their story has been one of happily ever after. They have welcomed three beautiful kids. Angle also wholeheartedly supports her husband while he places the family at the center of whatever he does.
Summary of Erin Angle's Biography
Full name: Erin Angle Bernthal
Gender: Female
Date of birth: 1977
Erin Angle's Age: 46
Ethnicity: Caucasian
Nationality: American
Sexual Orientation: straight
Educational institutions attended: the Indiana University of Pennsylvania, the University of Southern California.
Marital Status: married
Erin Angle's Husband: Jon Bernthal
Erin Angle's Children: Henry, Billy, and Adeline
Erin Angle's Parents: Dave and Cindy Abbondanza Angle
Siblings: Cassidy, Jackie, Kristen, Lea, and Mark Angle.
Erin Angle's Height in Inches: 5 feet 4 inches
Erin Angle's Height in Centimetres: 163 cm
Erin Angle's Weight: 52 kg or 115 lbs
Body measurements in inches: 34-24-35
Body measurements in centimeters: 86-60-88
Erin Angle's Net worth: $2.5 million
Famous for: Jon Bernthal's wife and Kurt Angle's niece
Erin Angle is the Niece of the Famous Pro Wrestler, Kurt Angle
Erin Angle was born in the year 1977 in Pittsburgh, Pennsylvania. Her nationality is American while her ethnicity is Caucasian. Erin Angle hails from a family of eight and it includes her dad – David Angle and her mom – Cindy Abbondanza. She also has five siblings. They include four sisters – Cassidy, Jackie, Kristen, and Lea Angle, as well as a brother named Mark Angle.
Asides from her immediate family members, Erin Angle is also related to legendary wrestler, Kurt Angle – one of the few wrestlers who hold the honors of having won an Olympic gold medal in freestyle wrestling and two NCAA Division I titles in heavyweight wrestling. He later proceeded to have a spell-binding career as a pro wrestler, notching the WCW, WWF/WWE world championships. Kurt Angle has four brothers, one of whom is Dave Angle. It, therefore, means that Kurt Angle is Erin Angle's uncle.
She is a Trauma and Anesthetist Nurse
Erin Angle spent her formative years in Pennsylvania and completed her high school diploma at the Canon-McMillan High School in Canonsburg in 1994. She thereafter enrolled in the Indiana University of Pennsylvania and completed a Bachelor of Science degree in nursing at the institution in 1998. Erin Angle further obtained a master's degree in anesthesiology from the University of Southern California in 2008. She has since fashioned a career for herself as a trauma nurse and a nurse anesthetist.
Erin Angle's Net Worth Is $2.5 Million
Erin Angle has an estimated net worth of $2.5 million and this comes from her career earnings. She commenced her career as a registered nurse at Georgetown University Medical Center in 1999. She spent two years with them and thereafter proceeded to work as an RN at several hospitals between 2001 and 2006. They include Massachusetts General Hospital, Beth Israel Medical Center, and USC University Hospital.
After qualifying as a nurse anesthetist, Erin Angle joined Harbor UCLA medical center in that role around 2009. She spent some years with them but it is highly doubtful that she is still actively working these days. Given her busy nature as a mom of three kids, as well as the fact that she is a celebrity wife, she may have elected to take a hiatus from work.
Erin Angle and Jon Bernthal Began Dating in 2000 and Wed in 2010
Erin Angle and Jon Bernthal first met each other at a bar in Washington D.C. in 2000. Bernthal was immediately mesmerized by Angle's beauty and made his move. Luckily for him, she was receptive to his overtures and they agreed to go on a date later. They thereafter started a romantic relationship. As at the time that the couple started their romance, Erin Angle was already starting her career as a nurse while Bernthal was still taking acting classes.
He later completed his studies and kick-started his career with a string of guest roles. As you can guess, it wasn't easy for the couple by any means but they stuck together through thick and thin and their love blossomed for the next few years. It wasn't all seamless though. At some point in the mid-2000s, Bernthal did a bunch of "dumb stuff" and Angle broke up with him. She relocated to another town but he refused to give up on their love. He continued begging her with an assortment of flowers and poems and she finally agreed to go to a concert with him.
The concert was given by legendary country singer, Willie Nelson, and Bernthal was able to get backstage and convince Nelson to play a track for him and Angle. She was of course impressed with this and they got back together. They were able to weather other storms that came their way. They later tied the knot on the 25th of September 2010. The ceremony took place at the Potomac and was conducted by Bernthal's acting teacher – Alma Becker.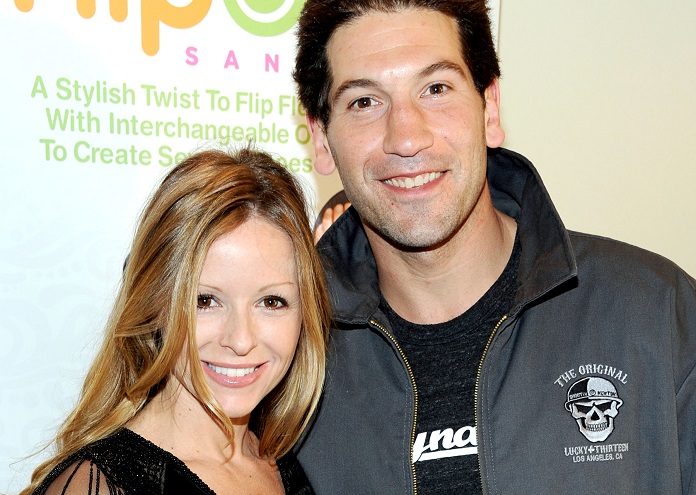 The Couple Now Has Three Kids Together
Erin Angle and Jon Bernthal have been married for more than a decade and in that time, they have thrived in every aspect of their life. Career-wise, Angle's husband has gone from chasing guest roles to starring as the major character in TV series such as The Punisher and Walking Dead. In their personal lives, the couple now has three children together. Their first child, Henry, was born in August 2011 while their second child, Billy, was born in February 2013. The couple welcomed their third child, Adeline, in March 2015.
I miss all my boys. Love from Nola. pic.twitter.com/tMo6EJbM

— Jon Bernthal (@jonnybernthal) February 19, 2013
The entire family makes their home in Ojai, California, and tries to stay away from the spotlight in order to have a normal life. Erin Angle only accompanies her husband to the red carpet on rare occasions and hardly grants interviews. She is also not active on social media, at least not under her known monikers. This makes it a bit difficult to gain a view into their family dynamic but her husband has been more forthcoming.
He has revealed that he is gutted to be away from the family for work. He however tries to make it up to them by being 100% focused and present when he is at home. The actor has also praised Angle for the smooth running of their home and has revealed that he wants to teach his children to be kind.
Erin Angle Height, Weight, and Other Body Measurements
Erin Angle boasts of a slim build, as well as an average height. The trauma nurse is 5 feet 4 inches tall and weighs 52 kg. Her other body measurements are bust – 34 inches, waist – 24 inches, and hips – 35 inches. Her attractive build is completed by hazel-colored eyes and blonde hair. Erin Angle is naturally petite and so should have no trouble staying in shape. There is however no doubt that she would pursue a healthy lifestyle all the same.
Key Facts About Erin Angle
Who is Erin Angle? Erin Angle is the wife of actor Jon Bernthal, known for his roles in "The Walking Dead" and "The Punisher." She comes from a family of championship wrestlers, including her uncle, WWE legend Kurt Angle.
What is Erin Angle's profession? Erin Angle is a trained nurse. She received her nursing degree from Indiana University of Pennsylvania in 1998 and later completed her Masters in Anesthesiology in 2008 from the University of Southern California.
When and where did Erin Angle and Jon Bernthal get married? Erin Angle and Jon Bernthal got married on September 25, 2010, in Potomac, Maryland. They had been dating for several years before they tied the knot.
How many children do Erin Angle and Jon Bernthal have? Erin Angle and Jon Bernthal have three children together: Henry, Billy, and Adeline.
What is the story behind Erin Angle and Jon Bernthal's brief split? Before their marriage, Erin and Jon had a brief split. They got back together after attending a Willie Nelson concert together, where Jon requested a song, "Always on My Mind," to be played for them.
What happened to Erin Angle and Jon Bernthal's daughter, Adeline? Adeline, Erin and Jon's youngest child, fell into a coma due to encephalitis, an inflammation of the brain tissue, at the age of 2 in 2017. After three days, she woke up and made a full recovery.
Where did Erin Angle grow up? Erin Angle was born in 1977 in Pittsburgh, Pennsylvania. She has five siblings and is the niece of WWE legend Kurt Angle.
What is Erin Angle's connection to wrestling? Erin Angle comes from a family of champion wrestlers. Her uncle is Kurt Angle, a WWE legend who also competed in the 220-pound freestyle wrestling competition category at the 1996 Olympic Games in Atlanta.
Is Erin Angle active on social media? No, Erin Angle is not active on social media. She prefers to stay out of the public eye and allows her husband to share news about their family life.
Does Erin Angle have any pets? Yes, Erin and her husband Jon Bernthal have several pets, including pit bulls named Bam, Boss, and Venice. They previously owned English Mastiffs.
What is Erin Angle's height and weight? Erin Angle stands 5 feet 4 inches tall and weighs approximately 115 lbs or 52 kg.
What is Erin Angle's current residence? As of the last update, Erin Angle and her family reside in Los Angeles. They previously owned a cottage in Venice, California, which they sold for $2 million.