Stetson Wright does not have a wife. However, he has a girlfriend named Callie Rey Lowe, to whom he is engaged. The duo have been dating for many years and got engaged in 2019. Both are very much in love, and it appears that the wedding bells will soon be ringing.
Wright gained massive fame after winning three back-to-back all-around world championship titles from 2019 to 2021. The bull rider has gained quite a huge following on social media and is loved by many. He is also the proud father of a beautiful daughter whom he shows off on social media at every chance he gets to do so.
Is Stetson Wright Married?
Recently, some rumors have been circulating around social media that Stetson Wright is a married man. Some of these claims state that Wright got married when he was around the age of 21. However, after investigating these claims, it has been confirmed that they are not quite true.
At the moment, there is no evidence to prove that the bull rider has tied the knot with anyone. He is still very much an unmarried man as things stand. But that will soon change if everything goes as planned for him.
Stetson is Engaged to Callie Rey Lowe
Stetson Wright is not married yet, but he is engaged to his lover, a woman called Callie Rey Lowe. According to reports, Wright proposed to her on May 19th, 2019, and she accepted. The exact details of their courtship are not known, and it is not clear when exactly they met and started their relationship.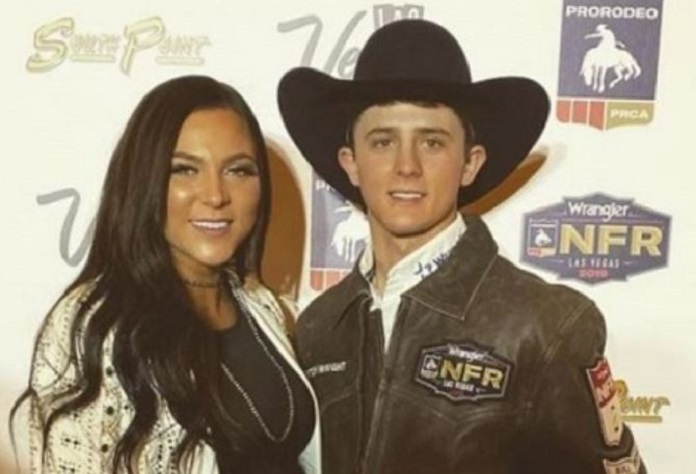 However, reports say they have been together for a while. It is also quite clear that Stetson and Callie have been deeply in love during that time. They are reported to love spending a lot of time together and have even been spotted in public together on numerous occasions. Callie has also been welcomed into Stetson's family, and they appear to have formed a close bond.
Despite their engagement in 2019, Stetson and Callie have not yet tied the knot. It is unclear when their wedding will take place, but it may be that they are taking their time to plan a special and meaningful celebration. Their decision to wait is a personal one, and they have not provided any details on when the wedding will occur. So, while there have been rumors that Stetson Wright is already married, the truth is that he is still engaged to his beloved girlfriend, Callie Rey Lowe.
Who is Stetson Wright's Girlfriend?
Stetson Wright's lover, Callie Rey Lowe, is a woman of many talents and accomplishments. While she tends to keep a low profile, some details of her life and career have been revealed. According to reports, Callie Rey was born in Utah, USA, although her exact date of birth remains undisclosed. She attended Rocky Mountain Jr High School in West Haven, Utah, before moving on to Fermont High School, where she continued to excel academically and socially.
It is not clear if she attended any college; however, she is now a talented hair and makeup stylist. Callie Rey's passion for makeup and hair styling led her to pursue a career in the beauty industry. She is now quite an accomplished hair and makeup stylist based in Utah, and her work has earned her recognition and accolades from clients and fans alike. She takes pride in her craft and is constantly honing her skills to provide her clients with the best possible service.
Callie Rey's business page on Instagram is a testament to her talent and creativity. It is filled with samples of her work, showcasing a diverse range of styles and techniques. Her clients are quick to praise her attention to detail, professionalism, and friendly demeanor, making her a sought-after stylist in the region.
While Stetson Wright's accomplishments in the rodeo world have earned him widespread recognition, Callie Rey's successes in the beauty industry are equally impressive. Together, they form a dynamic and accomplished couple, each pursuing their passions while supporting each other every step of the way. She appears to be a valuable partner to Stetson Wright, and their journey together is a true testament to the power of love and mutual support.
Interestingly, Callie Rey Lowe, Stetson Wright's fiancée, is not only a talented hair and makeup stylist but also an avid horse lover. Her passion for horses is evident on her social media accounts, where she frequently shares photos and videos of her beloved animals.
According to some reports, Callie used to be a professional equestrian, which would explain her impressive riding skills. She owns several horses and is often seen riding them in picturesque settings, such as the rolling hills of the Utah countryside.
On her social media bios, Callie proudly identifies as a "cowgirl," a term that encapsulates her love for horses and the western lifestyle. Her enthusiasm for this way of life is infectious, and she has amassed a sizable following of fellow horse enthusiasts. It is clear that horses play an essential role in Callie's life and that they bring her immense joy and fulfillment.
Aside from her work as a stylist, her passion for these majestic creatures is just one of the many things that make her a remarkable and interesting person, and it is evident that Stetson admires and supports her love for horses because he is a bull rider himself.
Does Stetson Wright Have Children with His Partner?
Stetson Wright and his lover, Callie Rey Lowe, are now the proud parents of a beautiful daughter named Kingsley Rey Wright. Kingsley was born on January 8, 2020, at around 8:33 pm, weighing 7lbs and 7oz. Stetson couldn't contain his excitement and took to Instagram to share the news of his daughter's birth with his fans and followers.
Since then, Stetson has been a devoted and loving father, sharing adorable photos and videos of Kingsley on his social media pages. He considers being a father to his daughter his most significant accomplishment in life, and she has become a source of inspiration and motivation for him and his lover. In several posts he made on social media, Stetson has described the birth of his daughter as the most wonderful thing to have ever happened to him.
Stetson and Callie Rey are devoted parents who strive to provide their daughter with the best possible care and support. They share a deep bond with Kingsley and are actively involved in her upbringing and development. Callie Rey is a doting mother who cherishes every moment she spends with her daughter. She frequently shares multiple photos of Kingsley on her Instagram page, showcasing the strong bond they share.
The love and affection that Stetson and Callie Rey have for their daughter are evident in every image and post they share on social media. Apparently, the birth of Kingsley Rey Wright has brought the couple even closer to each other and has helped them bond some more.
Was Stetson Wright in a Previous Relationship Before His Callie Rey Lowe?
There have been some questions about whether Stetson Wright had previous relationships before he met Callie Rey Lowe. This has been a topic of discussion among his fans and followers. However, the answer to this is not clear. While some have speculated that Stetson might have been involved with other women before meeting Callie, there is currently no evidence to support these claims.
It is possible that Stetson and Callie were each other's first love, given that they dated for some time before getting engaged. However, only Stetson himself can confirm whether he had any previous romantic relationships before meeting his current lover. As of now, any information about Stetson's past relationships remains speculative, and it is unclear whether he had any previous romantic partners.