Mark Schlissel has a wife, and his wife's name is Monica Schwebs. Mark Schlissel's wife is renowned energy and environmental lawyer, and they tied the knot in 1985. They subsequently thrived in their various careers. They also welcomed four children, all of whom are high-flying achievers in their fields.
Mark Schlissel and his wife have had a relatively wonderful union, but all they built together was threatened in 2021 after it emerged that Schlissel had embarked on an inappropriate relationship with one of his subordinates at the University of Michigan. This revelation led to a scandal of magnificent proportions, but there is no indication that Schlissel's wife has divorced him.
Who Is Mark Schlissel's Wife Monica Schwebs?
Mark Schlissel is married to Monica Schwebs. Like her husband, Schwebs is a highly accomplished and cerebral fellow. She obtained a bachelor's degree from Princeton University in 1979. She attended the University of Virginia Law School and completed her JD in 1982. Schwebs has since gone on to become a renowned environmental and energy lawyer.
She is experienced in both federal and state legislation on energy and the environment, and her clientele includes financial institutions, government agencies, and developers. She has assisted them with hydroelectric licensing, climate change and regulation of greenhouse gas emissions, petroleum refining, and oil pipeline. She has received several awards, including a special commendation for outstanding service from the Justice Department.
The Two Began Dating During Their College Days at Princeton, and Wed in 1985
Mark Schlissel first met his future wife, Monica Schwebs, during their college days at Princeton University in the mid-70s. Though they were enrolled in entirely different faculties (he in biochemical sciences and she in arts), they bumped into each other at some point. They bonded over some shared interests and began dating in earnest.
Schlissel and Schwebs dated for the majority of their college days and continued their relationship after they graduated in 1979. They sustained it for several years and eventually tied the knot in 1985. At that time, Schwebs had qualified as a lawyer while Schlissel was still going through residency and post-doctoral research. She, therefore, supported him.
They Have Four Children, including a Daughter Named Madeline
The marriage between Mark Schlissel and Monica Schwebs has produced four children. The eldest is a son named Darren Schlissel. Schlissel studied psychology at Cornell University and is a chartered financial analyst. He has worked for several investment companies, including Guggenheim Partners. He is now the head of global investments at PayPal.
Mark Schlissel's second child is a daughter named Elise Tremblay nee Schlissel. Elise is a pediatric endocrinologist. She studied at Yale University School of Medicine and the University of Pennsylvania School of Medicine. She has worked in places such as Connecticut and Boston.
Mark Schlissel's third child is another son named Gavin. He followed in his footsteps and has completed a Ph.D. in molecular biology. He is now a post-doctoral fellow at the Whitehead Institute.
Mark Schlissel's last child is a daughter named Madeline. Madeline holds a degree in environmental studies from brown university. She also has a master's degree in social work and specializes in children's foster care services.
Mark Schlissel was Accused of having an Affair with a Subordinate at the University of Michigan in 2022
Mark Schlissel had built an outstanding career and a wonderful family life for himself. He, however, jeopardized it by engaging in what was deemed an inappropriate relationship with a subordinate at his place of employment, the University of Michigan. Schlissel was appointed the president of the university in 2014, and his appointment generated a whole lot of enthusiastic responses.
His family was also overjoyed for him, and his wife even joined him in touring the town of Michigan after his appointment. He later resumed duties that same year and performed admirably during his five-year first term. For this, he was handed another five-year term in 2019, but he never saw it as it emerged that he had been involved in unethical conduct.
The first report of that unethical conduct was made in December 2021, and the university embarked on an independent investigation. The investigation revealed that Mark Schlissel had commenced an inappropriate relationship with a female employee at the university back in 2019.
He and the lady often used their official email addresses to communicate, and their communications showed them talking about TV shows and trying to coordinate their travel plans. Schlissel also sent the lady gifts from Amazon and Etsy, and they talked about missing each other.
The Scandal Made Mark Schlissel Lose His Job as the President of the University of Michigan 
The disclosure of Mark Schlissel's improper relationship with a subordinate caused a great scandal in Michigan and beyond. People were appalled by the fact that he had previously overseen the implementation of a rule which banned supervisor-subordinate relationships in the school.
His actions were therefore seen as the hypocrisy of the highest order, and many media organizations called him out. The university students also mocked him and turned some of his emails into memes and likes.
Mark Schlissel was later fired from his position as president in 20222. He was, however, allowed to come back as a faculty member after a one-year leave. He was also paid a settlement sum of $463,000.
The Identity of Mark Schlissel's Girlfriend Remains a Mystery
Throughout the whole scandal, the identity of the person that Mark Schlissel was emailing has remained a mystery. The university concealed the identity, but it is known that the person is a woman and that she is an employee of the university. Beyond these bare facts, nothing else exists, and there have been several speculations.
One of the ladies alleged to have had an improper romance with Mark Schlissel is Christina Bradley. A look at LinkedIn shows that Christina Bradley has been a doctoral candidate in management and organizations at the University of Michigan since 2019 till date. There is, however, nothing to show that she is an employee there.
Another person that has been linked with Mark Schlissel is Erika J Hrabec. Hrabec is an executive assistant and chief administrator at the president's office of the University of Michigan. She joined the institution in 1999 and has served four presidents since then. Erika Hrabec may be the person that Mark Schlissel had an improper exchange with, but it is also possible that she is not.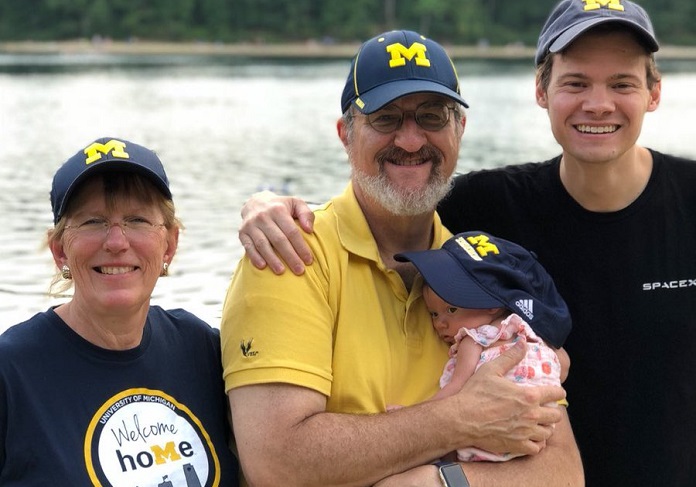 Mark Schlissel and his Wife Remain Together for the Time Being
Despite the whole scandal, Mark Schlissel and his wife, Monica Schwebs, remain together. There is nothing to show that they are getting a divorce, but that could still happen as this is early days. Then again, they may not get divorced as Mark Schlissel has maintained that his relationship was non-sexual and consensual. Only time will tell if such an explanation will ameliorate Schweb's hurt feelings.