Dakota Alan Norris (born 30th of August 2001; Age: 21 Years Old) is an American martial artist and the son of Chuck Norris, the legendary Hollywood movie superstar.
Dakota decided to get into combat sports at the tender age of eight, and after eight years of vigorous training sessions, he earned a second-degree black belt. He is currently a third-degree belt holder, according to his dad. The youngster is also into other popular combat sports like karate, gymnastics, and more.
Summary of Dakota Alan Norris's Biography
Full Name: Dakota Alan Norris
Gender: Male
Date of Birth: 30th of August 2001
Dakota Alan Norris' Age: 21 years Old
Ethnicity: Mixed
Nationality: American
Zodiac Sign: Vigo
Sexual Orientation: Straight
Religion: Christianity
Marital Status: Single
Dakota Alan Norris' Parents: Carlos Ray "Chuck" Norris (father), Gena O'Kelley
Siblings: Danilee Kelly Norris (sister), Michael "Mike" Norris (half-brother), Dina Norris DiCiolli (half-sister), Eric Scott Norris (half-brother), Timothy Robert Hinschberger (half-brother), and Kelley Gene Tagudin (half-sister)
Dakota Alan Norris' Height in Inches: 5 feet 8 inches
Dakota Alan Norris' Height in Centimetres: 173 cm
Dakota Alan Norris' Net Worth: $200,000
Famous For: Being the son of Chuck Norris
Dakota Alan Norris' Instagram: @d.ak.ot.a
How Old is Dakota Alan Norris?
Dakota Alan Norris is 21 years old as he was born on the 30th of August 2001. The records captured his place of birth as Los Angeles, California, United States. It goes without saying that being born in the US makes Dakota an American by nationality. His ethnic identity, however, isn't straightforward. Though his mum is listed as White, Dakota's dad comes from a mixed ancestry of Cherokee and Irish.
Dakota is best known as the son of actor and martial artist Chuck Norris and was born during his second marriage. The youngster grew up in his place of birth, CA, where he accomplished his early academic journey, though the institutions of learning he favored have never been disclosed.
He was Born Premature
It is common knowledge that Dakota Alan Norris is a twin, and most twins usually don't complete nine months before they are born; this was exactly what happened in his case.
It was during the World Stunt Awards of 2001 that the legendary actor cum martial artist and his second wife announced the coming of their twins. The proud mother-to-be was seen flaunting her baby bump at the occasion, looking radiant.
Though they didn't bother to intimate fans of the expected day of delivery, it later came to the fore that the couple welcomed their twins one month earlier than expected. Instead of the end of July, their bundles of joy came on the last day of August. However, there was no need to entertain any fears as the delivery was accomplished without complications.
Who is Dakota Alan Norris' Dad and What Does He Do For A Living?
The story of the American movie industry can never be deemed complete without giving a mention to Chuck Norris, whose full name is Carlos Ray "Chuck" Norris – an actor of great repute, a celebrated martial artist, a competent screenwriter, and one of the best movie directors in Hollywood.
Before venturing into the moving movie world, Dakota Alan Norris' dad served in the US Air force for four years from 1958 to 1962 before going in for martial arts competitions where he excelled beyond his widest imaginations, sweeping several championships on the way. His solid foundation in martial arts and combat sports led Chuck to earn several black belts in Tang Soo Do, judo, and Brazilian jiu-jitsu.
Thanks to the success he recorded in the field, Chuck was able to launch "Chun Kuk Do," his own training school for people who wish to become martial artists. Most of his clients were Hollywood celebs, and before long, Chuck began scoring cameos in the movies. The box office smash entitled Way of the Dragon marked his big break in the movies as he played the role of the main villain to perfection.
Chuk has since played other major roles in Breaker! Breaker!, A Force of One, Good Guys Wear Black, Missing in Action, Walker, Texas Ranger, and more. Dakota Alan Norris' dad is today recognized as one of the greatest action heroes to ever come out of Hollywood. He is equally recognized as a screenwriter, director, and author of martial arts-related books.
Meet Dakota Alan Norris' Mother
Chuck Norris's second wife, Gena O'Kelley (aka Gena O'Malley), is the mother of Dakota Alan Norris. Born in California on the 10th of August 1963, Gena is the daughter of Anette O'Kelley and the late Alan Gordon O'Malley, who passed on in 2008 after working with Hewlett-Packard and Kunde Winery as security staff.
One of four children, Gena grew up alongside three siblings – Eric, Maureen, and Elizabeth. A former model and actress, she only earned wider popularity after she tied the knot with Chuck Norris. Today, she is a businesswoman who has accomplished a lot in collaboration with her husband. Dakota Alan Norris' mum is the co-founder and chief executive officer of CForce Bottling Water Company (co-founded with Chuck).
Dakota Alan Norris' Parents were Already Married By the Time They Had Him
Chuck Norris and Gena O'Kelly's union was already inching towards its third year by the time they welcomed Dakota Alan Norris and his twin. According to kept records, the celebrity power couple went to eat at a Dallas, Texas restaurant in 1997 when they first crossed paths.
Their first meeting has a very interesting story behind it; reports said the legendary martial artist cum movie superstar was at that restaurant with another lady when he laid eyes on Gena. Encumbered by the presence of his date, Chuck had to leverage the help of his assistant to arrange a meeting with Gena, who was then 34.
Despite the generational age gap of 23 years between them, Gena and Chuck agreed to a date and had their first official outing in Dallas. Chuck soon got to know that Gena had already been through one marriage and divorce from Gordon Hinschberger, and the same applies to the iconic actor who was once married to Dianne Kay Holechek from 1958 to 1989.
Dakota Alan Norris's parents finally tied the nuptials on the 28th of November 1998, and they have kept the flame of their love burning for almost two and a half decades.
Dakota's Relationship with His Father

It is common knowledge that Chuck Norris has always been a doting father to his children, and it is no different with Dakota Alan Norris. Father and son share a very strong bond that has seen them achieve exceptional success together.
Dakota was just an eight-year-old lad when he went under the tutelage of his legendary martial artist dad to learn the ropes of combat sports. Important to note that Dakota shared this experience with his twin sister as they evolved into martial arts experts under Chuck's expert guidance.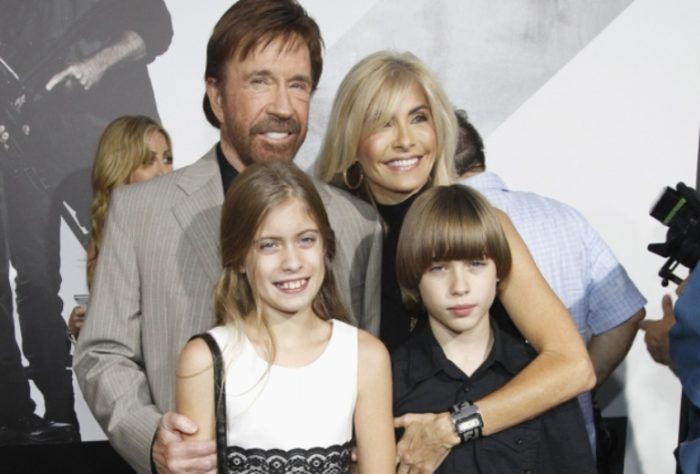 After eight long years of training both under their dad and coach Derrick Stinson, the Norris twins displayed exponential growth in their prowess earning a second-degree black belt following a test with Stinson.
Chuck, who has always displayed pride in his children's success, was the first to take his Facebook page in 2015 to share the good news. The Proud papa praised his twins for their hard work and determination, revealing that he and Gena are proud of them for earning their new black belt rank, which according to him, is well deserved.
Apart from the news about their success in martial arts, Dakota Alan Norris's dad never misses an opportunity to feature his children on his socials. On the Christmas Day of 2021, he leveraged his IG handle @chucknorris to share a lovely family picture that got a lot of response from fans
Dakota Alan Norris is One of Chuck Norris' Seven Children
Dakota Alan Norris has six siblings – three half-siblings from his father's past relationships – Michael Norris, Erick Norris, and Dina Norris DiCiolli; there are two half-siblings from his mother's previous marriage – Kelley Gene Tagudin and Timothy Robert Hinschberger, including his twin sister, Danilee Kelly Norris.
Danilee Kelly Norris is Dakota's Twin
Danilee Kelly Norris is Dakota's only direct sibling who shares the same mother and father as him. It goes without saying that the duo shares the same date of birth – August 30, 2001, but the question of who came into the world first has never been answered.
Danilee may end up in the entertainment industry as she has already experimented with some acting roles in the 2005 Walker, Texas Ranger: Trial By Fire, where she played Angela Walker alongside her dad. Like her twin, she also appears to be following their father into MMA, as she is already a second-degree black belt holder
Mike Norris is the Oldest Among the Norris Brood
Born on the 4th of October 1962, Michael Norris was the first child born to Chuck Norris and his first wife, Dianne Holechek. Mike also followed the same career path as their legendary father, as he is listed as an actor who specializes in stunt work. Dakota Alan Norris' oldest half-brother is equally a movie director and writer.
He has been married since 1992 and shares three children with his wife, Valerie.
Eric Scott Norris is the Second Son of Chuck Norris
Eric Scott Norris is the second son born of Chuck and his first wife, Dianne; they had him on the 20th of May 1965. It is quite obvious that creative genes run in the veins of every member of the Norris brood, as Eric is also part of the movie world with a specialty in stunts, just like Mike. Also a competitive race car driver, Chuck Norris' second son has won a few contests.
He is married to Stephanie, and they are parents to four children.
Dina Norris DiCiolli Is Dakota Alan Norris' Oldest Half-sister
Dakota Alan Norris's older half-sister from his father's side is Dina Norris DiCiolli. She is a product of Chuck's clandestine affair with a lady simply known as Johanna. The movie superstar dated Johanna while still married to Dianne and never bothered to tell her that he was a married man.
The exposure of Chuck's deceit led to the end of his marriage with Dianne, and Johanna left without telling him she was pregnant. Dina, who was born in February 1963, eventually got to meet her father but she was already married with children then. On his own part, Chuck never hesitated in embracing Dina and welcomed her into the family.
Dina is married to Damien, and they share two children.
Kelley Gene Tagudin is Dakota's Half-Sister From His Mother's First Marriage
Kelley Gene Tagudin is Dakota's half-sister from Gena's first marriage to Hinschberger; she was born on the 11th of September 1885.
Timothy Robert Hinschberger is Also From Gena
Timothy Robert Hinschberger is Dakota's half-brother from Gena's marriage to her first husband; his date of birth reads the 3rd of May 1987. Both Kelly and Timothy seem to have nothing to do with the limelight, as they are obviously engaged in mundane jobs.
Did Dakota Alan Norris Follow His Father's Footsteps?
While it is not clear whether Dakota Alan Norris will later follow his movie superstar dad into Hollywood, the celebrity kid has already created a niche for himself in martial arts.
Chuck's achievements in martial arts inspired Dakota to follow suit, and the youngster was just eight when he took the decision to train in the comeback sports. Under the watch of his dad and later, Derrick Stinson, Chuck's youngest son blossomed into the formidable martial artist we all know today.
Dakota Alan Norris became a second-degree belt holder after eight years of training and is currently a third-degree black belter, according to his dad. Apart from his stint in martial arts, Dakota is equally an accomplished gymnast. Armed with such stellar skills in combat sports, the 21-year-old will definitely hit the ground running when he eventually decides to follow his dad into Hollywood.
We must not forget to factor in his recent IG post, where the MMA artist said he had a fun time filming with his dad; this suggests that he already has something to do with the movies either behind or in front of the camera.
Dakota is Present on Social Media Platforms
Like many other celebrity kids of his ilk, Dakota Alan Norris has launched a few social media accounts through which he touts his trade. He can be located on both YouTube and Instagram.
Chuck Norris' last son is relatively new on YouTube as he came on board in January 2019. Dakota didn't even start operating his account immediately, he had to wait until October 2020 before uploading his first video. The kind of videos he shares on his YouTube channel are those related to his martial arts skills. There are still a few where the youngster's karate and gymnast skills are put on display.
Other videos to expect from the channel are training clips with his superhero dad. Dakota doesn't upload videos often. However, the little content he does have has attracted over 287 subscribers and still counting.
Dakota also leverages his Instagram handle @d.ak.ot.a to share stuff about his combat sports. When he earned his black belt, he wasted no time in taking to his Insta Stories to tell the world about his great feat. Through the same post, he expressed his profound gratitude to his family, friends, and his MMA instructor, Derrick Stinson, for their unflinching support.