Cole Cameron Leinart is a two-sport athlete and son of Brynn Cameron and Matt Leinart. His mother, Brynn Cameron, played basketball in college, while his father, Matt Leinart, is a former football star. Cole, on his part, has not done anything to make him a person of interest to the media, but by virtue of who his parents are, he too has some level of fame.
Raising Cole as a single mother has not been easy for Brynn Cameron, but she has done well and is a great mom. Though Cole's father is not with his mother, he claims to have done his part in showing so much love and interest in his upbringing.
Cole Cameron Leinart's Biography Summary
Full Name: Cole Cameron Leinart
Gender: Male
Date of Birth: 2006
Ethnicity: White
Nationality: American
Religion: Christianity
Cole Cameron Leinart's Parents: Brynn Cameron and Mathew Leinart
Half-Siblings: 4 – Ford Wilson Cameron-Griffin, Finley Elaine Griffin, Cayson Leinart, and Cannon Asis Leinart
Famous for: Being the son of Mathew Leinart with Brynn Cameron
Cole Cameron Leinart's Instagram: @cole.cameron.leinart
Twitter: cole__leinart
Who Is Cole Cameron Leinart?
Cole Cameron Leinart's actual date of birth is unknown at the moment, but he was born in 2006. Going by the foregoing statement, it is difficult to tell his exact age. Besides his age, there are so many details about his early life that are not available in public space; we, however, know that he weighed 6lbs and 7oz at his birth.
His mother, Brynn Cameron, realized she was pregnant for him after breaking up with his father, Matt Leinart. As such, Cole Cameron Leinart was raised by his mother, who prefers to keep him away from the prying eyes of the public. He is currently a student at Mater Dei High School, the same school his father attended. He is expected to graduate from high school in 2026.
Cole Cameron's Mother, Brynn Cameron, Played Basketball in School
Brynn Cameron attended Newbury Park High School and is a graduate of the University of Southern California. She graduated in 2009 with a degree in Sociology. While in high school, she played basketball, and as a freshman at the university, she made it to the list of top scorers with 9.8 points per game. She was also number 25 in the rank of the three-point field goal percentage.
However, by the time she was graduating from college, it was already clear that she could not push through with a basketball career, seeing that she had to undergo two hip surgeries. Today, Brynn works as an interior decorator. In 2012, she became a sports marketing executive for big brands like Gatorade and Adidas.
Brynn Elaine Cameron was born on the 8th of July 1986 and is of white Caucasian ethnicity. She was born into the family of Stan Cameron and Cathy Cameron.
Cole's Father Is Also A Former Football Player
Mathew Cole Cameron is a former American quarterback football player who played for the National Football League (NFL). He started his career in high school, and in 2001, he joined the University of Southern California football team, where he won the Heisman Trophy.
He was a key player and led his team to victory as a junior. In 2005, before leaving the team, he won the 2005 Orange Bowl. From 2006 to 2009, he played for the Arizona Cardinals, and from 2010 to 2011, he plied his trade with the Houston Texans.
In 2012, he played for Oakland Raiders, and in 2013, he moved to the Buffalo Bills before retiring from football. Currently, he works for Fox Sports as an on-air college football analyst.
Cole Cameron Leinart Is Athletic Like His Parents
Cole Cameron Leinart is also an athlete like his parents. However, he is a two-sport athlete who plays both basketball and football. His father, Matt, who is quite proud of his son, has opined that Cole Cameron Leinart is faster and more athletic than he was in high school. He plays as a quarterback, and there are many reports about how fast he is in that position.
In 2021, Cole caught the attention of ESPN football analyst Dan Orlovsky who made a post on Twitter advising schools not to miss out on Matt Leinart's son, who will be graduating in 2026.  As an eighth-grader, he plays on the same team as Elijah Williams, the son of the current head coach and former NBA guard Monty Williams, and together, they are referred to as unstoppable.
All eyes are on the young talented player to see if he will continue with football or basketball, and whichever one he decides to do, Cole Cameron Leinart is undoubtedly going to do well.
His Parents Met in College
Cole Cameron Leinart's parents met in the study hall at the University of South Carolina. In that first conversation, they bonded over the fact that they wore the same jersey number –  Number 11 – in their respective sports.
We don't know the exact time they started dating, but we know that they dated for about one year before breaking up. And not long after the breakup, Brynn realized that she was pregnant with Matt's child.
Brynn Cameron Had To Leave College For One Year To Have Cole Cameron
When Cole's mother realized she was pregnant with him, she felt like it was over for herself and her unborn child. She thought she had ruined her life, and it was the end for her and her basketball career. Brynn felt being pregnant in college was the worst thing that could happen to a person. She preferred finishing college then getting married before having a child.
Regardless of how she felt, she had to face her reality. She took a break from college for one year to have her child as she dedicated her life to ensuring that her child comes into the world and he gets the best.
She Accused Matthew Of Not Being There For Cole
After Cole Cameron was born, things did not get better for his parents. Brynn revealed that she was not finding it easy to take care of her child alone. It required almost every bit of her time, and she was finding it difficult to create time for things as small as reading a magazine, whereas Mathew preferred the fame and glamor of Hollywood rather than creating time to be a father to his son.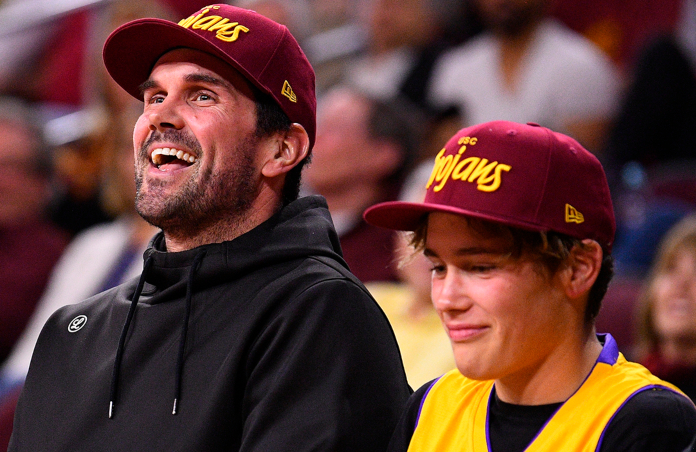 However, contrary to Brynn Cameron's claim that Mathew Leinart was not there for his son, the latter made a statement in 2007 about how he loved Cole more than anything in the world and how he loved changing diapers. He also mentioned the fact that he cared about Brynn as well.
Cole Cameron Leinart Has Four Half Siblings
Cole Cameron Leinart has two half-siblings from his mother and two from his father. After having Cole, Brynn Cameron took another chance at love, and she got into a relationship with the NBA player Blake Griffin.
They met in 2009 and started dating, and their relationship brought about two children – Ford Wilson Cameron-Griffin and Finley Elaine Griffin. On the other hand, Mathew Leinart is married to actress Josie Loren, and they have two sons – Cayson and Cannon Asis Leinart.
Meet Cole Cameron's siblings:
Ford Wilson Cameron-Griffin
Cole Cameron Leinart's half-brother, Ford Wilson, was born on the 1st of August 2013 to his mother Brynn and NBA star Blake Griffin. Brynn has been responsible for raising Ford, and as such, Cole should have an amazing relationship with him.
Finley Elaine Griffin
Three years after the birth of Ford, Brynn Cameron gave birth to Finley Elaine Griffin in September 2016. After her birth, Brynn got engaged with Blake Griffin, and together, they planned a beautiful future for themselves and their children. Unfortunately, their engagement was called off.
Cayson and Cannon Asis Leinart
Cayson and Cannon are Cole Cameron Leinart's half-siblings from his father. Cayson was born in 2020, while Cannon Assis was born on the 24th of May 2021. Both Cannon and Cayson live with their father, and as such, we can't say for sure what Cole's relationship with them is like.