Brynn Hartman was an actress and swimsuit model who struggled to make it in the American movie industry. For a woman, she had quite an imposing physical stature standing at 178cm. She also possessed a slim healthy figure, weighing 143lbs. Her blonde hair and sensual blue eyes were some of her eye-catching physical assets. Brynn Hartman loved Italian cuisine and stated that her ideal location for a relaxing vacation was Paris, France. She is best recognized as the wife of the late Canadian-American actor, graphic artist, screenwriter and comedian, Phil Hartman.
A Quick Profile Summary Of Brynn Hartman
Full Name: Vicky Jo Omdahl
Popularly Known As: Brynn Hartman
Gender: Female
Date of Birth: April 11, 1958
Date of Death: May 28, 1998
Age (At Year of Death): 40 years old
Birthplace/Hometown: Thief River Falls, Minnesota, USA
Ethnicity: Multiracial
Nationality: American
Zodiac Sign: Aries
Sexual Orientation: Straight
Religion: Christianity
Marital Status: Married
Husband: Phil Hartman
Children: 2 (Sean Edward Hartman, Birgen Anika Hartman
Parents: Donald Gene and Constance Faye Omdahl
Siblings: 3 (Katherine Omdahl Wright, Gregory Clark Omdahl, and Deborah Omdahl Borreson)
Height in Inches: 5'10"
Height in Centimeters: 178cm
Weight: 64kg (143lbs)
Body Measurements: 38-30-40 (Breast-Waist-Hips)
Shoe Size: 8
Eye Color: Blue
Hair Color: Blonde
Net Worth: $200,000
Famous For: Being the wife of late comedian Phil Hartman
Brynn Hartman Was Born And Raised With Her Siblings In Minnesota
Brynn Hartman was born on April 11, 1958, as Vicky Jo Omdahl, in Thief River Falls, Pennington, Minnesota, USA. Her father's name is Donald Gene Omadahl, an engineer, and her mother is Constance Faye Omdahl, who owned a retail shop at the time of her birth. She was born into a practicing Christian family. Her zodiac sign was Aries.
Brynn grew up in Minnesota with three siblings, a brother named Gregory, and two sisters, Katherine and Deborah. Her brother once said in an interview with ABC, that while they were growing up in Northern Minnesota, Brynn was the chief troublemaker and the family fun merchant. The family was a close-knit one evidenced by the way they've supported one another in the course of their lives.
Details of her educational background are not exactly public but it is clear that she had her basic formal education in Minnesota where she spent most of her childhood and early adulthood. She had big dreams of becoming a celebrity actress and after school, she set off for the big cities to achieve her goal. Her first stop was in Los Angeles where she struggled to get a gig. She eventually started modeling, appearing in swimsuit campaigns to make ends meet while waiting for an opportunity in Hollywood.
She Met Phil Hartman On A Blind Date and Married Him In 1987
The ill-fated couple met each other on a blind date in 1986. Brynn was a Catalina swimsuit model and Phil was a graphic designer and an actor who was a rising Hollywood star. He thought then that she was strikingly beautiful and would be good for his self-image which had taken a serious beating as a result of two previous divorces.
They dated for about a year and got married on November 25, 1987. Brynn was Phil's third wife, while he was her second husband. They lived happily in their Manhattan apartment and were supposedly one of the happiest couples in Hollywood. The union produced two children, Sean Edward Hartman and Birgen Anika Hartman. Sean was born in 1988 and his sister, Anika, followed four years later in 1992.
Brynn Hartman Grew Envious Of Her Husband's Success
The happy bubble they lived in evaporated with the continuous rise of Phil Hartman in Hollywood. The contentious nature of the marriage stemmed from the fact that while Phil's Hollywood career took off, with him as a beloved member of Saturday Night Live (SNL) and diverse voice-over appearances on several editions of The Simpsons, Brynn's image seemed to fade into oblivion.
She had become a failed actress and took to drugs to help her cope with her frustrations. Her erratic drug-fuelled behavior forced Phil to regularly send the kids to stay with friends or family.
She became even more possessive of her husband which became obvious after the birth of their second child. Phil Hartman's 2nd ex-wife, Lisa Strain, had sent congratulatory messages which were not well received by Brynn Hartman. She threatened bodily harm in a very uncharitable manner, warning her to stay away from her family.
Brynn Hartman Killed Her Husband And Then Herself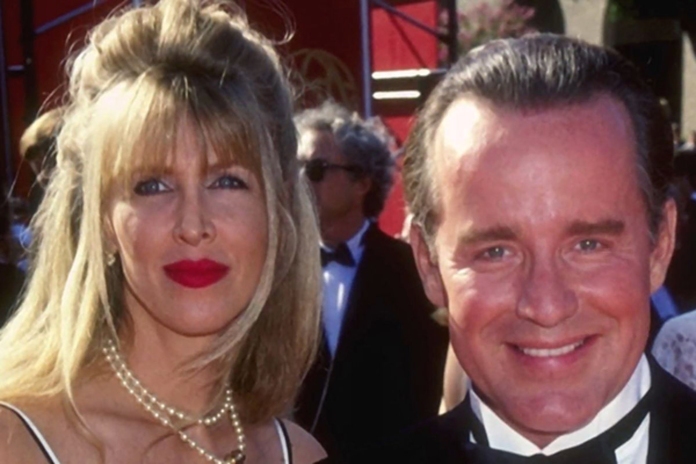 Brynn Hartman's frustration reached its zenith on May 28, 1998. Prior to that, her crippling cocaine addiction had become quite a thorn in Phil's flesh. Cracks from his marriage spilled over into the workplace as noticed by Phil's makeup artist when Brynn came into the dressing room at work and reportedly demanded a divorce.
Despite several rehabilitating treatments and sessions with a marriage counselor, the state of the marriage seemingly could not be salvaged. On the night of the murder-suicide, Brynn had been out drinking with a female friend. The drinking spree ended at the house of her ex-lover, Ron Douglas, where she complained bitterly about her husband.
According to the reports Douglas would later give to the police, Brynn left his place shortly after midnight only to return three hours later claiming she had killed her husband after a very heated argument.
He doubted the fact of the statement until a gun fell out of her purse. He retrieved the gun from her and they then drove back to the Hartman apartment in separate vehicles. As soon as they got to the apartment, Douglas went to the couple's bedroom where he saw Phil Hartman lying on the bed in a pool of his own blood. He had visibly been shot three times, twice in the forehead and once on the side.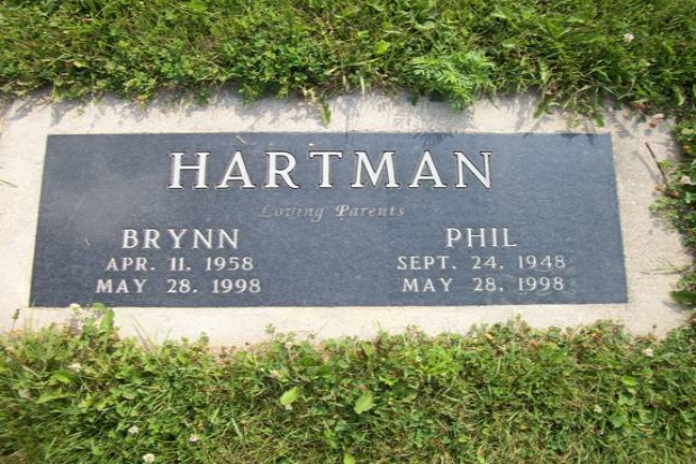 When Douglas left the room to alert the police, Brynn locked herself in, found another gun, put it in her mouth, and pulled the trigger. She was confirmed dead before the arrival of the police.
The news of the shocking deaths of one of Hollywood's beloved couples brought a lot of misery to friends and family. In the aftermath of the murder-suicide, Brynn Hartman's brother sued Pfizer, the makers of Zoloft, an anti-depressant drug that autopsy revealed was in her system. He claimed the drug had driven his sister out of her mind and that she had felt remorseful of her actions in the wake of the drug effects dissipating. He also insisted grief forced his sister to end her own life. Pfizer quickly settled for $100k.
Brynn Hartman's Sibling, Katherine, And Her Husband, Mike Wright, Took In Hartman's Children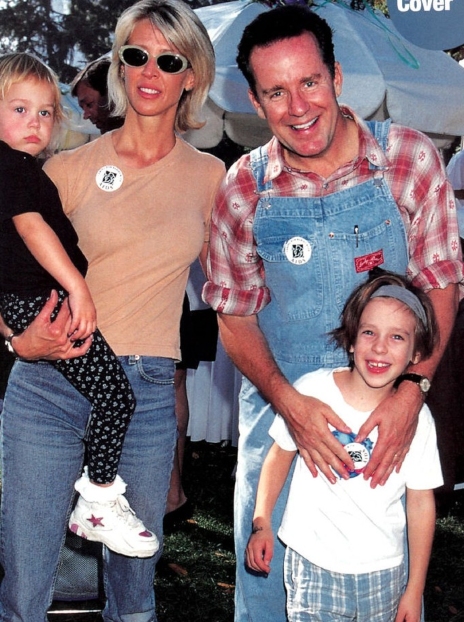 The Wrights were named official legal guardians of the then recently orphaned Hartman children. Sean and Birgen were 9 and 6 years old respectively when their parents died. The kids moved to Eau Claire, Northern Wisconsin with their aunt and uncle where they lived for a while before moving to Edina. The love and care they received from their mother's family helped them recover quickly from the tragic and life-changing experience they faced as children.
Today, Birgen is a University graduate from the University of St. Thomas, with a degree in  Communications and Journalism She is also an animal activist who has a strong social media presence and following. She got married to Brandon in 2018 in Italy and reportedly had drug-related issues but ultimately got sober in February 2012. Sean Hartman keeps a much lower profile in comparison to his social media-active sister. He works primarily as a visual artist and musician.
Their parents' estate worth $1.23 million was left to them at the demise of Brynn and Phil Hartman. They are billed to receive a third when they turn 25 or graduate from University. Another third at 30 and the rest at 35.
Brynn Had Been Married Before Her Marriage To Phil Hartman
Phil Hartman was not Brynn Hartman's first husband. She had dropped out of high school to marry Douglas Iver Torfin, a telephone operator in her hometown of Thief River Falls. They met in 1976, dated for a year, and got married on May 20, 1977. Her personal ambition of becoming an actress caused friction in the marriage and the couple divorced 9 years later in 1986. It also coincided with Brynn's move to Los Angeles. The marriage did not produce children despite lasting nearly a decade.
Phil Hartman Tried To Revive His Wife's Failing Career Before His Death
Brynn Hartman's marriage to Phil was not without its merits. In 1994, he used his connections to secure a minor role for her on the set of the movie, North, where she played the role of a waitress. She also appeared as #1 Venusian in the hit movie, 3rd Rock From The Sun. Her drug problems were the main reason she didn't seize those rare and quite limited opportunities.