Most people know Bre Ladd as the wife of retired NBA star-turned-coach, Luke Walton, but she is so much more than that. Ladd is a phenomenally-talented athlete herself and excelled in volleyball all throughout her school days. She represented the U.S.A at some underage tournaments. She also picked up the Gatorade National High School Volleyball Player of the Year, a feat achieved by legends such as Kobe Bryant. Alex Rodriguez, and Peyton Manning. Ladd is no more an active player these days but she still remains in the spotlight thanks to her marriage to Walton. The couple boasts of a strong union that has been blessed with two kids. Their union has however been rocked by issues, such as sexual assault allegations against Walton, but they seem to have triumphed over it all.
Profile Summary of Bre Ladd
Full name: Bre Filene Ladd Walton
Date of birth: 19th of April 1984
Age: 37
Birthplace: Tucson, Arizona
Mother: Tammie Ladd
Father: Bob Ladd
Sibling: Josh Ladd
Husband: Luke Walton (m. 2013)
Children: two sons including Lawson Walton
Educational institutions attended: Canyon Del Oro High School Tucson and the University of Arizona
Occupation: volleyball player, and divorce coach
Accolades: Gatorade National High School Volleyball Player of the Year 2001, Arizona Republic Arizona State Player of the Year, and Arizona 5A South MVP 2001
Bre Ladd's Exploits as a Star Volleyball Player During Her High School Days
Bre Ladd is 37 years old as she was born on the 19th of April 1984. Her birthplace is Tucson, Arizona, and she hails from a family of four comprising of her mom – Tammie, her dad – Bob, and an older brother named Josh. Bre Ladd grew up in Tucson and regularly attended all manner of collegiate games, especially basketball, football, and softball, with her parents. Ironically, volleyball wasn't one of them and she had no interest whatsoever in it. Her plan was to play either basketball or soccer while in school. Bre Ladd's well-laid plan would come crumbling down when she decided to try out volleyball for fun during her high school days at Canyon Del Oro High School.
It turned out to be much more than fun. She was a natural at the game and soaked up everything that she was taught. Her teachers urged her to focus on it and she yielded to their advice with great results. In her four years of high school, Ladd set several school records, including most kills in a match (21), kills in a season (428), career kills (971), career aces (146), and career blocks (146). She captained her school volleyball team in her junior and senior years of 2000 and 2001 respectively. She led her school to the quarterfinals of the Class 5A State Volleyball Tournament and was named 2001 Arizona 5A South MVP.
Bre Ladd's high school exploits earned her a four-year run at Southern Arizona's longest-running Youth Volleyball Club, Club Cactus. She was also selected to represent the U.S. at the Women's Junior World Championships in the Dominican Republic in 2001. That same year, Gatorade named her the National High School Volleyball Player of the Year. She defeated about 400,000 high school female volleyball players across 50 states to earn the honor.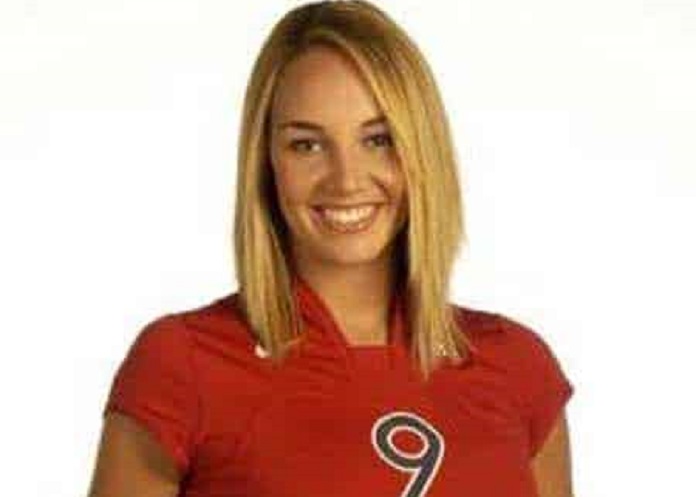 She Also Set Several Records in the Sport During Her Days at the University Of Arizona
Other honors that Bre Ladd picked up during her high school days were Tucson citizen, Arizona player of the year, and a mention on the Volleyball Magazine's Fab 50 List. She was simply phenomenal and this led to prestigious colleges courting her. She received athletic scholarship offers from the likes of Stanford, USC, and UCLA. She however turned it down in favor of staying in her hometown and while playing for the University of Arizona. During her four-year stint with the Arizona Wildcats, Bre Ladd played under legendary coach, Dave Rubio, and continued her record-setting feats. She recorded 124 total blocks in her freshman year of 2002, the most for any freshman in Arizona history.
She also helped the Wildcats to reach the elite eight in her freshman and senior years. Ladd completed her Wildcats career ranking high in several statistical categories. She still holds some of those records to date, including No. 3 in all-time blocks in Arizona. Others are No. 5 in sets played, No. 6 in matches played, and No. 8 in service aces, per game, over a career. Whilst excelling in the field of play during her college days, Bre Ladd did not abandon her academics. She was a brilliant, honor roll student and completed her degree in community and public health. She also utilized her fluency in sign language to mentor deaf students from the Arizona School for the Deaf and Blind.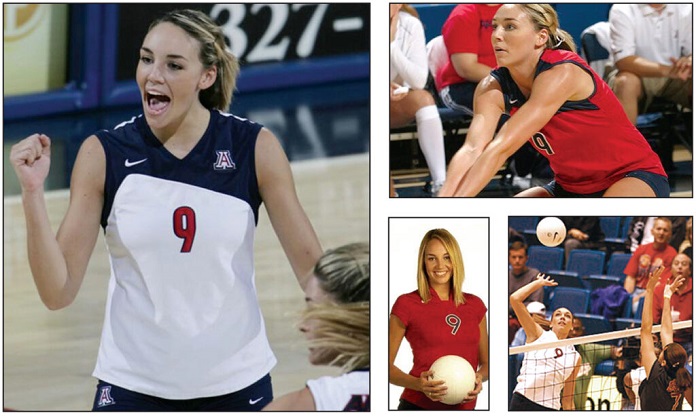 Bre Ladd and Luke Walton Began Dating in 2005 and Wed Eight Years Later in 2013
One thing that will be keeping Bre Ladd busy these days is the family which she has built with former basketball player turned coach, Luke Walton. The son of retired NBA legend, Bill Walton, Luke Walton spent 10 years as an NBA player during which he played for the likes of the L.A. Lakers and the Cleveland Cavaliers. He won two championships before his retirement in 2013. The small forward is now a coach and has served as the head coach of teams such as the L.A. Lakers and Sacramento Kings. Ladd and Walton first crossed paths with each other at the University of Arizona in 2002. They were both high-flying athletes and even though this was in different sports, they nevertheless ran in the same circles.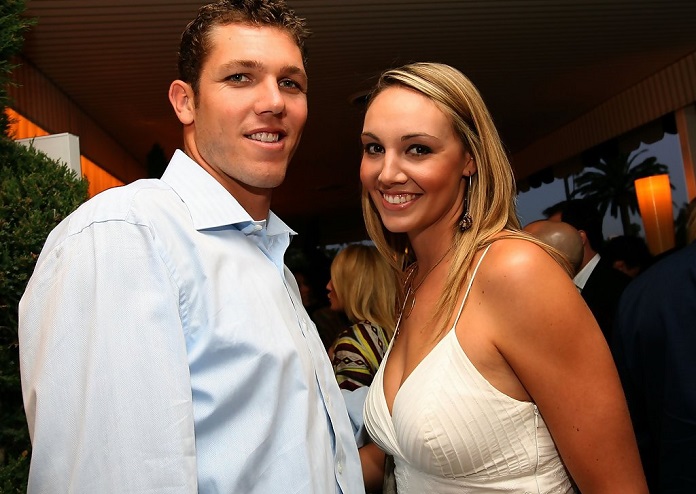 They became friends over time and maintained this status up until 2005 when they started dating. This was in their senior year but the couple did not let this distract them. They remained strong in their love even after they left school and pursued wildly different paths. Walton's path will see him embark on a tough and grueling NBA career and this would have posed challenges to their relationship. They nevertheless stuck together for several years and got engaged on the 24th of December 2012 in Cleveland. Walton was at that time playing for the Cleveland Cavaliers and had made enough money to buy a magnificent ring for Ladd.
He packaged it as just another ordinary Christmas gift and she was quite shocked when she opened it. She of course accepted the proposal. Bre Ladd and Luke Walton later tied the knot on the 17th of August 2013. The stunning ceremony took place in Aspen, Colorado, and had about 225 guests in attendance. Ladd wore a Hayley Paige mermaid dress while her bridesmaids chose floor-length black gowns. She and Walton exchanged their vows against the stunning backdrop of the Aspen Mountains and their guests later partied into the night during the reception.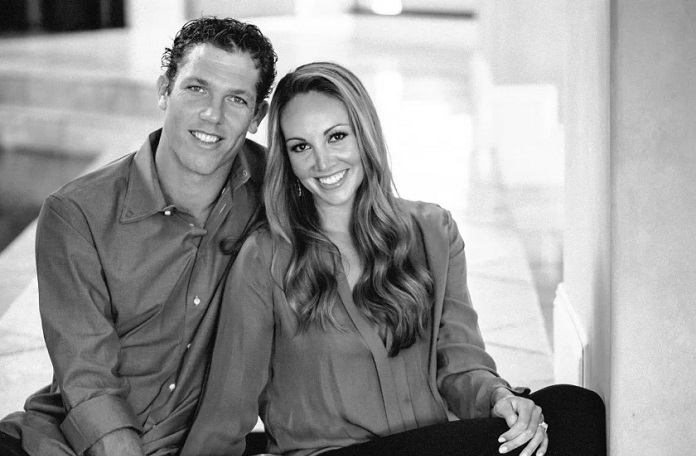 The Couple Have Two Sons and Make Their Home in California
Bre Ladd and Luke Walton have been married for 31 years now and their union keeps on going strong. The couple makes their home in Manhattan Beach, California, and has welcomed two sons. Their first, Lawson, was born in 2014 while their second was born in 2016. Both boys are still of elementary school age and their parents work hard to protect them from the public eye. They rarely post about them on social media and the few sightings of them come from their trips to watch their dad's games.
It is hard to get an insight into the everyday lives of Bre Ladd and her husband but one thing that is for sure is that it will be amazing. The couple is able to live a luxurious life thanks to Walton's NBA earnings. He has also additionally made money as the head coach of some NBA teams, including the Sacramento Kings. In 2018, Ladd and her husband snapped up a $7.2 million Manhattan Beach house. The premises measures 10,000 square feet and has six bedrooms and 6.5 bathrooms. Other features include a full-sized gym, a large pool, pizza oven, a full outdoor wet bar, and a wine cellar.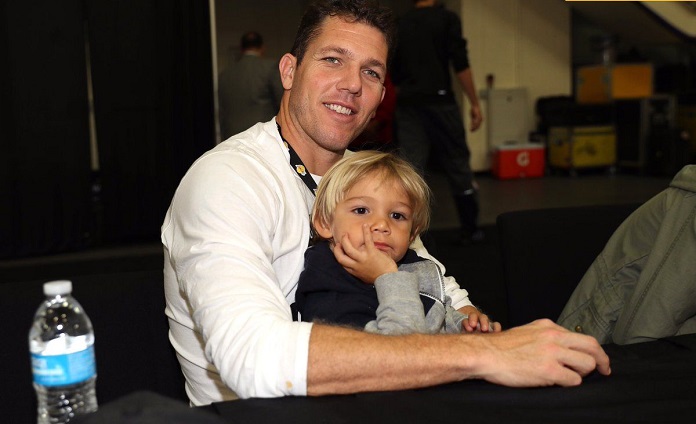 Bre Ladd and Luke Walton Have Dealt With Several Issues, Including a Lady Who Stalked Them For a Year
Ladd and Luke Walton have had some happy times but it hasn't been all rosy though. Back when they were dating in 2007, a woman named Stacy Elizabeth began stalking Walton. She kept this up for a year during which she often parked her car in front of their house and sat in it for hours. She also used a sharpie to mark up Walton's car when he declined to sign an autograph for her. This stalking did not stop there. Stacy also followed Walton to the location where he ran his basketball camps and even approached Ladd personally.
It was indeed a very distressing time for the couple and they tried to take it in stride. They were however forced to involve the authorities after Stacy pretended to fire a gun at Walton. She was apprehended by the authorities and charged with a misdemeanor count of stalking. She was found guilty at the end of the day and handed a three-year probationary sentence. She was also ordered to stay away from Walton's home /workplace for three years, as well as attend counseling sessions for a year.
Bre Ladd's Husband Also Faced Allegations of Sexual Assault and Harassment in 2019
An even bigger issue that has rocked the marriage between Ladd and Walton is the sexual harassment and abuse allegations brought against the coach by Kelli Tennant – a former college volleyball player-turned-broadcaster. She has worked for the likes of ESPN and Fox Sports and is also an author. Given her background, Kelli and the Waltons ran in similar circles and became good friends. She regarded Luke as a mentor and asked him to write the forward for her 2014 book. However, five years down the line, she came out to accuse him of sexual harassment and assault.
According to Kelli, the alleged offenses took place at a Santa Monica hotel in 2014. She had gone to drop off a copy of her book with Walton at the hotel's lobby when he asked her to come up to his room. She thought nothing of it, as he was a long-time pal, and went up with him. In the hotel room, he allegedly pinned her to the bed and forcibly kissed her on the neck, face, and chest. He also groped her breast and groin area. She yelled at him to stop but he only laughed at her pleas and intensified the assault by rubbing his erection against her leg. He eventually released her and she fled.
Kelli's accusations did not stop at this juncture. She also alleged that whenever she ran into Walton in a professional context over the following years, he would try to hug her or kiss her and make provocative remarks and guttural sounds at her. Walton strongly denied these allegations and maintained that he was not a mentor to Kelli. He accepted that there was an encounter between them but stated that it was short, entirely pleasant, and consensual. He described Kelli as an opportunist and dismissed her claims as baseless. He also accused her of trying to create a public circus in order to damage his reputation and force him to pay her off.
Kelli's allegations were investigated by the NBA, as well as Walton's then-employers, the Sacramento Kings. In August 2019, they concluded that there was no basis of sufficient support for the allegations and by December 2019, she withdrew her lawsuit without prejudice. Throughout the whole scandal that engulfed her husband, Bre Ladd kept quiet and out of public sight. She must have been saddened by the fact that an encounter, even if consensual, took place between her husband and a friend but at the end of the day she did not divorce her husband. She most likely decided to give him another chance so that they could move on with their lives. We can thus say that it was a result of her forgiving spirit that Bre Ladd's marriage to Luke Walton survived his sexual assault scandal.
Ladd Has Retired From Active Volleyball and is Reportedly Now a Divorce Coach
It is hard to tell what Bre Ladd does for a living these days. She has stopped playing active volleyball but this does not mean that she will be idle. The Tucson native will most likely take part in volleyball clinics and mentor youngsters. She may also be active in charitable works such as her assistance to the deaf and dumb.
Additionally, some reports have it that Bre Ladd is now a certified divorce coach which gives us an insight into her current occupation. Details of her certification are not known but nevertheless, a divorce coach is an individual who provides necessary support, encouragement, and motivation for clients who are going through the divorce process. He or she helps prospective divorcees to progress through the emotional, legal, and practical changes that divorce brings. To become a divorce coach, you must complete intensive training, study, and coach practicums.