Amara Wayans is the daughter of Damon Wayans Jr., a popular actor who has featured in notable movies and TV series such as Happy Endings, New Girl, and Let's Be Cops. Amara Wayans' mom is a former reality TV star and entrepreneur named Aja Metoyer.
Amara is an Instagram model and social media influencer in her own right
Amara Wayans' parents were never married but committed to co-parenting amicably after they split. Although there have been some squabbles over the years, the couple has largely abided by this. This has enabled their daughter to grow into a responsible young adult who is now pursuing her path in life.
Summary of Amara Wayans' Biography
Full name: Amara Wayans
Gender: Female
Date of birth: 13th of November 2002
Amara Wayans' Age: 32 years old
Ethnicity: Caucasian
Nationality: American
Zodiac Sign: Scorpio
Sexual Orientation: straight
Religion: Christianity
Marital Status: single
Amara Wayans' Parents: Damon Wayans Jr. and Aja Metoyer
Siblings: Aniya Wayans, Berlyn Wayans, Lua Wayans, Maverick Wayans, and Xavier Wade
Amara Wayans' Height in Inches: 5 feet 3
Amara Wayans' Height in Centimetres: 160
Amara Wayans' Weight: 57 kg
Amara Wayans' Net worth: $100k
Famous for: Damon Wayans Jr.'s Daughter
Amara Wayans' Instagram: https://www.instagram.com/AmaraWayanss/?hl=en
Amara Wayans is the First Child of Damon Wayans, a Popular Actor, and TV Star
Amara Wayans is 21 years old as she was born on the 13th of November 2002. Her nationality is American, while her ethnicity is a mixture of African American and Creole ancestry. She gets her African American heritage from her famous father, Damon Wayans Jr. He is the eldest son of legendary comedian and actor Damon Wayans and followed his father's footsteps into showbiz at the age of 12.
Unsurprisingly, his father gave him a head start by featuring him in one of his movies titled Blankman in 1994. Since then, Wayans Jr. has built a respectable filmography, appearing in several movies and TV series. However, his best work comes on the ABC series, Happy Endings.
Happy Endings revolved around the adventures of six friends, and he played the role of a wealthy businessman named Brad. His work fetched him best-supporting actor nominations at the Critics' Choice and NAACP Awards.
Her Mother, Aja Metoyer, is a Reality TV Star and Business Woman
Amara Wayans' mom is Aja Metoyer, born on the 24th of July 1983. She is a native of Los Angeles and has Creole ethnicity. Metoyer is an entrepreneur and sells health products from the likes of Total Life Changes, a wellness and fitness company that deals in nutritional products.
Back in the day, Aja Metoyer was also a reality TV star and made it to the 6th season of Basketball Wives L.A. in 2017. She was joined by two of her sisters: Melissa and Cristen Metoyer, to give them some career-enhancing publicity.
Amara Wayans' Parents Were Childhood Sweethearts but Never Got Married
Amara Wayans' parents became friends at an early age, and that friendship later morphed into a romance. They dated throughout their school days and continued their romance upon graduation. They later welcomed their first child, Amara, in 2002. Wayans Jr. was about 20 years old at the time, while Metoyer was only 19.
It wasn't a piece of cake becoming parents at such a young age, but the couple handled their responsibilities impeccably. They also welcomed another daughter named Aniya two years later, in 2004. The romance between her parents lasted for several years, but the couple never got married.
They may have had plans to do so in the future, but it never materialized as their romance experienced some unspecified issues. They broke up in the mid-2000s but committed to co-parenting their kids amicably.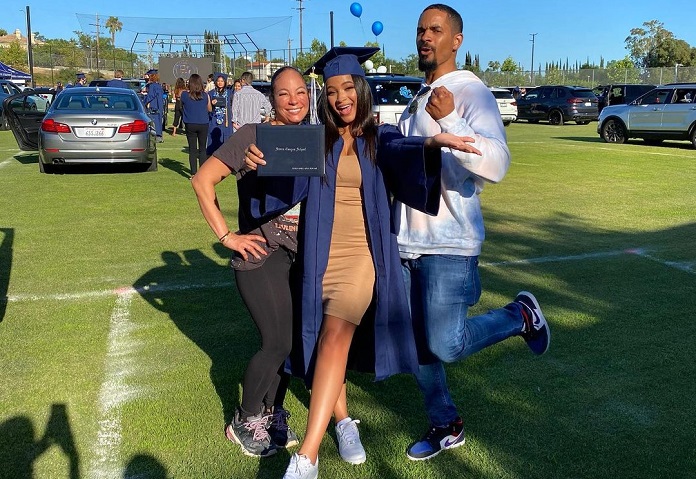 She Primarily Grew Up With her Mom While Her Dad Maintained an Active Presence
Amara Wayans grew up with her mom and dad for the first few years of her life, but after they split, she lived with her mom. Going by the terms of the settlement that her parents signed, her mom got primary physical custody of her and her sister and shared joint legal custody with their dad. The implication was that she resided with her mom while her dad visited regularly.
He also had a say in whatever decisions were made for their lives and paid generous child support. Amara Wayans' parents abided by this agreement for several years, and as such, they were no squabbles. The young girl was able to have a normal childhood. The generous child support from her father also enabled her to live quite comfortably. Amara had a seamless childhood, but they were some issues.
For instance, in 2013, her mom gave birth to a child for the popular basketball player, Dwayne Wade. It elicited a lot of publicity given that Wade was engaged to a popular actress – Gabrielle Union. This caused an uncomfortable spotlight around the whole family and Amara's dad did his best to protect her and her sister from it.
Her Parents Battled Over Her Custody in 2018
Another major issue that Amara encountered during her teenage years was a dispute between her parents over custody. Her father believed that their mom was not accountable for the child support he paid. He also accused her of not taking their education seriously and instituted a court action for review of custody.
Her mom resisted this and described it as a ploy for their dad to reduce the child support he was paying. The whole thing was shaping up to be a battle of magnificent proportions but thankfully, the couple later reached an agreement in private. Amara was thus able to continue with her life peacefully.
Amara Wayans is a Budding Social Media Influencer and Instagram Model
Amara Wayans completed her high school diploma in 2020. It was a joyful occasion, and her parents were there to celebrate with her. The young lady is now pursuing a degree at Loyola Marymount College. While it is difficult to predict what she will be in the future, Wayans is establishing a career as a model and social media influencer.
The Los Angeles native counts 34,200 followers on Instagram and usually shares stunning pictures with her followers. She has also landed modeling gigs with brands such as Adika, Loungewear, Kappa, and Brandy Melville. Amara is also building her YouTube platform. She has about 763 followers on the platform and has shared four videos. They are mostly vlog style and feature her cooking or doing GRWM videos with her sister.
Amara Wayans' Social Media Stats
Instagram: 34,200 followers
YouTube: 763 subscribers
She has Five Siblings, including a Younger Sister Named Aniya
Amara Wayans has a total of five siblings. Amongst them is her immediate younger sister named Aniya. Aniya is two years her junior and they share the same mother and father. They are quite close and regularly share pictures of themselves on their respective Instagram accounts.
Asides from Aniya, Amara Wayans has two younger half-sisters, Berlyn and Lua Wayans, and one younger half-brother named maverick Wayans from her father's marriage to a lady named Samara Saraiva.
Amara Wayans also has a younger half-brother named Xavier Wade. Xavier was born in 2013, and she is 11 years older than him. He is a product of her mom's relationship with NBA star, Dwayne Wade. Amara is also close to her little brother, and their mom has shared several pictures of them.
Amara Wayans is Rumoured to Have Dated Lebron James's Son, Bronny James
It is unknown if Amara Wayans has any boyfriend at the moment, but she has been romantically linked with some personalities. In 2020, Amara Wayans was rumored to be dating Bronny James, a fast-rising basketball star who is the son of LeBron James.
The rumors started after the two left flirty comments on each other's Instagram posts. Another person that Amara Wayans reportedly dated is Hercy Miller. Miller is a college basketball player and the son of rapper, record executive, and actor – Master P. None of these relationships were ever confirmed though.
Key Facts About Amara Wayans
Q: Who is Amara Wayans? A: Amara Wayans is a popular social media influencer, model, and celebrity family member, best known as the daughter of Damon Kyle Wayans and granddaughter of Damon Wayans.
Q: How old is Amara Wayans? A: Amara Wayans is 20 years old as of 2022.
Q: When is Amara Wayans' birthday? A: Amara Wayans' birthday is on November 13
Q: What is Amara Wayans' zodiac sign? A: Amara Wayans' zodiac sign is Scorpio.
Q: What is Amara Wayans' nationality and ethnicity? A: Amara Wayans is an American national and has African-American ethnicity.
Q: Where did Amara Wayans go to school? A: Amara Wayans completed her primary and higher studies at a local high school in her hometown and is currently pursuing her additional studies at Loyola Marymount University in Los Angeles.
Q: How tall is Amara Wayans? A: Amara Wayans is 5 feet 5 inches tall.
Q: What is Amara Wayans' net worth? A: As of 2022, Amara Wayans' net worth is approximately 600k USD.
Q: Who are Amara Wayans' parents? A: Her parents are Damon Kyle Wayans and Aja Metoyer.
Q: Does Amara Wayans have any siblings? A: Yes, Amara Wayans has two siblings, a younger sister named Aniya, and a step-brother named Xavier Zechariah Wade.
Q: Is Amara Wayans in a relationship? A: Currently, Amara Wayans is not romantically engaged with anyone.
Q: What brands does Amara Wayans represent? A: She represents brands such as Kappa and Brandy Melville.
Q: What social media platforms is Amara Wayans active on? A: Amara is active on Instagram, TikTok, and YouTube.
Q: Does Amara Wayans have any favorite celebrities? A: Yes, Her favorite actor is Leonardo DiCaprio and her favorite actress is Scarlett Johansson.
Q: What is Amara Wayans' favorite sport and sportsperson? A: Amara Wayans' favorite sport is tennis, and her favorite sportsperson is Serena Williams.